In a digital era such as now, PDF has become the most preferred document format because it is considered the safest and most practical for sending documents between different devices. Almost every operating system comes with a built-in PDF reader that allows you to read documents directly, including Windows. However, it is not powerful enough to edit images in a PDF.
Editing images in a PDF may seem trivial, but you may need this feature in some situations. Especially if you are in a hurry. What if the images in your PDF file are too low in resolution or blurry? How if you want to add new images to enrich your PDF for meeting presentations, proposals to customers, investors, etc? You certainly need a powerful PDF image editor to execute those tasks quickly.
PDF Reader Pro - Best PDF Image Editor for Windows
Editing images is an easy task if you execute it with powerful software like PDF Reader Pro. This tool has been trusted by more than 90 million users worldwide to help simplify any PDF-related task including editing images in PDF. In this article, we will explain how to edit images in PDF in Windows the easiest way. Make sure you have PDF Reader Pro on your device. Click here to download PDF Reader Pro.
Edit Images in a PDF with PDF Reader Pro
You can edit images in PDF with PDF Reader Pro in just a few steps. PDF Reader Pro allows you to crop, resize, replace, rotate, flip images in your PDF, etc. Let's take a look at these steps below.
Move and Resize Images
Open your file with

PDF Reader Pro

-> Click

Edit PDF

on the toolbar; 

Select image in the PDF -> Move the image to the position you want;

Or drag

a bounding box handle or corner to resize the image.
Rotate and Flip Images 
Open your file with

PDF Reader Pro

-> Tap

Edit PDF

on the toolbar; 

Select image that you want to rotate or flip -> Edit image property panel will appear on the right-side;

Choose rotate right or left based on your need;

 
Select flip horizontal or flip vertical and the image will be flipped automatically.
Crop Images
Open your PDF with

PDF Reader Pro

-> Choose

Edit PDF

;

Select an image in your PDF -> Click Crop icon on the Edit Image property panel;   

Drag the edges of images and crop as you wish.
Add or Replace Images 
Import a PDF document that you want to edit into

PDF Reader Pro

;

Choose

Edit PDF

in the toolbar -> To add a new image, click

Add Image

;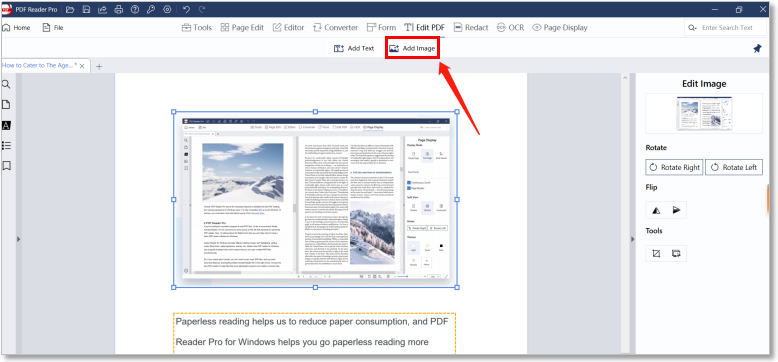 To replace an existing image, click the

Replace

icon on the property panel.
Cut, Copy, Paste, and Delete Images 
Open your PDF with

PDF Reader Pro

->

Edit PDF

;

Right-click an image and a small window will appear

;  
In the context menu, you can choose

Cut

to cut and paste the selected image into another file.

Copy

image will allow you to copy the image to another file without losing the existing image. Or you can

Paste

an image from another document or file to your PDF directly. But if you want to remove an image from your file, simply hit

Delete

to remove it. 
Simple, right? With PDF Reader Pro, you can edit images in PDF in a matter of minutes. With various PDF image editing tools, PDF Reader Pro allows you to become creative and free. You can also watch our video tutorial on How to Edit Image in PDF on Windows here.
Wrap Up
PDF Reader Pro is not just an ordinary PDF reader but an all-around solution to easily manage any of your PDF-related tasks. Other PDF editors may allow you to edit PDF text, but not images. PDF Reader Pro allows you to edit images in the simplest way possible. With this software, you can resize, rotate, flip, replace, and crop images as you like. Apart from this excellent feature, PDF Reader Pro also has tons of other features that you don't want to miss. Download and try PDF Reader Pro now!