Adobe Acrobat remains the benchmark for PDF editing software, though it is also one of the pricier options on the market.

For those looking to upgrade from Adobe's free Acrobat Reader, it's important to understand the differences between the company's two paid products for individuals: Adobe Acrobat Standard DC and Adobe Acrobat Pro DC.

With monthly rates of $12.99 and $14.99, respectively, under an annual plan, both versions offer the desktop software, access to Adobe Document Cloud services for file storage and sharing, and an Adobe Sign subscription for legal e-signatures across devices.

However, their features and capabilities do differ, which could sway your decision based on your specific needs.


For a broader range of choices, be sure to check out our roundup of the best PDF editors.


Adobe Acrobat Standard vs Pro: How They're Similar
Core PDF Creation and Editing
Acrobat Standard DC and Pro DC share many essential functions.
Both Acrobat Standard DC and Pro DC allow for the creation of PDFs from various sources, such as:
Converting documents and images to PDFs

Creating PDFs from any application that prints

Merging multiple files into a single PDF

Transforming web pages into interactive PDFs with live links


Editing Tools
Both versions offer a range of basic PDF editing tools, including:
Markup and commenting capabilities

The ability to add, delete, reorder, and extract pages

Editing options for images and text within PDFs

Features to permanently secure sensitive content

Tools to incorporate design elements like page numbers, bookmarks, headers, and watermarks

Conversion of PDFs into Microsoft Office files and various image formats


Sharing and Collaboration
Acrobat Standard DC and Pro DC also facilitate document sharing and collaboration.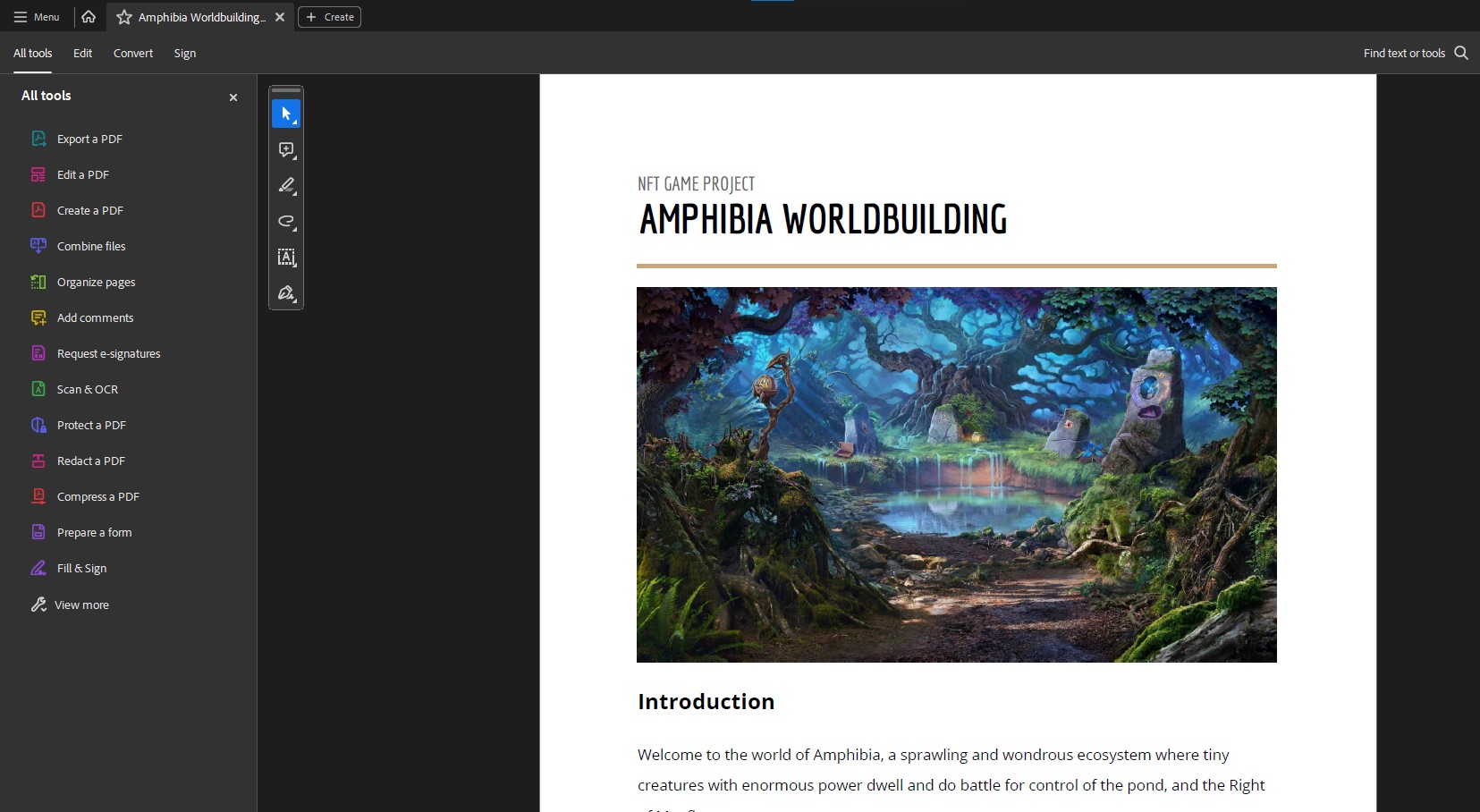 Image source: Adobe Acrobat 

You can distribute documents via email or Adobe Document Cloud links, gather comments and e-signatures, and monitor document activity in real-time.


Adobe Acrobat Standard vs Pro: How They're Different
Advanced Features in Pro DC
Beyond the basics, Acrobat Pro DC includes several advanced features that may be vital for some users:
Searchable Scanned Documents: 

A key feature for many is the ability to convert scanned paper documents into searchable, editable PDFs, a function only available with Acrobat Pro DC.

Enhanced Editing: 

Pro DC also offers advanced editing capabilities, including the redaction of sensitive information and the addition of audio, video, and interactive objects to PDFs. For legal professionals, it provides Bates numbering.

Mobile Device Editing: 

Pro DC extends editing functionality to mobile devices, allowing you to manipulate PDFs on tablets or phones.

Document Comparison: 

Unique to Pro DC is the ability to compare two versions of a PDF side by side and generate detailed reports of changes.

Operating System Compatibility: Another significant difference is that Pro DC is compatible with both Mac OS and Windows, while Standard is available only for Windows.
Pricing: While both versions are available as monthly or yearly subscriptions, Pro DC is slightly more expensive due to its enhanced capabilities. The monthly rate for Standard DC is $23 without an annual commitment, reduced to $12.99 with it. Pro DC's monthly rate is $25, or $14.99 with an annual commitment.


Which One Is Right for You?
Windows users whose PDF needs are limited to creating, editing, and sharing documents will likely find Acrobat Standard DC sufficient. 



Image source: Adobe Acrobat 

However, Acrobat Pro DC is designed for business users and those with specific needs, like protecting sensitive information, and is also the only choice for Mac users.


Adobe Acrobat Alternatives
While Adobe Acrobat continues to be a robust solution for PDF management, there are several alternatives on the market that provide similar features, often at a more competitive price point.

Among these alternatives, PDF Reader Pro, PDF Expert, and Soda PDF stand out for their unique offerings and user-friendly interfaces.


PDF Reader Pro
PDF Reader Pro presents itself as a comprehensive and affordable solution for individuals and businesses alike.
Navigate, edit, and
convert PDFs like a Pro
with
PDF Reader Pro
Easily customize PDFs: Edit text, images,
pages, and annotations with ease.
Advanced PDF conversion: Supports
multi-format document processing with OCR.
Seamless workflow on Mac,
Windows, iOS, and Android.

It boasts a suite of powerful features, including:
An intuitive interface that simplifies the reading, editing, and annotation of PDF documents

Advanced editing tools that enable users to merge, split, and compress PDF files with ease

A robust PDF conversion engine, allowing for the transformation of PDFs into various file formats like Word, Excel, and image files

Versatile form-filling and signing options that streamline document workflows


PDF Reader Pro also emphasizes security, offering users the ability to password-protect their documents, ensuring that sensitive information remains confidential.



Image source: PDF Expert


PDF Expert is tailored for Mac and iOS users, offering a sleek and fast PDF editing experience. Its key features include:
Fast and seamless PDF reading and annotation tools, making document review a breeze

The ability to easily edit text, images, and links directly within a PDF

An impressive file management system that simplifies the organization of documents

Collaboration features that allow multiple users to work on a document simultaneously


PDF Expert is designed for ease of use, making it a great choice for users who need to work on PDFs on the go, especially within the Apple ecosystem.


Image source: Soda PDF


Soda PDF is a versatile PDF tool that is accessible both as a desktop and online application. It stands out with its:
Virtual PDF printer, which enables users to create PDFs from any printable document

A diverse range of editing tools for customizing and enhancing PDF documents

Document conversion features that support numerous file formats for both import and export

3D viewing mode that adds a unique and dynamic way to navigate through PDF files


With Soda PDF, users get the flexibility to choose between an online platform or a desktop application, making it a highly adaptable option for different user preferences.


Each of these alternatives offers a unique set of features that cater to various user needs, whether it's for simple PDF viewing and annotation or more complex document management tasks.

They provide a compelling case for those seeking functionality akin to Adobe Acrobat, with the potential for cost savings and improved user experiences.


Adobe Acrobat Standard vs Pro: FAQ
What are the main differences in features between Acrobat Standard and Pro?
While both versions provide a complete PDF solution, the Pro version generally offers a wider variety of advanced features, such as more sophisticated editing capabilities and enhanced optical character recognition.


Effortless Invoicing with our PDF Template Collection
Streamline your billing process using customizable invoice PDF templates


Does file size management differ between Acrobat Standard and Pro?
Yes, the Pro version typically allows for more options to reduce PDF file size, which can be crucial for handling large volumes of documents.


Are there differences in support for popular file formats?
Both versions support popular file formats, but the Pro version may offer additional compatibility with specialized or less common formats.


How do the editing capabilities compare?
Acrobat Pro usually has more robust editing tools, enabling a broader range of changes to PDF documents, which can be particularly useful for legal documents.


Is there a difference in accessibility standards?
Acrobat Pro often includes advanced features to ensure that PDFs meet various accessibility standards, making documents usable for people with disabilities.


Can normal users easily navigate both versions?
Yes, both versions are designed with the user experience in mind, though the Pro version's additional features might require a slight learning curve.


What should be considered for team subscriptions and yearly subscriptions?
For teams, Acrobat Pro may offer more collaborative features, and yearly subscriptions can provide cost savings compared to monthly plans.


Does the signature app differ between the Standard and Pro versions?
Both versions include signature apps, but the Pro version's app might include additional security features or integration capabilities.


Are there any differences in Google Drive integration?
Integration with Google Drive and other cloud services is usually available in both, but the Pro version might have more advanced features or options.


Does Acrobat Pro offer better optical character recognition (OCR)?
Typically, the Pro version has more powerful OCR capabilities, which can be important for converting scanned documents into editable and searchable PDFs.