The digital age has profoundly transformed the way we consume information. Whether it's a business contract, a research paper, or the latest bestseller, PDFs have emerged as the universally accepted medium for viewing and sharing documents. With the ubiquity of Tablets and iPads, users demand not just any PDF reader, but one that is feature-rich, intuitive, and optimally designed for their Apple devices.

You're in the right place if you find yourself among the legions seeking the perfect PDF tool for your iOS or Android device. Dive into our curated list of the 10 best PDF readers for iPad and Tablet in 2023, and discover why PDF Reader Pro stands tall among its peers.





Quick Reference Table
We understand if you're short on time and have many PDFs to read, be they business or fiction. This is why we put together a quick-reference table together for your quick pick!

10 Best PDF Reader for iPad and Tablet
Let's dive into our 10 best PDF readers carefully reviewed and collated for both iPads and Tablets. If you take your time reading through each review, you're bound to find the PDF reader that best suits your needs, both personal and professional. 


Remember to take your time while reading through each review, as the best PDF reader for your needs is certainly on this list. It just takes a bit of dedication to land on the one that deserves your subscription, beyond a free trial or free version.




Image source: PDF Reader Pro
PDF Reader Pro is a top PDF reader app that competes directly with the Adobe Acrobat Reader. It's an extremely lightweight, fast, clean, and intuitive professional reader that can open all mainstream file formats. With a few clicks, you can read and annotate your content, edit and manage PDFs, fill out PDF forms, and create a new PDF. PDF Reader Pro helps optimize your work and lets you become more productive quickly. 
Pros:
Open and view MS Office files, iWork, HTML, images, audio, videos, and more

Support various reading options, including slideshow, text reflow, auto-scroll, split view, multi-tab viewer

Sync your file to iCloud, Google Drive, Dropbox, and other remote servers

Convert PDF to and from Word, PPT, Excel, JPG, PNG, HTML and more

Create PDF from images, blank pages, clipboard content, or from files browser

Select the page range first and extract images inside the PDF

Built-in OCR function helps recognize and extract text in 50+ languages
Cons:
No cross-platform syncing feature

How PDF Reader Pro Fared When I Tested It
When diving into the expansive world of PDF tools for iOS, PDF Reader Pro distinctly stood out in my exploration. Right from the outset, the application flaunted a sleek, user-friendly interface tailored for the Tablets and iPad.

Every feature felt intuitive, from the basics of viewing and annotating documents, to more advanced functionalities like merging, splitting, and converting PDFs. Notably, the app demonstrated impressive speed, even when handling hefty files or intricate tasks.




Image source: Kdan PDF Reader

Pros:
Supports a wide array of file types, including MS Office files, iWork, HTML, images, audio, videos, and more.

Offers diverse reading modes, including slideshow, text reflow, auto-scroll, split view, and multi-tab viewer.

Facilitates file syncing with iCloud, Google Drive, Dropbox, and other cloud storage options.

Capable of converting PDFs to and from formats such as Word, PPT, Excel, JPG, PNG, and HTML.

Enables PDF creation from sources like images, blank pages, clipboard content, or the file browser.

Choose specific page ranges to extract embedded images from within the PDF.

Incorporates an advanced OCR feature that can identify and extract text in over 50 languages.


Cons:
Lacks a cross-platform syncing feature.

How Kdan PDF Reader Fared When I Tested It

Venturing into the vast domain of PDF applications for iOS, Kdan PDF Reader emerged as a clear front-runner. From the moment I launched it, the app showcased a polished, intuitive interface, perfectly optimized for both Tablets and iPad. Every functionality, from basic viewing and annotations to intricate tasks like merging, splitting, or converting PDFs, was executed flawlessly.

One of its most striking attributes was its impeccable speed, even when tasked with managing large or complex files.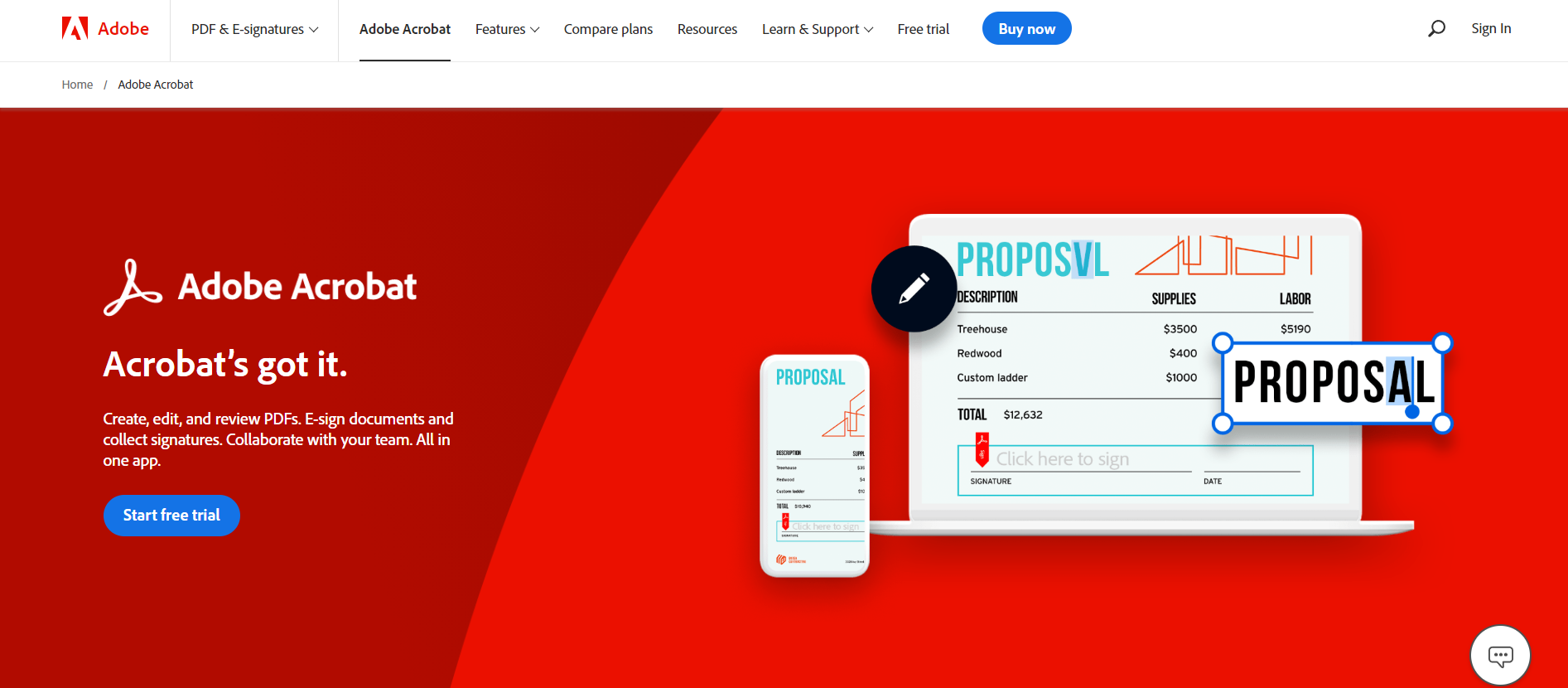 Image source: Adobe Acrobat


Undoubtedly, Adobe Acrobat Reader is a widely recognized PDF reader across various platforms, including iOS. This can be traced back to the fact that Adobe was the company that developed the PDF format in 1993.

The application is considered a reliable choice for viewing, annotating, and signing PDFs due to its comprehensive toolset and user-friendly interface. A significant aspect of the app is its longstanding reputation and support.


Pros:
View and annotate the PDF files that you stored locally or various cloud services

Easily zoom in on text or images for a closer view

Collaborate with others by tracking changes or using comments

Create shareable links over emails 


Cons:
Loads of features mean a bigger size than most PDF readers


How Adobe Acrobat Fared When I Tested It
Upon launching Adobe Acrobat on my iOS device, I immediately recognized the familiar interface synonymous with the brand's legacy in the PDF domain. Navigating through the app was straightforward, backed by its logical layout and intuitive design.

Opening and viewing PDFs was fluid, and the rendering of both text and graphics was sharp, regardless of the file's complexity. 

Image source: Foxit PDF Reader


Foxit PDF Reader is a solid suggestion for everyday users. While its free version equips you with essential functions like PDF viewing and annotating, advanced features such as Text-to-Speech, password protection, and more are reserved for premium users.

With integrated cloud support, it facilitates seamless uploading and downloading of PDFs from renowned storage platforms. If you're seeking a straightforward reader that's light on your device's storage, Foxit emerges as an excellent option.
Pros:
Supports viewing MS Word, Excel, PowerPoint, TXT and image files

Scan paper documents and then convert them to the PDF format

Create a blank PDF from scratch

Insert audios and videos to PDF


Cons:
TTS feature requires a subscription
How Foxit PDF Reader Fared When I Tested It
Upon delving into Foxit PDF Reader on my Tablets and iPad, I was immediately struck by its professional, yet accessible design. This tool didn't merely offer the basics; it catered to both casual readers and power users with a diverse array of features.

Annotations, highlighting, and form-filling were smooth experiences, and I was particularly impressed by the ConnectedPDF feature, which offers secure cloud-based collaboration. 



Image source: PDF Expert


PDF Expert stands out as a top-tier PDF app for Tablets and iPad users in the App Store. It's equipped with an array of functionalities that allow you to read, highlight, annotate, fill forms, and review various documents.

Beyond the typical PDF interactions, PDF Expert also offers a Text-to-Speech feature, enabling you to enjoy your favorite eBooks audibly. For those seeking advanced capabilities, a subscription to PDF Expert unlocks enhanced editing features.


Pros:
Edit outlines to navigate in PDF conveniently  

Replace pictures and edit original text

Supports a variety of other document formats stored locally or in the cloud

Redact feature lets you erase or hide the sensitive information in your PDFs


Cons:
You can only add your signature to the documents after purchase


How PDF Expert Fared When I Tested It
As I embarked on my journey with PDF Expert, the initial impression was one of sleekness and efficiency. The app's interface was intuitive, which made navigation a breeze, even for someone encountering it for the first time.

Diving deeper, I found that not only could I read PDFs with ease, but the annotation tools available were both versatile and user-friendly, making tasks like highlighting, making notes, and drawing exceptionally fluid. 




Image source: Xodo
PDF Reader & Annotator by Xodo is a commendable PDF tool equipped with significant features. It enables users to view, edit, and annotate PDF files on both Tablets and iPad. Like many of its counterparts, it integrates seamlessly with cloud services such as Dropbox, Google Drive, and OneDrive for easy document access and editing.

One of its standout features is its robust cross-platform support. Additionally, it facilitates multi-user access, allowing for collaborative work on a single document.


Pros:
Fast PDF viewing engine with smooth navigation

Support change of text size, crop images

Real-time collaboration to annotate PDF files

Multi-tab view to manage different files
Cons:
How Xodo PDF Reader Fared When I Tested It
Upon launching Xodo PDF Reader on my device, I was promptly greeted with a streamlined and modern interface, setting a promising tone for the evaluation. As I navigated its features, the ease with which I could view, edit, and annotate PDFs was evident.

Integration with various cloud storage solutions like Google Drive, Dropbox, and OneDrive was notably seamless, streamlining the process of accessing and saving documents. 


7. PDFelement


Image source: PDFelement


PDFelement stands out as a top-notch PDF reader app, renowned for its superior cross-platform synchronization. It facilitates various functions such as reading, editing, annotating, converting, and even signing PDF files. Integration with cloud services like iCloud Drive, Google Drive, Dropbox, OneDrive, and Box makes document access a breeze.

The app also boasts an integrated scanner, enabling users to transform any document into a PDF, and vice versa. For those passionate about reading, PDFelement promises an enhanced reading experience.
Pros:
Convert PDF files to Word, Excel, PPT, HTML and RTF format

Documents can be synced across devices running on different operating systems

Add or delete PDF text and images, and adjust font attributes

Quickly scan a photo and transform it into a PDF
Cons:
It is quite heavy software, and PDF loading takes time

How PDFelement Fared When I Tested It
Upon initializing PDFelement on my device, the app's clean interface was immediately apparent, exuding a professional feel while retaining user-friendly navigation. Diving into its features, I was pleased to find that reading, editing, and annotating PDFs was not only possible but fluid and intuitive.

The app's cross-platform syncing lived up to its reputation, ensuring that my documents were consistent across devices.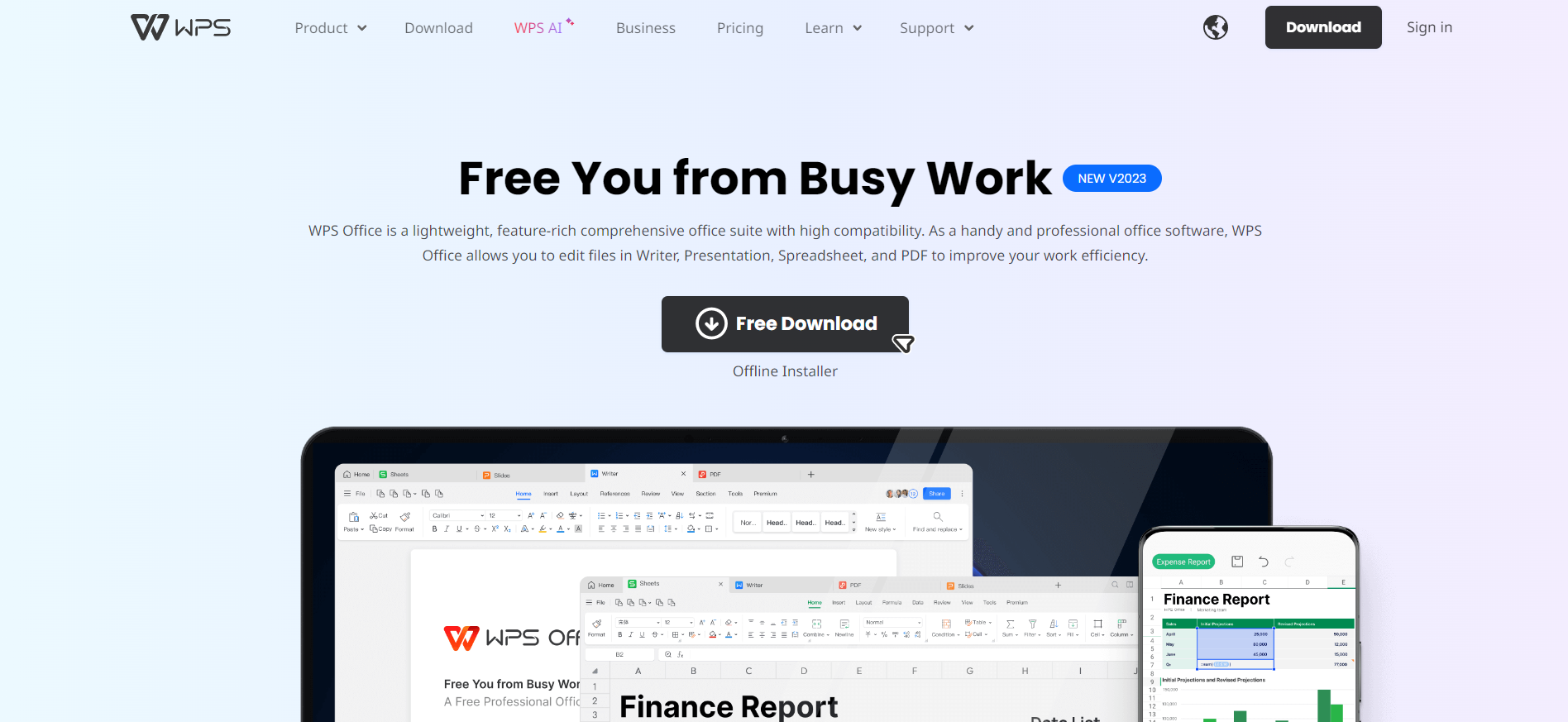 Image source: WPS Office
Dubbed as the "Top Office App for Mobile," WPS Office serves as a versatile office suite, allowing users to view and edit an array of file types including PDF, Word, Excel, Google Doc, Powerpoint, and others.

Its PDF reader component boasts capabilities like viewing annotations, converting PDFs to various formats, text search, sharing functionalities, night mode, and cloud storage saving, among others. While it might not be exclusively tailored for PDFs, WPS Office stands out as a reliable choice for those seeking a no-cost mobile document editor with proficient PDF reading capabilities.


Pros:
Insert, delete, extract, reorder PDF pages

Convert Microsoft Word, Excel, PowerPoint, and Google Docs directly to PDF

Add PDF watermarks to protect  PDF

Create PDF files from blank documents or images


Cons:
Lack of premium features such as OCR, TTS and more


How WPS Office Fared When I Tested It
Upon launching WPS Office, I was immediately met with a comprehensive interface that promised versatility beyond just PDF interactions.

As I ventured into its diverse file offerings—from Word documents to Excel spreadsheets and Powerpoint presentations—it became clear that this was a holistic office suite tailored for mobile efficiency.



Image source: iAnnotate


iAnnotate is an elegant PDF reader crafted for those who crave an uninterrupted reading flow with the added advantage of top-tier annotation capabilities. It's especially suited for avid notetakers and those who frequently highlight their content.


Pros:
Drawing capabilities for personalized notes.

Highlighting for emphasis.

Strikethrough to mark out content.

Underlining for added significance.

Seamless addition of digital signatures for authenticity.


Cons:
Lack of editing tool variety compared to other PDF tools.


How iAnnotate Fared When I Tested It
Beyond these annotation tools, iAnnotate excels in its user experience by offering multi-document tabbed browsing, making multitasking a breeze. The search function is nimble, allowing users to quickly locate keywords or revisit specific bookmarks.

Uploading documents to cloud storage or sharing them via email is straightforward, making collaboration and backup effortless. iAnnotate is the ideal tool for those seeking a seamless blend of reading and annotative functionalities.


Image source: Soda PDF
Soda PDF is tailored for individuals seeking a user-centric PDF tool, eliminating the intricacies commonly associated with PDF software. Its ethos revolves around providing a simplified, yet powerful suite of features that make working with PDFs an effortless endeavor.
Pros:
Intuitive design ensures easy navigation and usage.

Comprehensive editing tools for optimal document customization.

Efficient merging capabilities streamline the combination of multiple PDFs.

Robust converter transforms PDFs to and from various formats.

Compression feature reduces file size without compromising quality.

Seamlessly add digital signatures for document authenticity.

Security tools ensure the confidentiality and integrity of your documents.


Cons:
Lacks a cloud integration feature for immediate online backups.


How Soda PDF Fared When I Tested It
Upon delving into the world of Soda PDF, the initial impression was undeniably positive. The interface was refreshingly straightforward, making even the more advanced tools easily accessible. Editing and merging PDFs were accomplished with a few simple clicks, and the conversion tool efficiently handled various formats without any hiccups. 

The compression and security features were particularly commendable, ensuring optimal file sizes and safeguarding sensitive data.
Best PDF Reader for iPad and Tablet: Best Practices
Choosing the optimal PDF reader for your iPad or tablet involves careful consideration of several factors, given the wide array of available PDF Reader Apps.
File Compatibility: It's vital for your chosen PDF reader to support diverse file formats. Renowned apps like PDF Reader Pro or Adobe Acrobat excel in this domain, enabling users to seamlessly view multiple PDF files or documents.

Annotation and Markup Tools: A superior PDF reader should provide robust annotation capabilities, allowing users to add sticky notes, highlight text, and make use of other markup tools. Apps like PDF Reader Pro, Adobe Reader and Acrobat Reader are particularly commended for these functionalities.

Premium and Advanced Tools: When selecting a PDF Viewer or its pro version, it's beneficial to opt for those offering advanced features such as digital signature capabilities, a specialized reading mode, and comprehensive PDF editing options.

User-Friendly Interface and Reading Mode: The best readers combine an intuitive design with specialized reading modes, ensuring ease of use and an enhanced reading experience. PDF Reader Pro, known for its user-friendly design, offers a reading mode that enhances mobile document readability.

Manageability: A desirable PDF reader should incorporate a built-in file manager, aiding in the organization and easy access of multiple PDF files or documents. Additionally, it should proficiently handle documents of varying sizes without hindering performance.

Interactive and Diverse Features: A top-tier PDF reader offers dynamic, interactive features, providing users with a multifaceted reading environment. Powerful tools often incorporate a plethora of functionalities, ranging from basic viewing to advanced editing and signing capabilities. Comprehensive PDF Editors, such as PDF Expert, equip users with a broad spectrum of tools for varied document-related tasks.
In essence, while there's a vast selection of PDF readers available like PDF Reader Pro and Adobe Acrobat Reader, understanding the essential and advanced features they offer ensures you select the most suitable tool for your requirements. Whether your needs are basic viewing, intricate editing, or comprehensive annotation, there's a tailored solution for every user.


Best PDF Reader for iPad and Tablet: FAQ Section
What are the key features to look for in a powerful PDF reader for iPad and Tablet?
When seeking a powerful PDF reader, essential features include an intuitive interface, support for various file types, advanced tools for annotation, markup features, and interactive capabilities. PDF Editors with a wide variety of features, like Adobe Reader, often provide a more comprehensive experience.




Magical Moments: Personalize the Holidays with Letter from Santa PDF Templates
Craft enchanting messages for your loved ones with ease.


Do most PDF Reader Apps support Liquid Mode? 
Some advanced PDF reader apps, particularly Adobe Reader, support Liquid Mode, which optimizes PDF documents for easy reading on mobile devices. This mode adjusts the text size and layout for better readability on smaller screens.


How important is the digital signature feature in PDF apps?
The digital signature feature is pivotal for professionals and businesses. It allows users to electronically sign PDF documents, making processes like approvals and agreements faster and more secure.


Are there PDF Readers that excel in annotation features?  
Yes, many PDF Reader Apps, like Xodo PDF Reader, come equipped with powerful annotation tools, enabling users to highlight, underline, and add handwritten or audio notes to their PDF documents.


How do PDF Viewer Pro and other PDF editors manage different file sizes and types?
PDF Viewer Pro, along with other notable PDF editors, efficiently handles various document formats, including popular file types like PDF format files. They use efficient compression techniques to ensure smooth performance, irrespective of the file size.


What is the role of a file manager within a PDF app?
A built-in file manager aids users in organizing, accessing, and managing their PDF documents with ease. It often provides integrations with cloud services, facilitating easy storage and retrieval.


Can I fill out PDF forms using these apps? 
Certainly. Many PDF reader apps, like Foxit Mobile PDF and WPS Office, support PDF forms. They offer form filling tools, making it convenient to complete and submit forms directly from the app.


How do PDF apps ensure comfortable reading at night or in low light?
For comfortable reading, many PDF apps feature reading modes, including Dark Mode and Landscape Mode. Modes like Continuous Scroll and Horizontal Scrolling also enhance the reading experience.


Do I need to invest in a premium version to access all features? 
While many PDF apps offer a host of features in their free version, certain advanced tools and features, such as cloud integrations or advanced annotation options, might require a premium subscription.


Are there any unique features offered by specific PDF readers like Lumin PDF? 
Each PDF reader app often brings its own set of unique features to the table. For instance, Lumin PDF might have specialized tools or integrations that set it apart from others. It's always beneficial to review individual app descriptions and user reviews to understand their unique offerings.


By understanding these commonly asked questions and their answers, users can make informed decisions when selecting a PDF reader tailored to their needs.