Black Friday is just around the corner and with so many incredible deals abound in the SaaS space, you might be wondering which ones to save your money for. 

Let's examine each leading deal in detail and determine which promotions are worth your hard-earned cash and which you can skip for another Black Friday. 


Quick Reference Table
Check out our Quick Reference Table below to speedily review and access the SaaS Black Friday deals.



10 Best Black Friday Software Deals for 2023
Welcome to our comprehensive guide on the best Black Friday software deals, a special occasion where quality meets affordability in the digital world.

As we approach the excitement of Black Friday and Cyber Monday, it's the perfect time to look at the annual subscription offers and special deals that can enhance your online presence and internal operations.

Image source: PDF Reader Pro
PDF Reader Pro is a versatile, comprehensive tool for seamless PDF management. It stands out as an all-in-one solution, catering to a wide range of PDF-related needs. Whether you're dealing with digital signatures, editing, or converting PDF files, this software covers you.

It's a perfect blend of functionality and simplicity, making it a go-to choice for both professionals and casual users.
Best Features
1. Digital Signature:
Effortlessly add digital signatures to your PDF documents, ensuring authenticity and security.


2. Edit PDF Content:
Modify text, images, and pages within PDFs with ease.

Enjoy a user-friendly interface for hassle-free editing.


3. Comprehensive Conversion Options:
Convert PDFs to and from various formats including Office documents and images.

Retain the quality and layout of your documents during conversion.


4. Optimize PDF Size and Structure:
Compress PDFs to reduce file size without losing quality.

Combine multiple PDFs into a single document for better organization.


5. Advanced PDF Management Tools:
Comment on PDFs for effective collaboration.

Utilize OCR technology to make scanned documents editable and searchable.

Secure your PDFs with robust protection features.
Deal Details
Discount

: 50% off at $39.99

(one-time purchase for Mac and Windows versions)

Validity: The deal runs from November 16 to November 24

Image source: Kdan PDF Reader
Kdan PDF Reader offers a unique, eye-friendly reading experience, perfect for extensive digital document handling. Its smooth page scrolling and customizable background settings (day, night, sepia) are designed to reduce eye strain, making it ideal for long reading sessions. The slideshow mode is an added bonus for presenting PDFs effectively.

This tool also excels in document organization, allowing users to store all their documents in one place, thereby reducing clutter and promoting a paperless workflow. Moreover, Kdan PDF Reader enables users to sign and fill both fillable and non-interactive PDF forms electronically, further supporting a paperless environment.


Best Features
Eye-Friendly Reading Modes: Choose between day, night, and sepia modes for comfortable reading.
Effective Document Organization: Keep all documents in one place for easy access and reduced clutter.
Electronic Form Filling and Signing: Complete and sign PDF forms paperlessly, supporting a green workflow.


Deal Details
Discount: 40% off at $35.99 per year.
Validity: The deal ends on November 27th.

Image source: Creative Cloud All Apps


Creative Cloud All Apps bundle by Adobe offers an extensive collection of over 20 creative applications, including industry favorites like Photoshop and Illustrator. This comprehensive suite caters to a wide range of creative needs, from graphic design and photo editing to video production and web development.

The inclusion of generative AI tools powered by Adobe Firefly adds cutting-edge capabilities to this already robust package, enabling users to explore new creative frontiers. While Substance 3D apps are not included in this deal, the bundle still presents an unparalleled array of tools for creatives of all levels.


Best Features
Wide Range of Applications: Over 20 apps covering various creative fields.
Adobe Firefly: Generative AI tools for innovative design solutions.
Photoshop and Illustrator Included: Access to industry-standard graphic design and photo editing tools.


Deal Details
Discount: Save 50% on the first year at $29.98 per month.
Applicability: Includes 20+ apps, excluding Substance 3D apps.
Validity: Offer ends on Nov 24.

Image source: Filmage Screen Mac
Filmage Screen Mac stands out as an easy-to-use screen recording tool, ideal for capturing online courses and meetings.

This software provides limitless recording capabilities, including the option for picture-in-picture video, making it perfect for a variety of professional and educational uses. With support for 4K recording and a full editing suite, it's a comprehensive solution for all your screen recording needs.


Best Features
Limitless Recording: Record without time constraints.
Picture-in-Picture Video: Enhance recordings with this feature.
4K Support: High-quality recording for clear, detailed videos.


Deal Details
Discount Offer: 50% off, now available at $14.99 (one-time purchase for Mac version).
Offer Validity: The deal runs from November 16 to November 24.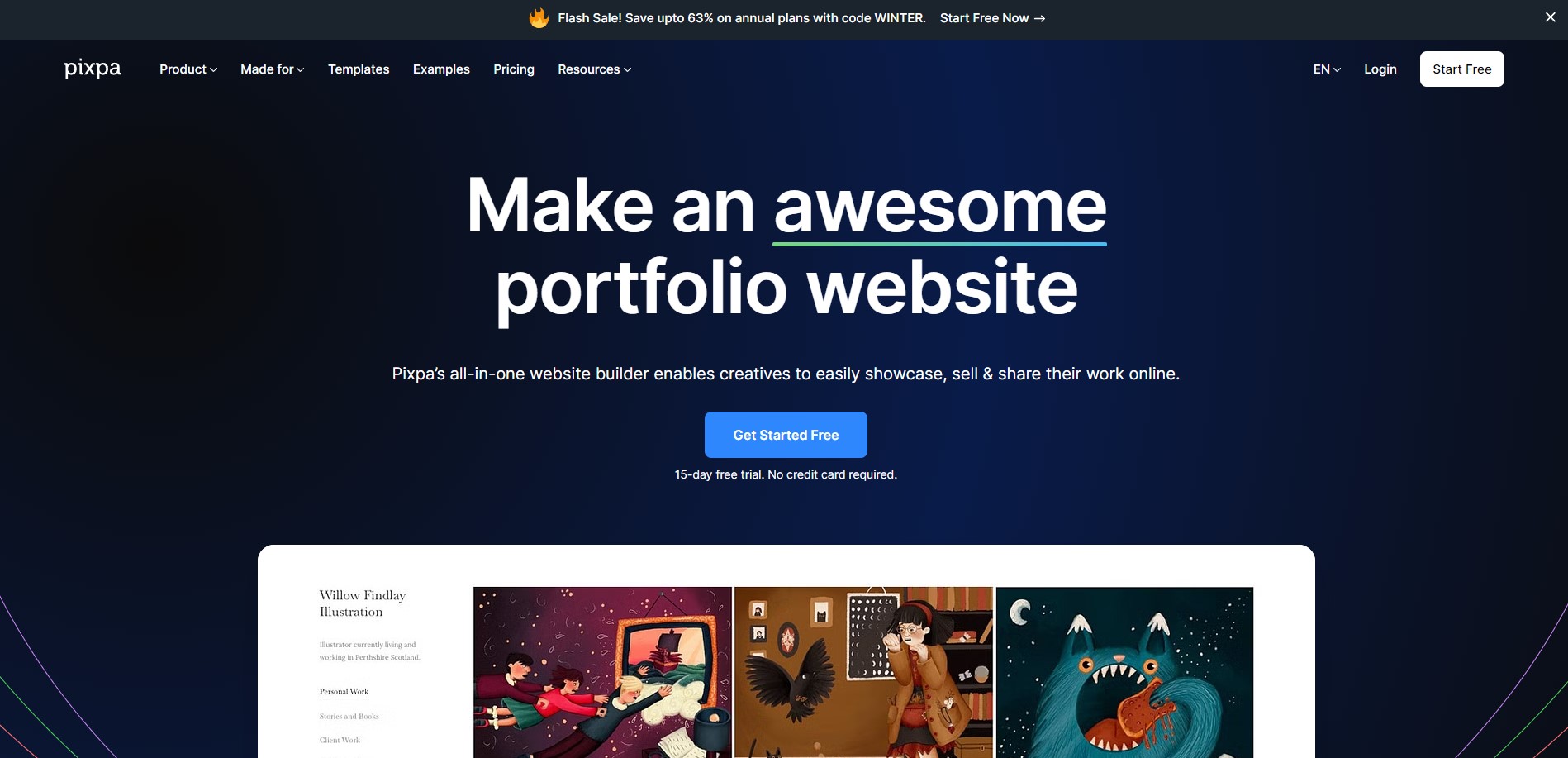 Image source: Pixpa
Pixpa is a versatile, no-code website builder tailored for creatives and small businesses. It offers a range of features like an online store, client galleries, and marketing tools, all designed to help showcase and sell work online without any coding expertise.

With customizable templates, SEO tools, and 24/7 support, Pixpa is ideal for creating professional websites and blogs.


Best Features
Portfolio Website Builder: Create stunning websites easily.
Customizable Templates: Tailor your site to your style.
E-commerce Integration: Sell products directly from your site.


Deal Details
Discount: 50% off on annual plans, 60% off on biannual plans.
Validity: November 24 – December 31, 2023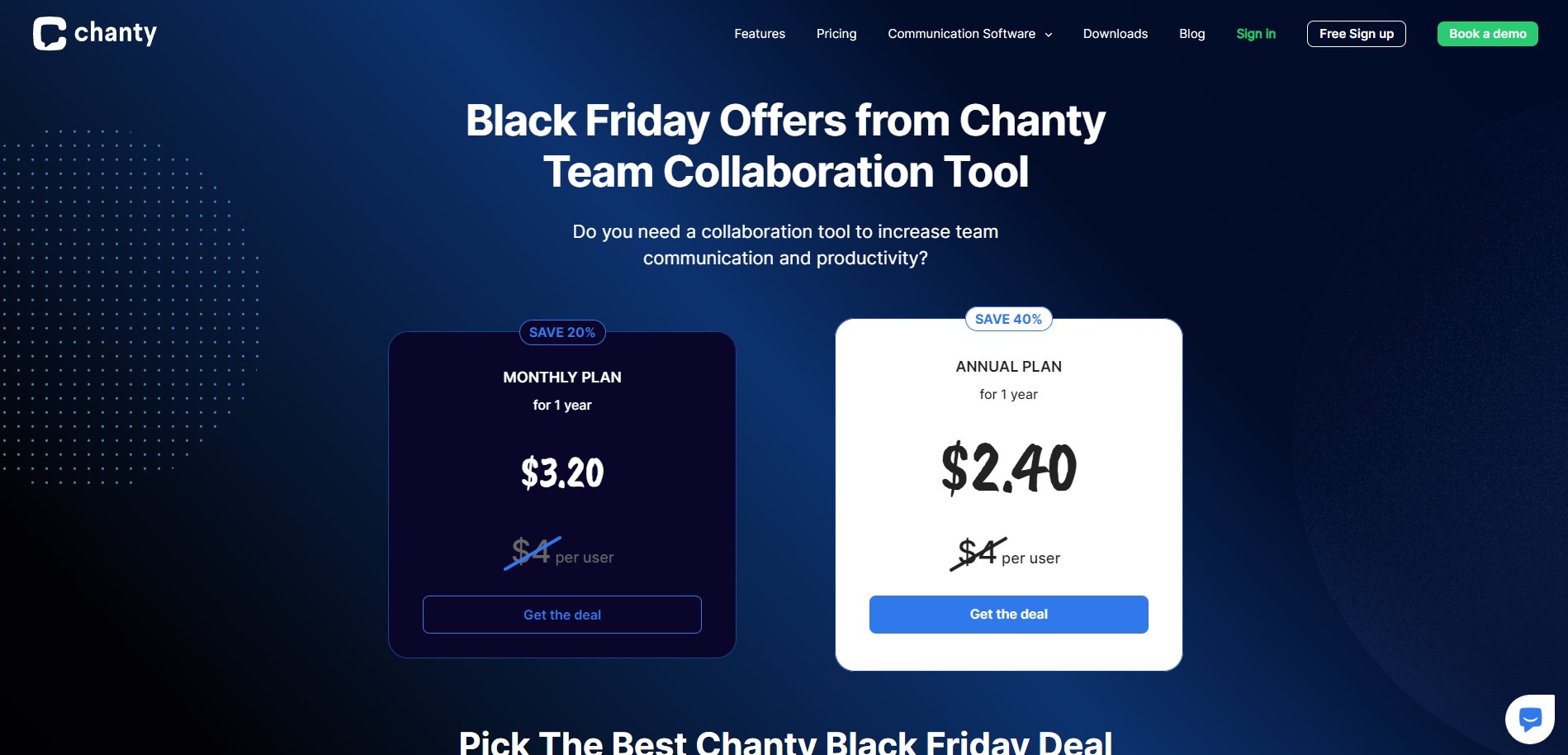 Image source: Chanty
Chanty is designed for both remote and onsite teams, providing an all-in-one collaboration platform.

It features unlimited searchable messaging, audio and video calls with screen sharing, task management through a Kanban board, and voice messaging, facilitating communication and organization for businesses of all sizes.
Best Features
Unlimited Messaging: Communicate without constraints.
Audio and Video Calls: For efficient team meetings.
Screen Sharing: Enhance collaboration and clarity.


Deal Details
Discount: 20% off on monthly plans, 40% off on annual plans.
Validity: November 6 – December 3, 2023

Image source: Document360


Document360 stands out as an innovative knowledge base platform, driven by AI to offer a comprehensive self-service knowledge base for both internal and external users. Its AI Concierge, Eddy, is a standout feature, incorporating natural language processing to deliver quick, accurate information searches.

Document360 integrates seamlessly with platforms like Intercom, Microsoft Teams, and Slack, ideal for creating user guides, internal wikis, FAQs, and more, offering a rich text editor, version control, and multi-language support.


Best Features
Rich Text Editor: Allows for easy content creation and editing.
Version Control: Keeps track of changes and updates.
Custom Domain and Branding: Personalize your knowledge base.


Deal Details
Discount: Up to 50% off on all annual plans.
Coupon Code: BLACKFRIDAY2023
Validity: November 6 – December 8, 2023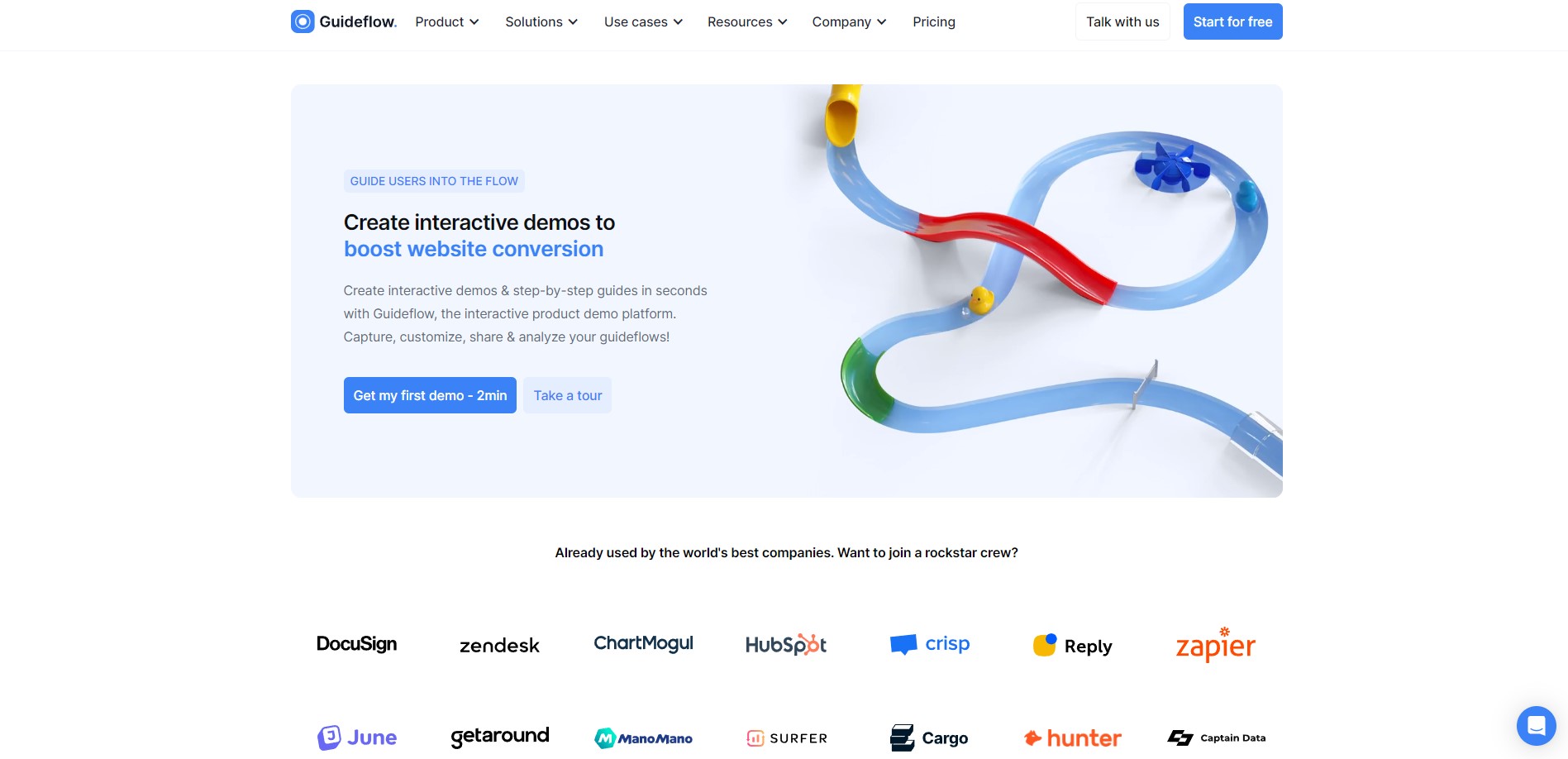 Image source: Guideflow


Guideflow stands out as an exceptionally user-friendly yet advanced interactive demo platform tailored for SaaS companies.

It empowers businesses to create compelling, interactive product demos swiftly and with ease. The ability to customize and share these demos is a key feature, allowing integration into various channels such as landing pages, emails, or help documentation.

This tool is particularly beneficial for enhancing customer engagement and streamlining the sales process by providing an interactive and immersive product experience.


Best Features
Rapid Demo Creation: Develop interactive product demos in seconds.
Customizable Demos: Tailor your demo to fit specific customer needs and scenarios.
Versatile Sharing Options: Share demos on landing pages, via email, or in help documentation.


Deal Details
Discount: 25% off on all plans using the code BF25
Validity: 16th Nov – 1st Dec 2023.

Image source: Signeasy
Signeasy emerges as an intuitively designed eSignature solution, perfect for technology companies looking to transition their document processes into the digital realm.

This platform is engineered for ease, offering a straightforward, reliable way to manage electronic signatures. It's an ideal tool for all stakeholders, whether internal team members or external partners, simplifying the eSignature process without compromising on efficiency or security.


Best Features
Ease of Use: Designed for simplicity, ensuring a smooth eSignature process.
Reliability: A dependable choice for important document handling.
Versatile for All Users: Suitable for both internal and external stakeholders.


Deal Details
Discount Offer: 50% off exclusively on the annual plan.
Coupon Code: BLACKFRIYAY50
Offer Validity: 17th Nov – 30th Nov 2023.

10. SalesBlink

Image source: SalesBlink
SalesBlink is a comprehensive AI-driven solution designed to streamline cold email outreach.

It offers a range of tools for finding prospects, automating email sequences, and providing detailed analytics on email interactions, such as opens, clicks, and replies. SalesBlink simplifies the process of managing outreach campaigns, making it more efficient and effective.


Best Features
AI Email Assistance: Features BlinkGPT, an in-house AI for writing emails and creating sales sequences.
Comprehensive Analytics: Tracks opens, clicks, replies, and more for detailed reporting.
Integration Capabilities: Seamlessly integrates with Hubspot, Pipedrive, ZohoCRM, and Slack.


Deal Details
Discount Offer: 50% off on Scale and Business Plans, applicable to both Yearly and Monthly Plans.
Coupon Code: BlackFriday2023
Offer Validity: 1st November – 31st December 2023.
This year, software deals are not just about price cuts; they focus on adding value to your digital toolkit. From form designers and form fillers to custom domains and UI kits, these deals cater to a wide range of needs. Whether you're a business looking to upgrade your internal knowledge base or an individual seeking to bolster your online presence, there's something for everyone.
Additionally, we understand the importance of reliability and trust in digital products. That's why many offers come with a 30-day money-back guarantee, ensuring you can invest with confidence. For those looking to expand their digital portfolio, affiliate links and commissions provide an opportunity to benefit from these deals beyond the initial purchase.
With unlimited bandwidth, daily backups, and a range of digital products from reputable service providers, these deals are designed to support your needs throughout the year. As we dive into the specifics, remember that whether it's November or December, these software discounts and cyber software picks from quality software providers are set to enhance your experience with technology.


Best Black Friday Software Deals: Best Practices
Black Friday is a crucial time for savvy shoppers, especially when it comes to software deals.

With a plethora of options available, ranging from e-commerce and fitness apps to professional website tools, it's essential to navigate these deals strategically. Here are some best practices to help you make the most of this Black Friday's software offerings.


1. Explore a Wide Range of Software Deals:
Diversity is Key: With various sources confirming a multitude of software deals, take the time to explore the wide range available. Whether you need tools for building professional websites, managing e-commerce platforms, or staying fit, there's likely a deal for you.
User Interface and Experience: Opt for software with an intuitive interface, ensuring ease of use and efficiency.


2. Prioritize Annual and Yearly Plans:
Long-term Savings: Annual and yearly plans often come with significant cost benefits. This Black Friday, look out for deals that offer substantial savings on longer-term commitments.
Subscription Benefits: These plans might also include additional features or services, enhancing the value of your investment.


3. Specialized Software Deals: E-Commerce and Fitness Apps:
E-Commerce Apps: For those in the digital marketplace, e-commerce apps with advanced features can be a game changer. Look for deals that offer robust functionality to manage your online store.
Fitness Apps: Stay on top of your health goals with deals on fitness apps. These applications can offer a range of features from workout guides to health tracking.


4. Assess Pricing Plans and Discounts:
Flexible Pricing Plans: Ensure the software you choose has a flexible pricing plan that fits your budget and needs, even after the discount period ends.
Use Discount Codes: Keep an eye out for additional discount codes that can be applied to already reduced prices, maximizing your savings.


5. Check for Premium Plan Offers:
Advanced Features: Premium plans often come with enhanced features. Black Friday deals might offer these at a fraction of the regular price.
Compare Features vs. Needs: Ensure the premium features align with your actual requirements to avoid unnecessary expenses.


6. Utilize Knowledge Bases and Support:
Internal Knowledge Base: Make use of the available knowledge bases for any software you purchase. They can be invaluable for troubleshooting and learning advanced features.
Customer Support: Good customer support can significantly enhance your experience with the software, so consider this when choosing a deal.


By following these best practices, you can navigate the Black Friday software deals effectively, ensuring you get the best value for your investment.
Best Black Friday Software Deals: FAQ
What Software Deals Include Form Designer and Form Filler Tools?
Explore Black Friday deals that feature robust Form Designer and Form Filler capabilities, essential for efficient digital form management, often bundled with advanced UI kits.


Are Custom Domains Part of Black Friday Software Offers?
Yes, many Black Friday software deals offer custom domain options, ideal for enhancing your online presence or for professional website development.


Is There a Money-Back Guarantee with Black Friday Software Purchases?
A majority of software deals during Black Friday come with a 30-day money-back guarantee, allowing you to trial the software and ensure it meets your needs before fully committing.


How Do Affiliate Links Influence Black Friday Software Deals?
Black Friday offers often include affiliate links, providing customers with exclusive discounts, while also offering affiliate commissions as incentives for referrals.


Can I Expect Cyber Monday Deals to Be Different from Black Friday Offers?
While Cyber Monday deals, occurring in late November, often mirror Black Friday offers, they sometimes include additional digital products and exclusive software discounts not seen during Black Friday.


Are Unlimited Bandwidth and Daily Backups Included in Black Friday Software Deals?
Software deals on special occasions like Black Friday often feature packages with unlimited bandwidth and daily backup services, catering to both individual and service provider needs.


Do Software Deals Extend Beyond November and December?
Yes, some Black Friday and Cyber Monday software deals extend their special discounts into December, offering a wide range of options from quality software providers over an extended period.
Making the Most Out of Black Friday
Black Friday and Cyber Monday are not just about snagging deals; they're about finding premium quality software that adds real value to your life and business.

This year, make the most out of Black Friday with our curated software discount list, featuring everything from annual plans to versatile platforms.


Annual Plans and Promo Codes
Get ready to unlock significant savings with annual plans. Many software providers offer special annual plans coupon codes, making it the perfect time to commit to a 12-month term. These plans often come with added benefits like unlimited plans and exclusive features. Keep an eye out for promo codes and discount codes that can provide additional savings on these deals.


Tools for Efficiency and Security
Look for tools that not only enhance your workflow but also ensure security. Password generators and password checkers have become essential, with some providers offering these tools as part of their basic plan. Similarly, password managers are now more sophisticated, offering features like a password vault offline and a standard master password for added security.


Enhancing Online Presence
This Black Friday, enhance your online presence with tools designed for creating beautiful templates, user interfaces, and even documentation websites. Platforms like Hostinger Website Builder cater to various kinds of websites, from simple blogs to complex e-commerce platforms. Look for deals on builder software and plugins, including SEO plugins, caching plugins, and all-in-one membership plugins to elevate your website's performance.


User Experience and Customization
The user interface and user experience are crucial in today's digital landscape. Find deals on software that offer beautiful templates, conversational forms, and product custom templates. Software with an extensive feature set for customization, like form builders and template layouts, can significantly enhance the user experience on your site.


Specialized Software Deals
For those with specific needs, this is the time to invest in specialized software. From affordable help desk software to advanced admin templates, Black Friday sales provide an opportunity to acquire tools that are usually expensive. These tools can range from simple plugins to comprehensive platforms for managing every aspect of your online presence or business operations.


Hassle-Free Experience
To avoid the hassle of coupon codes, look for direct deals and straightforward discounts. Many providers offer straightforward savings, eliminating the need for coupon codes. This makes the shopping experience more enjoyable and efficient, allowing you to focus on the value the software brings to your business or personal life.


In conclusion, Black Friday & Cyber Monday present an excellent opportunity to invest in software that can transform how you work, secure your digital life, and enhance your online presence. With a range of deals from limited storage plans to comprehensive, versatile platforms, there's something for everyone in this year's software deals list.

So, dive into these exciting features and make informed choices to maximize your Black Friday savings.