Reading your favorite PDFs on your Kindle device has never been easier. Whether you're on the go or prefer the comfort of your home, there are several methods to transfer your documents directly to your Kindle.

This guide will walk you through detailed steps on how to send PDF files to your Kindle using different methods, including via email, USB, or the desktop app.


How to Email a PDF to a Kindle
Transferring your PDF documents to read on your Kindle device is convenient and easy through email. Below is a detailed step-by-step guide on how to accomplish this.


Step 1: Locate Your Kindle Email Address
First, you need to find out the unique email address assigned to your Kindle device. Start by going to "Accounts and Lists" at the top right of the Amazon home page, then select "Content and Devices" from the dropdown menu.

After that, click on "Manage Your Content and Devices."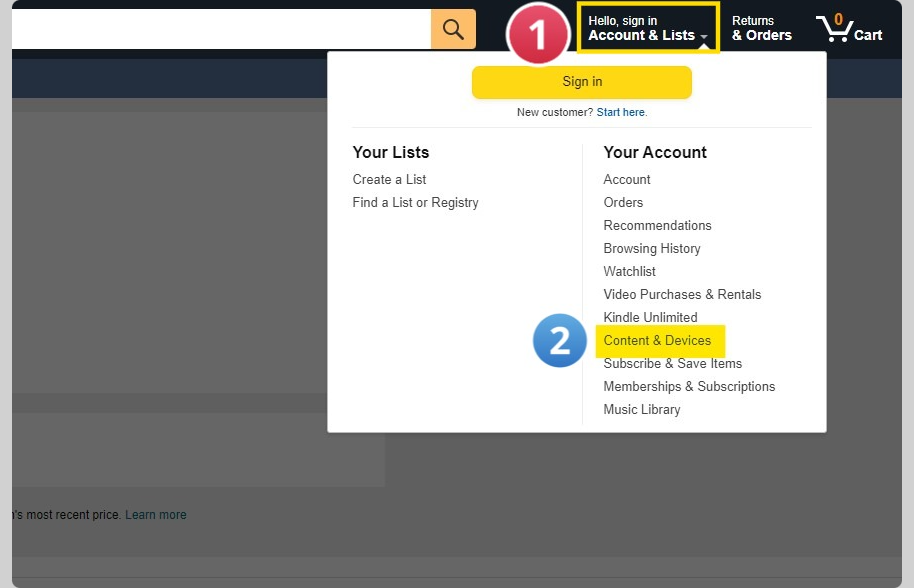 Step 2: Access Your Kindle Email
After you're in the "Devices" section, locate and click the Kindle app under "Amazon apps installed on devices." Here, you will find your unique Kindle email address.


Step 3: Authorize Your Email Address
The sending address must be approved for an email to be successfully received by your Kindle. Head to the "Preferences" tab, select "Personal Document Settings," and then proceed to "Approved Personal Document Email List."

This list comprises email addresses that are authorized to send documents to your Kindle.


Step 4: Add a New Approved Email
You can "Add a new approved email address in the same section." Enter the email address to send PDFs to your Kindle, then click "Add address."


Step 5: Compose and Send Your Email
Now, open your preferred email platform, create a new email, and attach your PDF file. Address it to the Kindle email you just authorized.

Once sent, Amazon Kindle Support will send a confirmation request that must be approved within 48 hours. After approval, the document will be available on your Kindle device.


How to Transfer a PDF to a Kindle via USB
If you prefer using a physical connection, you can transfer PDFs directly to your Kindle device using a USB cable. Below are the necessary steps for this method.


Step 1: Locate the PDF File
Find the PDF document on your computer that you want to transfer to your Kindle.


Step 2: Connect Your Kindle to Your Computer
Using a USB cable, connect your Kindle device to your computer.


Step 3: Transfer the PDF
After connecting, click on the Kindle's icon on your computer, and find the "documents" folder. Then, drag and drop your PDF file into this folder.


How to Upload a PDF to Kindle via the Desktop App
You can also utilize Amazon's Send to Kindle desktop app to transfer PDF files. Here's how.


Step 1: Install the Send to Kindle App
Download and install the Send to Kindle application from Amazon's official site.


Image source: Amazon


Step 2: Sign In to Your Amazon Account
Once installed, open the application and sign in using your Amazon account credentials.


Step 3: Select and Send Your PDF
Locate the PDF file on your computer, click, and drag it into the Send to Kindle app window. Choose your device from the list, and hit the "Send" button to transfer.

Your PDF will shortly appear on your Kindle device.



How to Send PDF to Kindle: Best Practices
Transferring your favorite books, important documents, or any PDF file format to your Kindle shouldn't be a complicated task. With the right tools and methods, you can simplify the process, making your reading experience more enjoyable and efficient. Here are some best practices to ensure a smooth transfer:
Use a Dedicated Email Client: Instead of relying on various sources, streamline your sending process by using a single email client. This approach not only organizes your email inbox but also ensures that you keep track of the PDF documents you send.

Stay Organized with Personal Email Address: Create a specific email address or use a secret email address solely for sending PDFs to your Kindle. This practice helps in separating your personal files and documents from other correspondences.

Check File Compatibility: Kindle supports various eBook formats. Before sending, ensure your documents are in the compatible PDF format. This standard file type preserves the layout and design, providing you with a high-quality reading experience.

Utilize USB Cable for Direct Transfer: Sometimes, the simplest method works best. Using a USB cable or USB cord, you can directly transfer files from your desktop to your Kindle's internal storage, especially if you're dealing with large type size documents that might take up more space.

Leverage the Desktop App: Amazon's desktop app facilitates the sending of PDFs to your device. Whether you're using an Android device, tablet, or other mobile devices, the app's interface makes transferring documents a breeze in just a few simple steps.

Monitor Your Email List: Keep your approved email list updated. Amazon Kindle Support recommends regularly reviewing the list to ensure your current email address is approved, avoiding any transfer disruptions.
Remember, the goal is to enhance your reading experience, not complicate it. These practices ensure you spend less time managing files and more time enjoying your favorite books.


Get the Most Out of Reading PDFs
When it comes to managing PDF documents for transfer to mobile or e-reading devices, nothing matches the efficiency of PDF Reader Pro. This versatile application stands out as a comprehensive solution for reading, editing, and organizing PDFs.
Navigate, edit, and
convert PDFs like a Pro
with
PDF Reader Pro
Easily customize PDFs: Edit text, images,
pages, and annotations with ease.
Advanced PDF conversion: Supports
multi-format document processing with OCR.
Seamless workflow on Mac,
Windows, iOS, and Android.

Whether you're dealing with eBook formats or complex PDF documents, PDF Reader Pro maintains the integrity of your content while offering superior readability. The app's user-friendly interface, coupled with advanced features, surpasses standard readers, providing a seamless reading environment for professionals and leisure readers alike.


How to Send PDF to Kindle: FAQ
Navigating the process of sending your PDFs to your Kindle can sometimes involve addressing multiple queries and concerns. Here are some common questions users have about transferring PDF files to their Kindle devices.


Can I use the email method to send multiple documents at once?
Yes, you can send a bunch of files in a single email. However, you should be aware of the file size limitations set by your email provider. When sending numerous emails, it's better to compress the files to avoid exceeding any limits.


What types of files can I send to my Kindle besides PDF?
Kindle supports various compatible file types besides PDF. These include native file format types like .txt or .mobi, digital text files, and more. However, for a smooth reading experience, conversion of PDF files to Kindle's format may sometimes be necessary.


I sent a PDF by email, but it's not showing up on my Kindle. What could be the issue?
Ensure that the email address you are using is included in your list of Kindle-approved emails. If it's not, the email with attachment won't make it to your Kindle email address. Also, check the file size and ensure it doesn't exceed Kindle's receiving limits.


Can I edit PDF files on my Kindle?
Kindle devices aren't designed for file editing. If you need to edit PDF files, it's recommended to do so before sending them to your device. Tools like PDF Reader Pro allow you to edit, manage, and read your PDFs effectively before transferring them to your Kindle.


How do I manage a list of email addresses that can send documents to my Kindle?
You can review and edit your list of email addresses through your Amazon account settings. This list helps in managing who can send documents to your Kindle and prevents unauthorized emails.




Crafting Your Business Blueprint: Standard Business Plan Templates
Utilize ready-made templates to outline your business strategy and growth path.


Are there any restrictions on the files I can send to my Kindle?
Yes, there are restrictions. Non-Amazon PDF files, non-eBook files, or files from an external source file systems may need conversion before they're readable on a Kindle. Additionally, each file sent to Kindle must adhere to certain size and format specifications.


Is there a way to send a non-Kindle PDF file to my device?
Absolutely. While Kindle prefers its native file format, it can host non-Kindle PDF files. However, for an optimized reading experience, you might consider converting the file to Kindle's native format. This process ensures the original file's layout and formatting are maintained.


Why is the file icon different when I send a DMG file compared to a PDF?
DMG files, often used for Mac applications, are treated differently from PDFs. Kindle devices recognize eBook and document formats, like PDFs, and show relevant icons. DMG files or other non-compatible file types won't show the standard file icons and are not supported for reading purposes.


Remember, managing your files efficiently and understanding the file format and type compatibility ensures a seamless reading experience on your Kindle. Always check file details before sending and use reliable tools like PDF Reader Pro for pre-transfer file management.