In today's digital age, it's not uncommon to find ourselves swimming in multiple versions of the same document. Especially when it comes to PDFs, being able to identify differences between two files is crucial, whether you're editing a manuscript, reviewing a contract, or updating a report.

Thankfully, PDF Reader Pro simplifies this process for us. In this blog post, we will guide you through the steps to effectively compare two PDFs using PDF Reader Pro.



How to Compare Two PDFs on Windows
If you're a Windows user then you'll obviously need to compare PDFs from time to time. Check out our guide to doing so below. 


Navigate, edit, and
convert PDFs like a Pro
with PDF Reader Pro
Easily customize PDFs: Edit text, images,
pages, and annotations with ease.
Advanced PDF conversion: Supports
multi-format document processing with OCR.
Seamless workflow on Mac,
Windows, iOS, and Android.

Step 1: Click "Page Display" and then "View Settings"

Step 2: Select "Two Page" under "Display Mode" 
You can also select your "Split View" and "Themes" settings to your preference. 


How to Compare Two PDFs on Mac
If you're a Mac user, there will undoubtedly be occasions when you need to compare PDFs. Dive into our guide below for the Mac-centric way to do just that.
Navigate, edit, and
convert PDFs like a Pro
with PDF Reader Pro
Easily customize PDFs: Edit text, images,
pages, and annotations with ease.
Advanced PDF conversion: Supports
multi-format document processing with OCR.
Seamless workflow on Mac,
Windows, iOS, and Android.

Step 1: Open the PDF files you need to compare


Step 2: Click on Page Display



Step 3: Click on Page Split


Step 4: 

Select your preferred layout, either side-by-side or top-and-bottom, and then choose the file you wish to compare or review.
Additionally, you can effortlessly adjust the dividing line to suit your requirements.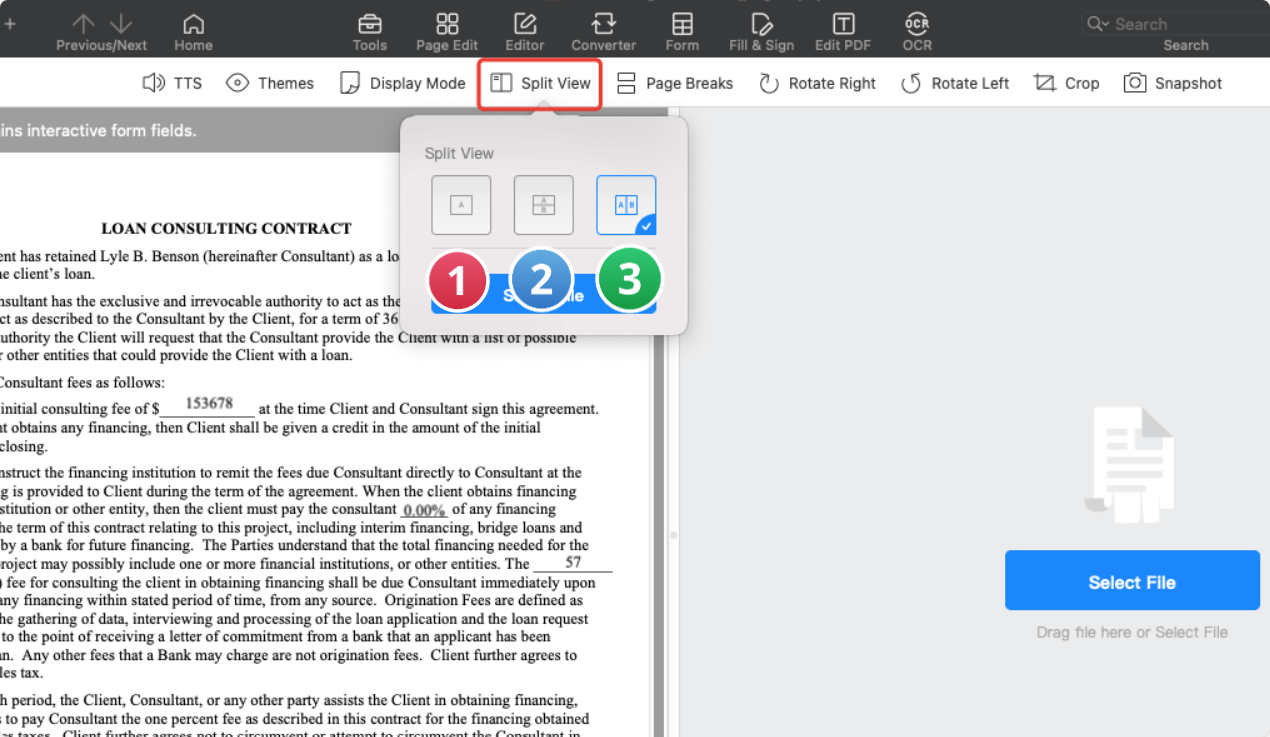 How to Compare Two PDFs: Best Practices
Choosing the Right PDF Comparison Tool
It's imperative to select the right tool when you are diving into the task of comparing two PDF files. While many are familiar with Adobe Acrobat, especially the Adobe Acrobat 2017 version, it's worth noting that there are numerous other PDF comparison tools available. Tools like PDF Reader Pro and Foxit PDF Editor offer advanced features tailored for document comparison.

Check the tool's features to see if they offer both visual comparison and detailed comparison options. The right tool can expedite the comparison process and ensure a clean comparison report.


Understanding the Comparison Process
When comparing two PDF documents, the software typically looks for any file differences in the content, format, or both. A direct comparison involves assessing both versions of the PDF file side by side, while a more detailed comparison might highlight text or layout changes.

Most tools will generate a comparison report, summarizing the differences detected.




Strategic Planning: Navigating the Future
Unleashing the power of thoughtful and strategic decision-making.


Make Use of Visual Aids
A visual comparison can be incredibly helpful, especially for documents with numerous changes. Many tools incorporate a color legend, aiding users in quickly spotting the differences.

These legends often use contrasting colors to indicate added, deleted, or modified content. Ensure your selected tool offers this feature and familiarize yourself with the color legend before starting.


Navigating Dialog Boxes and Advanced Features
Modern document comparison software often presents a dialog box to users, enabling them to specify what type of comparison they'd like (e.g., visual, detailed).

Using advanced features, users can often tailor the comparison type to their needs, ensuring a faster comparison. Whether it's for rounds of revision or future comparison purposes, setting your preferences can save a lot of time in the long run.


Engaging with the Community
Whether you're a novice or an expert at comparing PDFs, there's always more to learn. Engage with online communities, such as the Stack Exchange network or the Power Platform Community.

Here, you can learn from community experts, read up on the community wiki, or update your community profile with questions or insights. An active current community, especially a community for developers, can provide invaluable insights, tips, and tricks.


Reviewing and Saving Your Comparison Report
Once the file comparison is complete, review the comparison report in detail. It will provide an overview of all file differences detected during the comparison. For record-keeping, ensure you save this report, especially if there will be subsequent rounds of revision.


Regular Updates and Reviews
Document comparison is not a one-off task. As your documents undergo changes, it's essential to compare them on a regular basis. This ensures you're always working with the most up-to-date file version and can help prevent potential issues or discrepancies in the future.


In conclusion, comparing PDFs can be a straightforward task when approached with the right tools and best practices. By understanding the tools available, utilizing community resources, and conducting regular reviews, you can efficiently manage and compare your PDF documents.


How to Compare Two PDFs: FAQ
Can I Rely on Community Input for Comparing PDFs?
Yes! Engaging with fellow community members can be a great source of content and knowledge. Community ambassadors and community luminaries often share their collective experiences with different tools and techniques. Many platforms also offer a handy community one-sheet that summarizes best practices and common questions.


How Do I Understand the Community Ranks?
Community ranks are often established to recognize active members and their contributions. These ranks can range from newcomers to seasoned experts, such as community ambassadors or community luminaries. By engaging and contributing, you can climb the community ranks and even become a recognized expert in your field.


Do I Need Acrobat Pro to Compare PDFs?
No, while Acrobat Pro and Adobe Acrobat Pro, including Adobe Acrobat Professional and versions like Adobe Acrobat 2020, are known for PDF functionalities, there are other tools available for comparison purposes. You do not need an Acrobat subscription or any desktop-only Acrobat classic versions to compare PDFs effectively.


How Can I Compare the Content of Two PDFs?
Several tools can compare the document content of PDFs. These tools analyze content type, from text to image content, and highlight the differences. Some advanced tools, like the I-Net PDF Content Comparer, can even spot nuances like anti-aliasing differences and background differences.


What Should I Look For in the Comparison Report?
In a comparison report, you'll likely find plenty of differences between the two documents. Differences are often highlighted in varying colors, like green highlights, to indicate modifications, additions, or deletions. Look for these visual cues to quickly understand the changes.


Are There GDPR Concerns When Using Online Comparison Tools?
When using online tools, it's essential to be aware of data protection and privacy regulations, such as the GDPR - Power Platform Community guidelines. Always ensure that your selected tool is compliant and that you are not sharing sensitive or personal information unless necessary.


Where Can I Find Answers to Common PDF Comparison Questions?
While this FAQ covers some general questions, you can often find more detailed answers to questions on dedicated platforms and forums. Engaging with your fellow community can provide insights based on current experiences and advice from experienced people in the field.


In conclusion, comparing PDFs might raise various questions, but with the right resources and tools, you can navigate the process with confidence. Always remember to consult expert advice, consider privacy implications, and rely on the knowledge shared by the broader community.