Comparing documents in PDF format is an essential task for professionals and individuals alike. It helps us identify differences, track changes, and ensure accuracy in our work. However, finding a reliable PDF comparison tool can be a daunting task. In this comprehensive guide, we will explore the process of comparing documents in PDF and recommend PDF Reader Pro as a powerful solution to streamline your document comparison workflow.
Table of Contents:
Understanding the Importance & Challenges of PDF Document Comparison
Before we delve into the process of comparing PDF documents, let's understand why it is so crucial. Document comparison enables us to identify changes, inconsistencies, and errors during reviewing and editing processes. Whether you're working on legal documents, contracts, academic papers, or collaborative projects, document comparison ensures accuracy and saves valuable time. With the rise in digital workflows, using a reliable PDF comparison tool has become essential for both professionals and individuals.
Comparing documents manually can be time-consuming, tedious, and prone to errors. It becomes even more challenging when dealing with lengthy or complex documents. Inconsistent formatting, varied layouts, and different versions further complicate the process. To overcome these challenges, using a specialized tool like PDF Reader Pro is highly recommended.
Navigate, edit, and
convert PDFs like a Pro
with
PDF Reader Pro
Easily customize PDFs: Edit text, images,
pages, and annotations with ease.
Advanced PDF conversion: Supports
multi-format document processing with OCR.
Seamless workflow on Mac,
Windows, iOS, and Android.
Introducing PDF Reader Pro - Your Ultimate Document Comparison Solution
PDF Reader Pro is a powerful and user-friendly software. It offers a comprehensive suite of tools specifically designed to enhance productivity and accuracy in document comparison tasks. From highlighting differences, and merging changes, to generating detailed comparison reports, PDF Reader Pro caters to the needs of most users.
Step-by-Step Guide to Comparing Documents in PDF 
Step 1: Launching PDF Reader Pro and Opening the Documents
Step 2: Setting Comparison Parameters
Page Range: Select the specific page bracket you'd like to access.

Compare text only: Compare the text of two documents, ignoring images and graphics. We recommend this mode for code or plain text documents.

Compare image only: Compares the image content in two documents, ignoring text and formatting, which is appropriate for documents that need to compare differences in images, such as design drafts or image documents.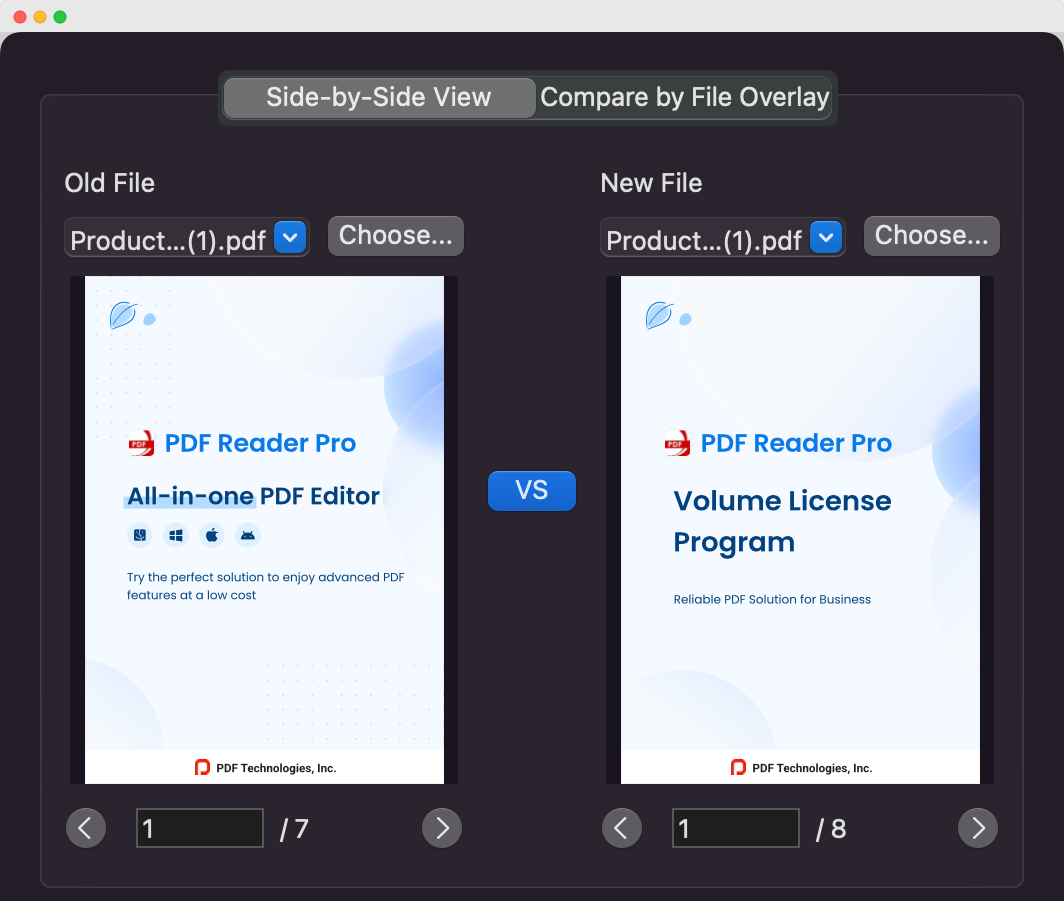 Image source: PDF Reader Pro
Step 3: Performing the Document Comparison
Step 4: Reviewing and Analyzing the Differences
Step 5: Exporting Comparison Results and Generating Reports
 Image source: PDF Reader Pro
Advanced Features and Benefits for Document Comparison
Document Merging and Combining: Merge changes from different versions into a single document. With PDF Reader Pro, merging changes from different versions of a document is a breeze. The software enables users to combine multiple versions, highlighting the differences and automatically merging them into a single, updated document. This feature is invaluable for collaborative work, enabling teams to streamline the review and revision process.

OCR (Optical Character Recognition) Support: Compare scanned or image-based PDFs. PDF Reader Pro's OCR support allows users to compare scanned or image-based PDF files. Optical Character Recognition technology accurately converts scanned text into editable and searchable content. This feature is particularly useful when comparing documents that have gone through a scanning or OCR process, ensuring accurate and reliable comparison results.

Customizable Markup Tools and Annotations: Highlight, underline, add comments, and more. PDF Reader Pro offers a wide range of customizable markup tools and annotations to enhance the document comparison experience. Users can indicate changes and emphasize discrepancies by highlighting, underlining, or striking through text. Additionally, the software allows for the addition of comments, text boxes, stamps, and shapes, providing a comprehensive toolkit for reviewing and collaborating on documents.
By leveraging these advanced features, users can streamline their document comparison workflows, improve accuracy, and simplify collaboration, ultimately saving valuable time and increasing productivity.
Frequently Asked Questions (FAQs)
Q1: Is PDF Reader Pro compatible with my operating system?
PDF Reader Pro is compatible with both Windows and macOS operating systems. You can download and install the software on your Windows PC or Mac computer without any compatibility issues.



Deciphering the IRS Form W-2: Your Guide to Wage and Tax Statement
A comprehensive explanation of IRS form W-2 and its role in your tax filing.


Q2: How secure is PDF Reader Pro for handling sensitive documents?
PDF Reader Pro prioritizes the security and privacy of your documents. The software employs advanced encryption and security measures to ensure the safety of your sensitive information. You can trust PDF Reader Pro to handle confidential documents with utmost security.
Q3: What are the system requirements for PDF Reader Pro?
For Windows, PDF Reader Pro requires Windows 10, 8, or 7 operating systems. It is compatible with both 32-bit and 64-bit systems. For macOS, PDF Reader Pro supports macOS 10.12 Sierra or later versions. Make sure your device meets these requirements for optimal performance.
Q4: What licensing options are available for PDF Reader Pro?
PDF Reader Pro offers flexible licensing options to suit your needs. You can choose between a single-user license for individual users or a multi-user license for businesses and organizations. Additionally, there are options for lifetime licenses and annual subscriptions, allowing you to select the most suitable option for your requirements.
Q5: How can I troubleshoot common issues with PDF Reader Pro?
PDF Reader Pro provides comprehensive technical support to address any issues you may encounter. You can refer to the online help center for guides, tutorials, and troubleshooting resources. Additionally, you can reach out to their support team via email or contact form for personalized assistance and timely resolution of any problems you face.
These frequently asked questions provide insights into common concerns regarding PDF Reader Pro. Suppose you still have queries or require further information. In that case, it is recommended to visit the official website of PDF Reader Pro or contact their support team directly for the most accurate and up-to-date information.