In today's rapidly evolving digital landscape, the importance of document security and integrity cannot be overstated. In response to this growing demand for secure and trusted document signing solutions, ComPDFKit integrates its cutting-edge digital signature technology into PDF Reader Pro, providing a higher level of document security for PDF Reader Pro users.
This article will explore the new feature in several aspects:
What is Digital Signature?
image source: Pixabay
A digital signature is a specific type of electronic signature (e-signature) notarized by a Certificate Authority (CA) that relies on public-key cryptography to support identity authentication and provide data and transaction integrity. These represent one of the highest level of security for digital documents, as they comply with the regulations laid down by the most important laws in the world.
The ComPDFKit digital signature feature supports a rich set of parameter options, providing users with flexible and personalised configurability. Some of the key parameters include:
Digital Certificate Selection: Users can choose their digital certificate to authenticate their identity and enhance the credibility of the signature. Digital certificates are usually issued by a certificate authority (CA). Also, Users can create a new digital ID by themselves. 

Signature Position: Users can define the precise location of the digital signature within the document.

Signature Appearance: ComPDFKit Digital Signature allows users to customize the signature by changing the signature style. For example, image signatures, font-based signatures, or handwriting signatures.

Timestamping: ComPDFKit Digital Signature supports timestamping, which records the specific time you signed the document, ensuring the signature's time authenticity and integrity.

Reason for Signature: Users can choose a reason for their signing, such as: I have reviewed this document.
What Can You Do with ComPDFKit Digital Signature
ComPDFKit supports a digital signature that includes the signer's identity to meet the needs of various scenarios. With ComPDFKit's cutting-edge digital signature technology, you can quickly sign your agreements, contracts, and other important document from anywhere, speeding up your business significantly.
Document Authentication
A digital signature is highly secured and encrypted so that no one can modify the information in the document. If the files are tampered with, the digital signatures will not pass authenticity verification. Therefore, enterprises tend to use digital signatures to verify the authenticity and integrity of contracts, financial records, or legal agreements. 
Financial Transactions
Financial transactions play a crucial role in numerous industries and businesses, and digital signatures have proven to be an invaluable tool to authorize and execute a vast array of financial documents, including loan agreements, mortgage contracts, insurance policies and investment forms. Digital signatures enhance security and facilitate accelerated processing of financial transactions.
Digital signatures play a crucial role in government agencies where signed documents need to be securely transmitted and stored, such as permits, licenses, and tax forms. 
How Does PDF Reader Pro Benefit from ComPDFKit Digital Signature
Enhanced Security
ComPDFKit's digital signature technology provides robust security measures to protect the integrity and authenticity of digitally signed documents. This helps users ensure that their signed PDF files cannot be tampered with or forged. Once the files are modified, the digital signatures will not pass authenticity verification.
Improve Document Reliability
It is convenient for PDF Reader Pro users to confirm the identity of the document signer, ensuring that the document is received from a trusted source.
Seamless Integration
PDF Reader Pro can seamlessly integrate with ComPDFKit's digital signature capabilities, allowing users to easily apply, verify, and manage digital signatures within the PDF Reader Pro application. The newly launched feature has enhanced the flexibility and functionality of PDF Reader Pro, allowing users to meet their specific signing needs.
Free Trial Digital Signature
The great news is that PDF Reader Pro is now available for free trial! By downloading the APP, you can get a 7-day free trial of the newly released digital signature feature (powered by ComPDFKit), and enjoy the great convenience that the remote signature brings to your work. Accelerate your business negotiations and co-operation!
Tips: here's the user guide on how to create digital signatures on Mac and Windows.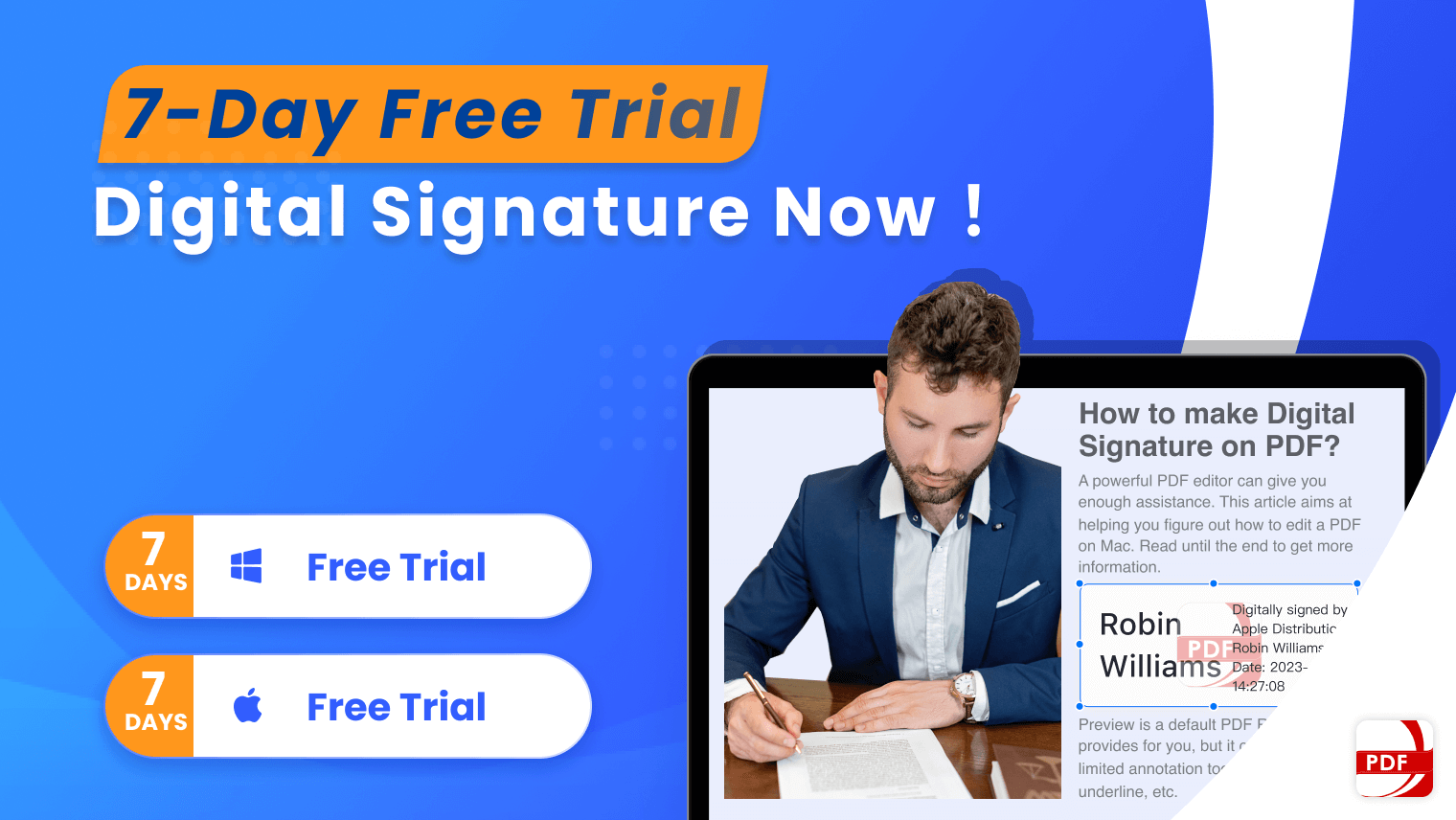 ComPDFKit SDK, the Complete PDF solution for All Kinds of Business
Are you looking for a comprehensive and powerful toolkit to integrate PDF functionality seamlessly into your own software? Look no further! ComPDFKit SDK is the answer to all your PDF needs.
ComPDFKit allows you to build PDF Viewer & Editor with a powerful and steady PDF library. Besides digital signature, this SDK unlock a whole new level of functionality with capabilities such as: annotating(mark up, link, stamp, etc.), editing PDF text and images, organizing pages, creating & filling form, OCR, securing PDF, batch processing, etc.
In addition, ComPDFKit works well with a few lines of code on Windows, Web, Android, iOS, Mac, Linux, and more cross-platform frameworks like React Native, Flutter, Electron. Contact ComPDFKit now to revolutionize your application and provide your users with an exceptional PDF experience they won't forget.