Has your time with Adobe Acrobat come to an end? Maybe you found a better PDF reader, or simply don't wish to spend your hard-earned money on the tool any longer. 

We've got a concise guide for your cancelation process, which can be quite complicated. Check out how to cancel your Adobe Acrobat subscription below. 


How to Cancel Adobe Acrobat Subscription
Let's get you started with the cancelation process for Adobe Acrobat. Follow the steps below and you'll be finished with Adobe Acrobat in no time at all. 
Step 2: Click on "Manage plan" next to the plan you're considering discontinuing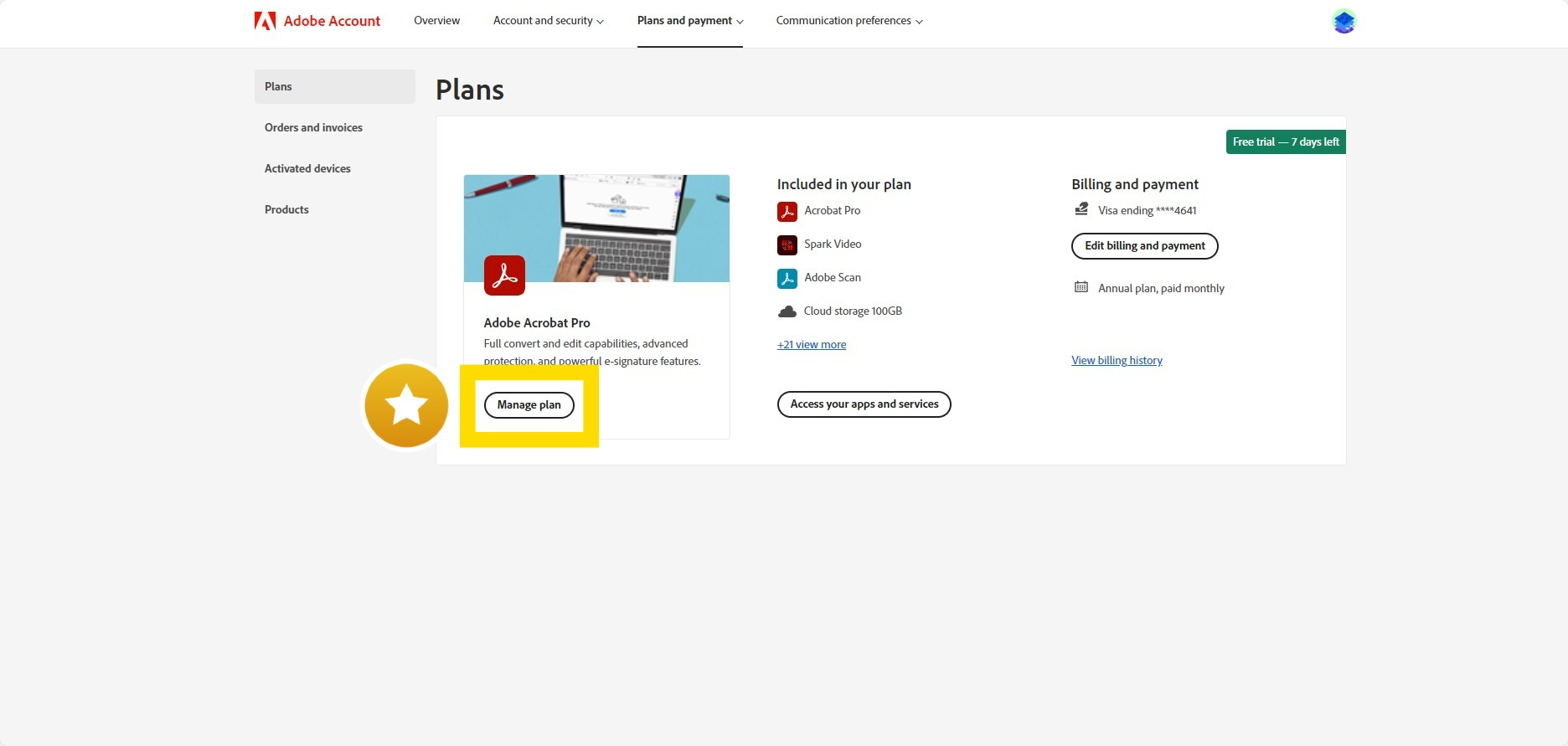 Step 3: Initiate the cancellation by selecting "Cancel your plan" in the "Manage plan" options
Step 4: Review your plan's specifics, provide a reason for cancellation, and click "Continue"
Continue through the four steps until you reach the final one where you can actually cancel your plan.
Step 5: Confirm the cancellation details and finalize by selecting "Confirm cancellation"

How to Cancel Adobe Acrobat Subscription: Best Practices
Navigating the intricacies of subscription services can often be a complex task, especially when it comes to understanding the terms tied to Adobe Acrobat Pro within the Creative Cloud suite. If you find yourself needing to cancel your subscription, perhaps due to switching to a more user-friendly and cost-effective solution like PDF Reader Pro, following best practices ensures a smooth transition.


Understand Your Subscription Details
Before initiating the cancellation process, it's crucial to review the specifics of your Adobe Acrobat subscription service. Recognize the type of subscription you hold, whether it's an annual plan, monthly payment scheme, or a trial period offer. Be aware of your current billing cycle, as this influences potential impacts like a cancellation fee or the availability of a partial refund.


Contact Adobe Customer Care
While you might prefer handling tasks online, sometimes reaching out to Adobe Customer Care can clarify any confusions related to your annual subscription. A direct conversation with an Adobe employee or community expert can offer insights into aspects like remaining days in your billing period or the specifics of any associated cancellation fee.


Consider Your Billing and Payment Methods
Adobe systems allow for various payment methods, including credit cards. Ensure your details are up-to-date and inquire about how a cancellation might affect your initial purchase, particularly if you're within your annual plan's timeframe. Any discrepancies or issues with your credit cards could complicate the process, emphasizing the need for accurate information.


Follow the Required Steps for Cancellation
Adobe Acrobat requires users to go through specific steps in their cancellation process, often involving a review of reasons for cancellation and sometimes a conversation with a representative. You'll typically receive a confirmation message once the process is complete, confirming the end of your subscription plan.


Transitioning to a Reliable Alternative
Post-cancellation is the perfect opportunity to switch to a robust alternative like PDF Reader Pro.


Navigate, edit, and
convert PDFs like a Pro
with PDF Reader Pro
Easily customize PDFs: Edit text, images,
pages, and annotations with ease.
Advanced PDF conversion: Supports
multi-format document processing with OCR.
Seamless workflow on Mac,
Windows, iOS, and Android.

Unlike the multiple desktop apps required by Creative Cloud, PDF Reader Pro consolidates powerful features, including the handling of PDF files and electronic signature capabilities, in a single, accessible application - ideal for both mobile device and desktop applications usage.


By following these best practices, you can ensure a hassle-free departure from Adobe Systems' subscription services. Additionally, embracing PDF Reader Pro not only eliminates complexities but also introduces a range of efficient functionalities, reaffirming that a seamless, comprehensive content experience doesn't have to come with a hefty price tag or binding commitments.


How to Cancel Adobe Acrobat Subscription: FAQ
What happens to my current subscription if I switch to a monthly plan?
When shifting from a yearly subscription to a monthly plan, typically, your current subscription terms dictate any prorated adjustments or termination fees. It's essential to review these terms to avoid unexpected charges or losing access to features like Acrobat DC or cloud storage. Transitioning to alternative PDF editors, like PDF Reader Pro, can provide a smoother, fee-free adjustment period with similar, if not enhanced, functionality.


Are there termination fees involved with Adobe subscriptions?
Yes, Adobe may charge termination fees if you cancel your active subscriptions before the contract period ends. These fees can vary based on whether you have monthly subscriptions or a yearly subscription. It's advised to review your subscription terms carefully to avoid unexpected costs. If you're looking to switch, consider PDF Reader Pro for a less restrictive experience, often without the worry of unwanted subscriptions or termination fees.




Teacher Evaluation Template: Assessing Educational Excellence
A comprehensive tool for providing constructive feedback and fostering professional growth.


How do I avoid unwanted charges like CADebit Purchase - Visa Adobe on my account?
Unexpected charges, especially those labeled as "CADebit Purchase - Visa Adobe," indicate an active subscription fee that might not be recognized at first. To avoid these, monitor your subscriptions and keep track of your monthly or yearly commitments. Opting for PDF editors like PDF Reader Pro could mitigate these issues, offering transparent pricing without confusing charges.


Can I still access my cloud storage after canceling Adobe Acrobat Premium?
Post-cancellation access to Adobe's cloud storage depends on the current plan you're under and its associated terms. Generally, there might be a grace period for you to retrieve your content, but it varies. As an alternative, PDF Reader Pro provides a reliable solution for your document needs without the hassle of navigating the complexities of subscriptions and cloud storage post-cancellation.


Does Adobe offer a special deal to prevent customers from canceling?
Occasionally, Adobe might propose a special deal to retain customers contemplating cancellation. However, these offers are often temporary and may not apply to all users. If you're looking for a more consistent, value-oriented experience, PDF Reader Pro stands out as a compelling, budget-friendly alternative, devoid of the unpredictability of fleeting special deals.