Transitioning from PowerPoint to Google Slides can seem daunting, but with the right steps, it's a breeze.

This guide will walk you through a straightforward process to convert your PowerPoint presentations into Google Slides with PDF Reader Pro. Let's dive in!



How to Convert PowerPoint to Google Slides
You'll be amazed at how easy it is to convert your PowerPoint presentation to Google Slides. 


Step 1: Navigate to the Google Slides website and initiate a blank presentation
Step 2: Locate the "File" option in the top toolbar and choose "Open"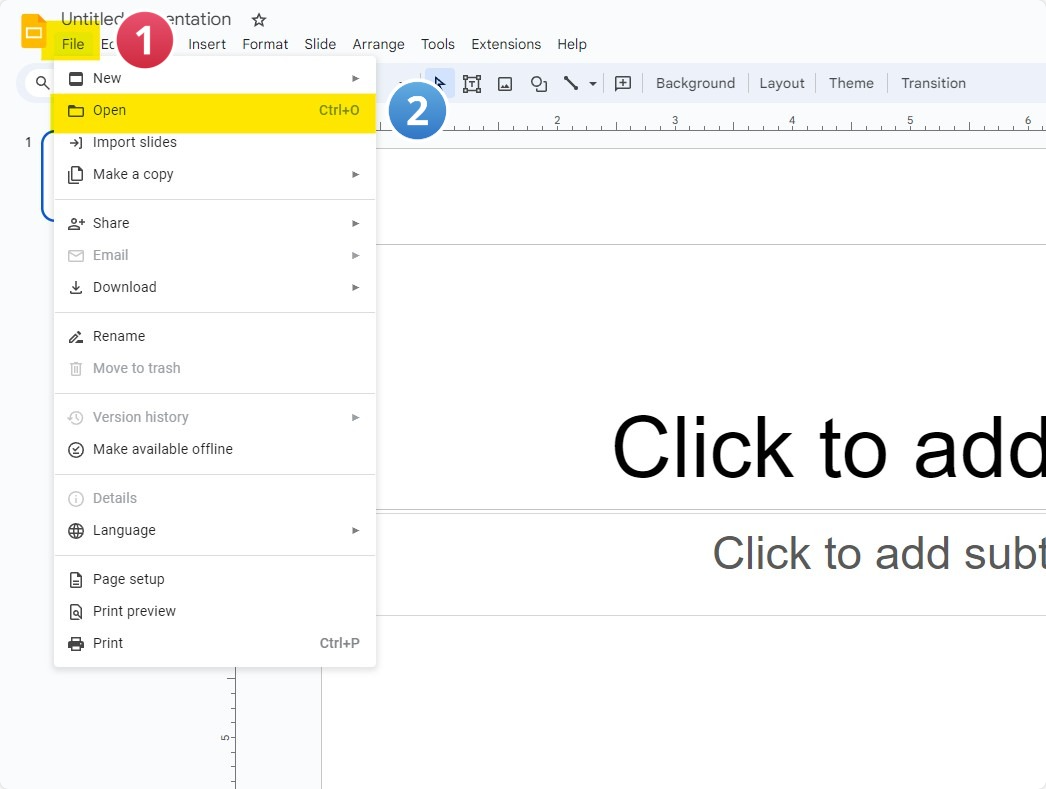 Step 3: Within the pop-up menu, select "Upload"
Browse your device for the desired PowerPoint file to be converted or directly drag and drop it into the window.
Step 4: Once uploaded, the PowerPoint slideshow will automatically populate the blank presentation and be converted into a Google Slides format
How to Convert PowerPoint to Google Slides: Best Practices
Transitioning between presentation platforms, especially while preserving the original theme and integrity of your slideshows for presentations, is vital.

Google Drive, a cornerstone of the Google Workspace, simplifies this task with its integrated tools. Here's how to ensure a seamless migration:
Access Google Drive: Log into Google Drive, the central hub of Google Workspace, to manage a variety of file formats, including PowerPoint and Google Slides.

Initiate a Blank Presentation: Within Google Drive, go to Google Slides and create a blank presentation, preparing it for the PowerPoint content you wish to import.

File Upload: In the file menu, choose the "Upload" option. Here, you have the choice to either drag and drop your PowerPoint file or browse and select it from your device.

Importing Slides: After uploading, you'll see an "Import Slides" option. Use this to start the conversion, ensuring your entire presentation is captured.

Review Version History: If you've made multiple versions of online presentations, the "Version History" feature in Google Slides lets you go back to previous versions, preserving the integrity of your work.

Maintain Original Theme: After the conversion, review the converted slides in Google Slides. Ensure the design aligns with your initial PowerPoint presentation.

The Power of PDF Reader Pro: PDF Reader Pro is more than just a tool. It supports various file types, including PDFs. It's an all-in-one solution for converting, annotating, or merging presentations, offering a range of features without the need for multiple tools.


Navigating the world of presentations often involves managing multiple file formats. Whether you're converting presentations, merging slide decks, or annotating PDF versions of your talks, PDF Reader Pro is an invaluable tool.


Navigate, edit, and
convert PDFs like a Pro
with
PDF Reader Pro
Easily customize PDFs: Edit text, images,
pages, and annotations with ease.
Advanced PDF conversion: Supports
multi-format document processing with OCR.
Seamless workflow on Mac,
Windows, iOS, and Android.


Much like Adobe Acrobat but with a streamlined user experience, PDF Reader Pro simplifies the complexities of presentation management, ensuring you stay focused on delivering impactful content. Make the switch and discover a more efficient way to handle your presentation needs.

Whether you aim to convert, annotate, or amalgamate presentations, PDF Reader Pro is the ace up your sleeve, proffering expansive features without the complexity of tools like Adobe Acrobat.


How to Convert PowerPoint to Google Slides: FAQ
Can I convert individual PowerPoint slides instead of the whole presentation?
Yes, you can select and convert individual slides from your PowerPoint slides. This is particularly useful if you only need specific slides from an existing presentation to be integrated into a new presentation deck.


Are online converters safe to use for presentation conversions?
While there are various online converters available that promise quick conversions of PowerPoint slides to Google Slides format, it's essential to exercise caution.

Not all online converters ensure the security and privacy of your presentation content. Always opt for trusted presentation resources or direct methods within popular presentation software packages.




Education Planner Template: Charting Your Academic Journey
A versatile tool for organizing courses, assignments, and academic goals.


Why is there a quality difference between my original PowerPoint and converted Google Slides?
The difference in quality can be attributed to the presentation format and design specifications of the two platforms. While PowerPoint might support some intricate presentations or specific design elements, Google Slides may interpret them differently.

However, with the right presentation strategies, you can maintain high-quality presentations even after conversion.


What happens to the original presentation theme when converted?
When you convert your PowerPoint slides, Google Slides will attempt to retain the original presentation theme. However, some design elements or specific theme aspects might not be available in Google Slides. It's a good idea to review the converted slides and make adjustments to ensure the presentation design aligns with your vision.
Can I edit my presentation in Google Slides after conversion?
Absolutely! Once your PowerPoint slides have been converted into Google Slides, it becomes an editable presentation template. You can modify content, design, and even use various presentation maker tools available within Google Slides to enhance your presentation.


Is it possible to revert to my PowerPoint format after converting to Google Slides?
Yes, after converting your presentation to Google Slides, you can export it back to the PowerPoint file type if needed. This flexibility allows you to switch between different presentation software, depending on your requirements.


How do online presentation resources compare with famous presentation software?
Online presentation resources, like online converters, offer quick solutions but might not provide the full range of features available in popular presentation software like PowerPoint or Google Slides.

For a more powerful presentation experience, it's recommended to use established presentation software packages that offer a comprehensive set of tools and templates.


Can I present offline using Google Slides?
Yes, Google Slides allows you to access and run your presentation offline. Ensure you've downloaded the presentation in slides format or made it available offline in your Google Drive before you go without an internet connection.


Are there any other popular presentation packages similar to PowerPoint and Google Slides?
Several presentation programs are available in the market. Keynote is a popular presentation software for Apple users. Impress is another software that's a part of the LibreOffice suite. While each software has its strengths, PowerPoint and Google Slides remain among the most widely used presentation software packages globally.