When working with PDFs, you might find yourself needing to remove unnecessary or redundant pages.

PDF Reader Pro offers a straightforward method for deleting pages from your Adobe Acrobat files. Follow these simple steps to tidy up your document.


How to Delete Pages in Adobe Acrobat
We've outlined exactly how to delete pages from Adobe Acrobat, step-by-step.


Step 1: Open PDF
Open your PDF file in Acrobat.


Step 2: Organize Pages
Use the "Organize Pages" tool from the "Tools" menu or the right pane.



Image source: Adobe Acrobat


Step 3: Select to Delete
Click the thumbnail of the pages you want to delete and hit the "Delete" icon.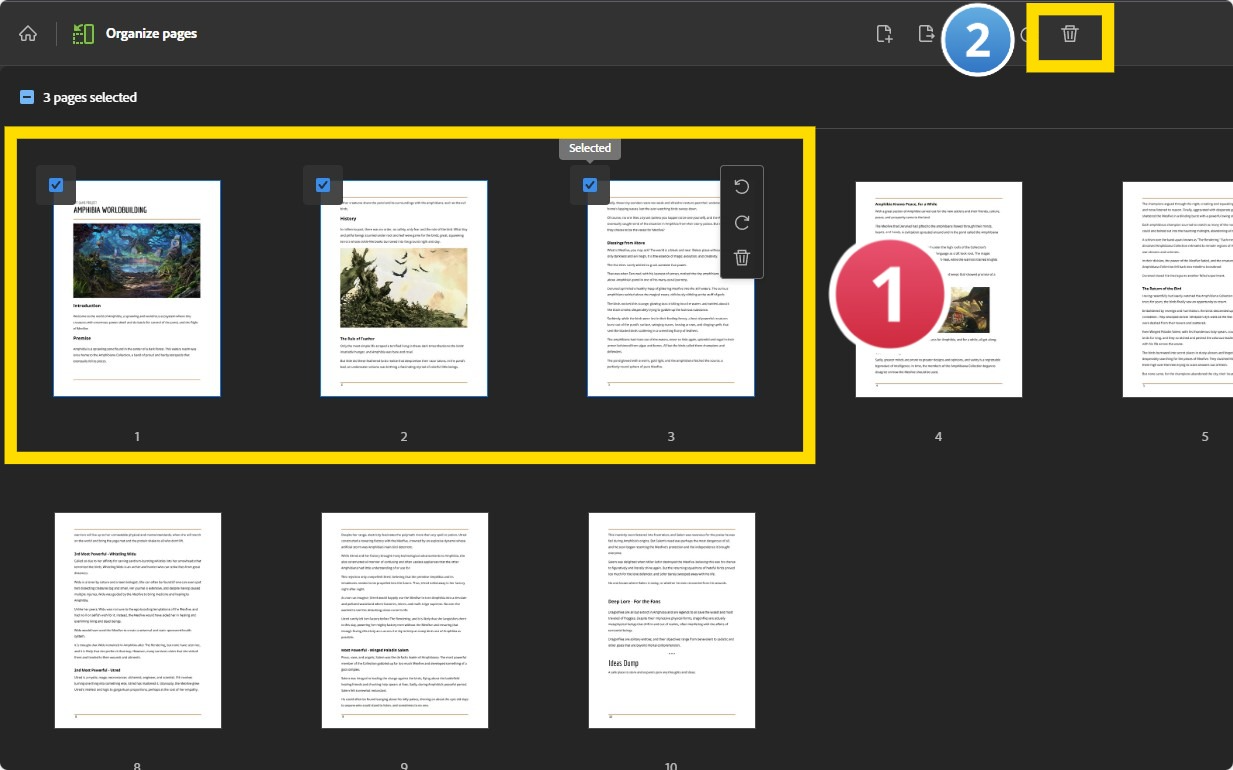 Image source: Adobe Acrobat


Step 4: Confirm and Save
Confirm deletion with "OK" and save the updated file by selecting "Save."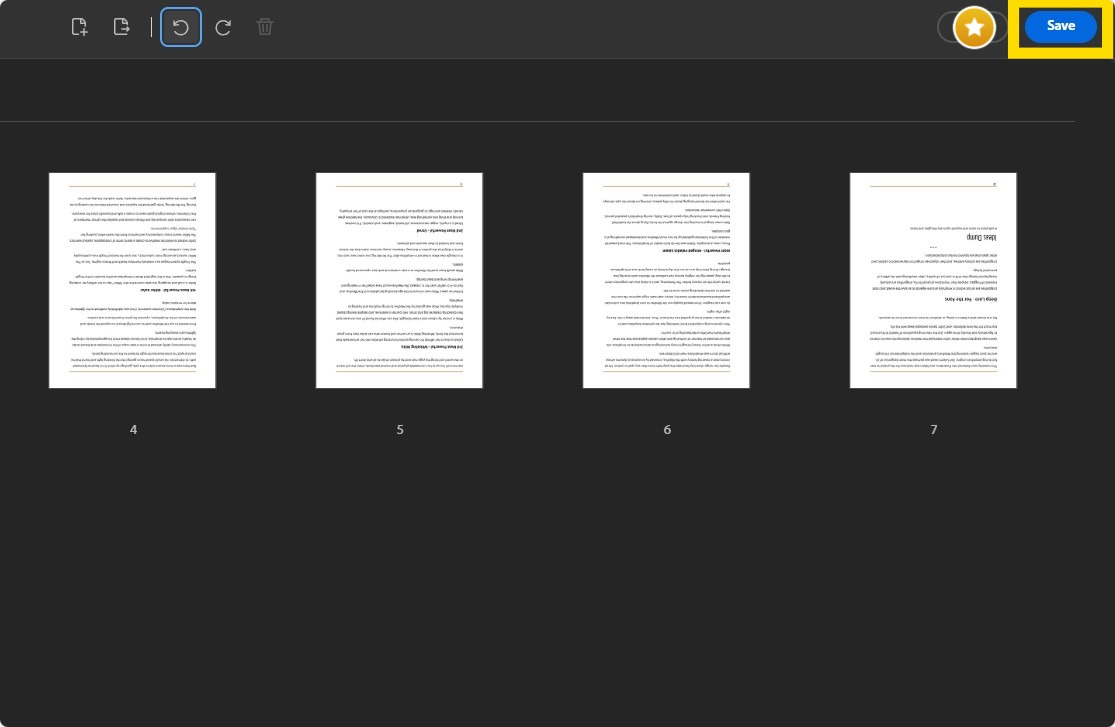 Image source: Adobe Acrobat


How to Delete Pages in Adobe Acrobat: Best Practices

Opening Your PDF File
Begin by opening your PDF file within Adobe Acrobat. This can be done by selecting the PDF document from the file menu.

Ensure that you are using the correct version of Adobe Acrobat, such as Adobe Acrobat DC, Adobe Acrobat 2020, Adobe Acrobat Pro, or Adobe Acrobat 2017, which are suitable for various operating systems.



Deciphering IRS Form 1099-A
A comprehensive guide to IRS form 1099-A and its impact on tax reporting.


Locating the Delete Option
Navigate through the Adobe Acrobat interface to find the 'Organize Pages' tool.

This can typically be accessed via the secondary toolbar or through the thumbnail image in the left panel.

The delete icon, which you will use to remove pages, is easily recognizable and usually depicted as a trash can icon.


Selecting and Deleting Pages
After locating the pages that need to be removed, click on the delete icon adjacent to the page thumbnails.

A confirmation dialog box will appear to ensure that the deletion is not accidental. Confirm the deletion to proceed.


Saving the Edited Document
With the unwanted pages deleted, the next step is to save the modified PDF document.

This can be accomplished by using the save option within the file menu or navigating through the file explorer to select an appropriate storage location.


Utilizing Adobe Alternatives
For users who do not have access to Adobe Acrobat or prefer not to use it, there are online tools and services available.

Many offer a trial period or trial version and can function as a viable Adobe alternative, providing essential PDF tools for document management.


In summary, whether you are a user of Adobe Acrobat Pro DC, Adobe Acrobat Reader DC, or any other Adobe Acrobat's editions, following these simple steps will help you efficiently manage your PDF documents.


Navigate, edit, and
convert PDFs like a Pro
with
PDF Reader Pro
Easily customize PDFs: Edit text, images,
pages, and annotations with ease.
Advanced PDF conversion: Supports
multi-format document processing with OCR.
Seamless workflow on Mac,
Windows, iOS, and Android.

For those seeking an Adobe Acrobat alternative that is both powerful and user-friendly, PDF Reader Pro presents itself as a premier solution. It stands out with its intuitive interface and robust set of PDF tools designed for both casual users and professionals.
PDF Reader Pro simplifies the process of managing your PDF documents. Whether you're looking to delete pages, merge documents, or convert file formats, this application handles tasks with efficiency and precision.
How to Delete Pages in Adobe Acrobat: FAQ
Will Deleting Pages Affect the Original Document?
When you delete pages from a PDF file in Adobe Acrobat, the original document is modified.

To avoid losing the original content, consider creating a copy before making changes, or ensure that your file history is active to revert to previous versions if necessary.


Can I Recover Pages Once They Are Deleted?
Recovery of deleted pages depends on whether the autosave file feature is enabled and whether the current file has been overwritten.

You may revert to the original document through the file manager or file history if you have not saved the changes.


How Do I Select Multiple Pages to Delete?
You can select multiple pages to delete within Adobe Acrobat by using the file option in the drop files area or by clicking multiple thumbnails in the file explorer window.

Hold down the Ctrl or Cmd key while clicking to select multiple pages.


Are There File Size Restrictions When Deleting Pages?
File size restrictions typically do not affect the ability to delete pages.

However, if you're working with an exceptionally large PDF file, performance may vary, and the process may take longer.


What Happens to Images From PDF Files After Deletion?
Images from PDF files that are on the pages you delete will also be removed from the document.

If you need to retain the images, ensure you extract them before deleting the pages.


How Quick Is the File Converting Process After Deletion?
The speed of the file converting process after deletion is usually immediate.

However, the perfect PDF file loads and saves times may vary depending on the file size and the capabilities of your computer system.


Is It Possible to Share PDF Files Directly After Editing?
Yes, after editing your PDF document and deleting pages, you can directly share PDF files from Adobe Acrobat using the share feature or through Adobe Document Cloud services for easy access across devices.