PDF splitting is an essential operation involving dividing a PDF file into multiple documents. It is an indispensable activity for both businesses and individuals, who frequently need to segment and manage substantial amounts of data.


If you're on the hunt for the finest PDF split software that can execute this task with accuracy and simplicity, you've landed in the right spot.


How To Split PDF Files with Ease on Windows

PDF Reader Pro is your top choice for splitting PDF files. It guarantees an unparalleled split quality without compromising the structure or layout of your original documents. Give it a try today and experience the smooth, high-quality results firsthand.


Navigate, edit, and
convert PDFs like a Pro
with PDF Reader Pro
Easily customize PDFs: Edit text, images,
pages, and annotations with ease.
Advanced PDF conversion: Supports
multi-format document processing with OCR.
Seamless workflow on Mac,
Windows, iOS, and Android.
Check out our tutorial for how to split PDFs using PDF Reader Pro:


Splitting PDF Documents with PDF Reader Pro


Open Your PDF: Launch PDF Reader Pro and open the PDF document you want to split.

Access Page Edit

: Click on "Page Edit" located on the sidebar.

Choose Split Option

: Select the "Split" icon.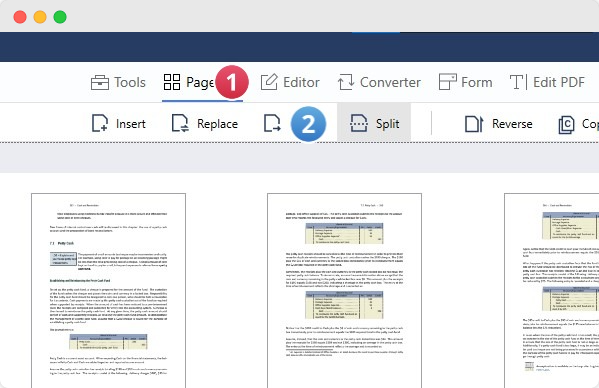 Specify Splitting Method: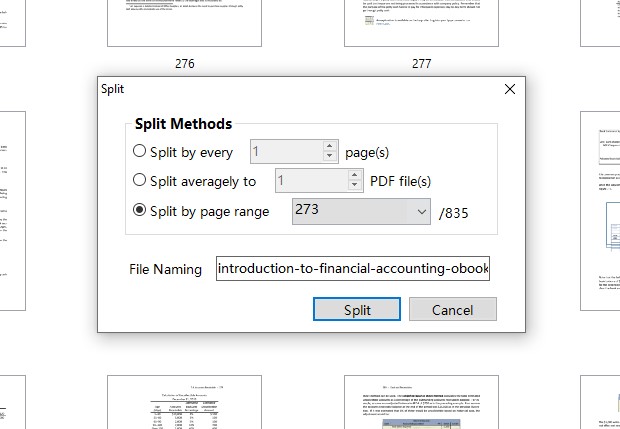 Split by Page Range

: Define a specific range of pages to create a separate PDF.

Split Averagely

: Divide the document into equal parts, producing multiple PDFs.

Split by Interval

: Create a new PDF every 1 page (or more, as specified).
Proceed to save or manage the newly created PDF files as needed.



How to Split PDFs with Ease on Mac
Test out PDF Reader Pro today and discover the best way to split PDFs like never before!


Navigate, edit, and
convert PDFs like a Pro
with PDF Reader Pro
Easily customize PDFs: Edit text, images,
pages, and annotations with ease.
Advanced PDF conversion: Supports
multi-format document processing with OCR.
Seamless workflow on Mac,
Windows, iOS, and Android.
1. Tap Page Edit 
 on the sidebar.


2. Tap Split  
, you can freely select the specified page to split the PDF file.


3. You can choose to: 
Split by page range

  

Split averagely to 1 or more PDF files

Split by every 1 or more pages


 



Quick

Comparison Table


Check out our quick comparison table if you need to split PDFs quickly. We ranked the PDF splitting tools from best to worst in descending order.  


12 Best PDF Split Software In 2023


Let's get started with our list of the best 12 PDF split software for 2023!


Image source: PDF Reader Pro


When handling a PDF file, the need for reliable software is undeniable. PDF Reader Pro stands as a beacon amongst PDF tools, allowing users to not just view but actively engage with their PDF document. In an era dominated by online tools, PDF Reader Pro brings the efficiency of desktop software, ensuring separate files are treated with precision.

Its interface, though comprehensive, retains an element of simplicity, making it a perfect tool for those who prefer a balance between features and usability.


PDF Split Features


Multiple Splitting Modes

: Easily choose between splitting by range, pages, or even size.

Batch Split

: Process and split multiple PDF files at once, saving precious time.

Interactive Preview

: View and select specific pages before initiating the split process.
Pricing


PDF Reader Pro has 3 pricing brackets accommodating a single user, a business team, or educators. Let's unpack them below:
Individual
Free

: $0

Premium:

$59.99

Permanent License

: $79.99
Team
Education
Premium

: $29.99

Permanent License

: $39.99
Image source: Adobe Acrobat


When you think of a PDF file or PDF document, the brand Adobe is often synonymous. Beyond being an iconic PDF tool, Adobe Acrobat provides functionalities that allow users to split PDF files into separate documents with ease.

From its tools menu to its visual interface, every aspect of this software echoes precision and user-centric design. Its capabilities extend to both online and offline realms, catering to a diverse range of user needs.


PDF Split Features
Drag-and-Drop Splitting

: Conveniently select pages or sections to split.

Bookmark-Based Split

: Use existing bookmarks to determine split points.

Precise Page Ranges

: Split by specifying exact page numbers or ranges.
Pros
Cons

Reliable with consistent performance.

Wide range of integrated PDF tools beyond splitting.

Relatively high subscription cost.

May have a steeper learning curve for beginners.

Pricing
Individual
Acrobat Standard: $12.99 monthly
Acrobat Pro: 19.99 monthly
Business
Acrobat for teams

: $22.19 monthly per license

Acrobat for enterprise

: Contact sales
Image source: Soda PDF


With a surge in the demand for tools that can split file segments efficiently, Soda PDF emerges as a frontrunner. Its capabilities extend beyond just serving as a PDF cutter. The software recognizes that in today's digital landscape, a single document might need to be used in multiple ways. 


Thus, from splitting PDF files to ensuring maximum file size optimization, Soda PDF keeps the user's diverse needs in mind. And with Google Drive integration, cloud accessibility is a breeze.
PDF Split Features
3D View Splitting

: Visualize your document in 3D for precise splitting.

Secure Splitting

: Password-protect your output files.

Cloud Integration

: Seamless syncing with cloud storage solutions.

Pros
Cons

Unique 3D view offers a novel way to interact with PDFs.

Strong security features to protect sensitive information.

The 3D view might not be for everyone.

Larger files can sometimes slow down the software.
Pricing
Home Plan

: $48 annually

Premium Plan

: $84 annually

Business Plan

: $120 annually

Enterprise Edition

: $159
Image source: Sejda PDF Desktop


Diving into the expansive world of PDF tools, Sejda PDF Desktop offers a refreshing take on document management. Perfect for those who constantly find themselves sifting through a 10-page PDF file or more, Sejda effortlessly bridges the gap between an online tool and a desktop solution. 


With Google Drive integrations, this software brings cloud benefits right to your desktop, ensuring file formats, whether simple or complex, are handled with care.


PDF Split Features
Profile-Based Splitting

: Customize and save different split settings.

Document Reconnaissance

: Auto-detect logical split points in content.

Split Archive

: Store split versions without overwriting the original.
Pros
Cons

Unique 3D view offers a novel way to interact with PDFs.

Strong security features to protect sensitive information.

The 3D view might not be for everyone.

Larger files can sometimes slow down the software.

Pricing
Web Week Pass

: $5 for 7 days

Web Monthly

: $7.50 monthly

Desktop+Web Annual

: $63 annually
Image source: iLovePDF


The digital age has heralded a plethora of online tools, and iLovePDF stands out as an efficient online PDF splitter tool. With the cloud at its backbone, this tool simplifies the process of splitting PDFs or merging separate PDF files into a cohesive unit. 


Its design acknowledges the modern user's need for quick, in-browser solutions without delving into executable files or downloads. With features tailored for both novice and pros, iLovePDF truly democratizes PDF manipulation.
PDF Split Features
Cloud-Connected Splitting: Directly pull and push files from cloud storage.
Interactive Split Line: Draw where you want to split on a document preview.
Timed File Deletion: Set how long you want the split files to remain online.
Pros
Cons

No installation required.

Efficient for quick, on-the-go tasks.

Internet connection is mandatory.

The free version has ads and watermarks.
Pricing
Free

: $0

Premium

: $7 monthly

Business

: Custom pricing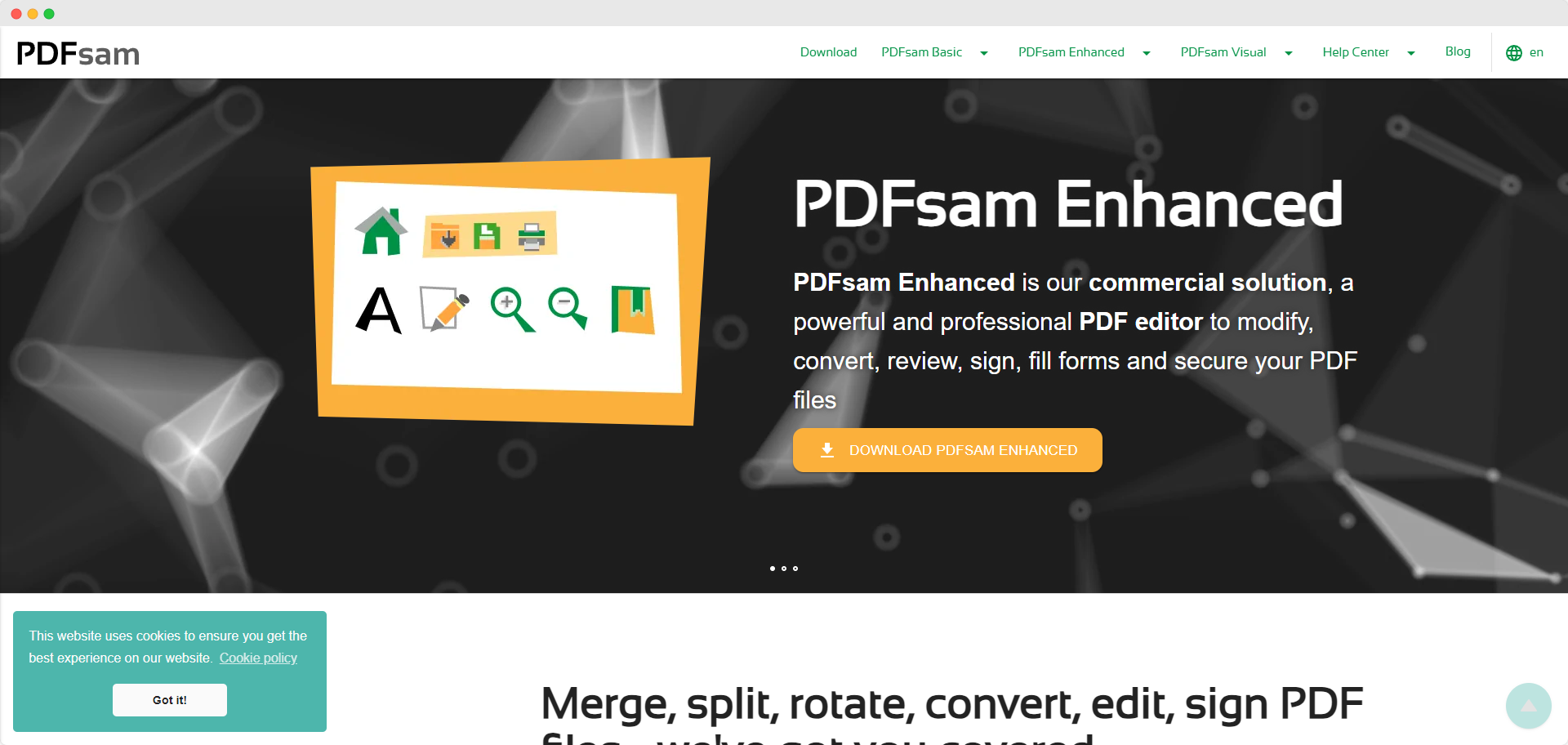 Image source: PDFsam

In a cluttered market of PDF tools, PDFsam (PDF Split and Merge) carves a niche for itself. The software goes beyond being a mere PDF separator or cutter.
 
For those who often find themselves shuffling between PDF output files, bookmarking sections, or drawing divider lines across a single document, PDFsam serves as an apt solution. The fusion of simple steps and advanced features makes it a top choice for many.
PDF Split Features
Modular Splitting

: Add-ons allow for specialized splitting needs.

Quick Split

: One-click splitting for speedy tasks.

Split Profiles

: Save preferred settings for consistent results.
Pros
Cons

Open-source with active community support.

Lightweight and fast.

Some features require add-on downloads.

The interface might seem too basic for advanced users.

Pricing
Standard

: $69 annually, per user

Pro

: $59 annually, per user

Pro + OCR Advanced

: $79 annually, per user
Image source: Infix PDF Editor


In an era where the online PDF splitter is gaining traction, Infix PDF Editor serves as a testament to the undying relevance of robust desktop applications. Its capabilities aren't just restricted to splitting PDFs; it excels in ensuring that each separate file retains its original integrity.

With an intuitive file button and tools menu, even those unfamiliar with PDF editors will find themselves at ease, marking up PDF files or splitting them into executable files.


PDF Split Features
Text-Aware Splitting

: Split at sections where specific keywords are found.

Page Range Selection

: Specify a range of pages for customized splitting.

Split Preview

: Review your split decisions before finalizing.
Pros
Cons

Advanced text editing capabilities, beyond just splitting.

Intuitive interface that caters to both beginners and experts.

Higher learning curve for its advanced features.

Might be overkill for users who just need basic splitting.

Pricing
1-Week

: $9.99

Monthly

: $9.99 monthly

Single User

: $99
PDF24 Tools encapsulates what modern PDF tools should be like. While it can function as an efficient PDF separator or cutter, the tool's versatility makes it shine. Whether you need to crop PDF files, transform file formats, or delve into the intricacies of password-protected files, PDF24 has got you covered.


With a visual interface that eliminates guesswork and simple steps to achieve desired results, it's a staple for many PDF enthusiasts.


PDF Split Features
Drag-and-Drop Interface

: Easily organize how you want your PDF split.

Split by Size

: Break down your PDF based on the desired file size.

Merging Capabilities

: Not just split but also combine parts as needed.
Pros
Cons

Multifunctional tool with a suite of PDF features.

Online tool that requires no installation.

Dependent on a stable internet connection.

Some features might be hidden behind a premium subscription.
Pricing
Venturing into the realm of PDF splitters, Icecream PDF Editor emerges as a delightful surprise. This software doesn't just allow you to view a PDF document but grants you the power to transform it. 


With rising sources of PDF content, the demand for tools to split file segments or convert entire documents has surged. Integrating with platforms like Google Drive, this software embodies flexibility, perfect for users who wish to manipulate their files without additional software.


PDF Split Features
Guided Splitting: Step-by-step assistance for beginners.
Batch Splitting: Handle multiple documents simultaneously.
Password Splitting: Split password-protected files with ease.
Pros
Cons

User-friendly for beginners.

Regular software updates.

Limited advanced features.

Can be slow with larger files.
Image source: DocuPub


In the evolving realm of PDF tools, DocuPub stands tall with its unique offerings. Not just a mere PDF separator, it ensures that each split file is tailored to perfection. Its interface, built with precision, allows users to easily drop files, convert combinations of files, or even set automatic file deletion policies. The software understands the modern-day demand for quick solutions without compromising on quality.


PDF Split Features
Automated Splitting Workflows

: Set up tasks for recurring split needs.

Output Optimization

: Adjust the quality and resolution of split files.

Integration with Email

: Split and send files directly via email.
Pros
Cons

Extensive automation capabilities save time for frequent users.

Direct email integration streamlines sharing.

Requires a steeper learning curve for setting up workflows.

The interface may feel cluttered with numerous features.
Pricing
Free

: $0

Internal network or web server implementation

: Custom pricing
In the bustling realm of PDF tools, Combine PDF emerges as a unique contender. While its name predominantly suggests merging capabilities, don't be deceived; it's equally proficient at separating PDF file components. Whether you're consolidating various file formats into a single document or attempting the inverse by splitting a comprehensive PDF document into individual pages, Combine PDF offers simple steps to achieve both.

With a visual interface displaying clear divider lines and options, the tool ensures a seamless experience for both novices and professionals.


PDF Split Features
Inverse Splitting

: Choose what you want to exclude rather than what to split.

Document Thumbnails

: View mini versions of pages for faster selection.

File Format Choices

: Choose different formats for the output files.
Pros
Cons

Offers a unique "inverse splitting" feature.

The intuitive thumbnail view makes for quick selections.

Mainly known for combining PDFs, so splitting is a secondary feature.

Limited advanced customization options.
Pricing
Image source: PDF2GO


PDF2GO stands out as a dynamic online PDF splitter tool, adapting to the needs of a mobile generation. Its prowess isn't restricted to just desktops; the ability to split PDF files directly from mobile devices sets it apart. In a world where instant access to documents is paramount, PDF2GO bridges the gap between convenience and functionality.

If you've ever found yourself needing to quickly separate documents or adjust a PDF file on the go, this tool is a lifesaver. With integrated cloud options, including Google Drive, managing and sharing your files has never been easier.


PDF Split Features
Mobile Compatibility

: Split PDFs directly from mobile devices.

Page Cloning

: Duplicate specific pages while splitting.

Download Link Sharing

: Share split files via generated links.
Pros
Cons

Mobile-friendly, great for users on the go.

Quick sharing options simplify collaboration.

Some advanced features may be missing.

File upload and download times can vary based on internet speeds.
Pricing
Basic

: $0

Professional

: $6.50 monthly, per user

Enterprise

: Custom pricing


Frequently Asked Questions (FAQs) about Splitting PDFs


Check out our FAQ for all your PDF splitting needs. 


1. What is meant by 'splitting a PDF'?
Splitting a PDF means dividing a single PDF document into two or more separate PDF files. This can be done based on specific pages, sections, or other criteria depending on the software or tool being used.




Mastering Financial Management: Your Monthly Bookkeeping Record
A comprehensive guide to organizing and tracking your finances - elevate your financial record-keeping with precision.


2. Why would I need to split a PDF?
There are various reasons to split a PDF:
To share specific sections without revealing the entire document.

To organize or manage long documents more easily.

To extract important sections for different purposes.
3. Can I split a PDF without specialized software?
While specialized software makes the process easier and more efficient, there are online tools and websites that offer free PDF splitting services. Always be cautious about the security and privacy policies of online platforms.


4. Is it possible to split a password-protected PDF?
Yes, many PDF splitters allow you to split password-protected files, but you'll typically need to provide the password before splitting.


5. Will splitting a PDF reduce its quality?
Splitting a PDF should maintain the quality of the original content. However, the quality might be affected if you're compressing or optimizing the file while splitting.


6. Can I choose which pages to extract when splitting?
Absolutely. Most PDF splitting tools allow you to specify which pages or range of pages you'd like to extract into a separate PDF file.


7. How can I ensure the privacy of my data when using an online PDF splitter?
Always choose reputable online PDF splitters and check their privacy policies. Some platforms promise to delete uploaded files after a specific time or immediately after processing.


8. Can I split a PDF on my mobile device?
Yes, there are mobile apps available for both Android and iOS that allow users to split PDF files on the go.


9. Are there any limitations on the file size when splitting a PDF online?
Some online tools may have restrictions on file size, especially free versions. Always check the platform's limitations before uploading large files.


10. After splitting, can I merge the PDFs again?
Yes, many tools that offer splitting also provide merging capabilities. You can combine the split files or even add other PDFs as needed.


11. Will bookmarks and annotations be preserved after splitting?
Most professional tools will retain bookmarks and annotations. However, it's always a good idea to double-check, especially if you're using a free or unfamiliar platform.


12. I split my PDF but now can't find the output files. What can I do?
If using desktop software, check the designated save location or the software's default directory. For online tools, ensure you've downloaded the split files after processing, as they might not be saved automatically.