Navigating the world of PDF Files is easier than ever, thanks to a range of robust PDF Converter tools available for every platform.

Whether you're looking to convert PDF Documents into different File Types, or transform other formats into PDF, we've got you covered. Here's a breakdown of the 7 best PDF converter tools in 2023 that you absolutely must consider.


Back to School with
a 55% Discount
for One Week Only!
Shortcut Academic Achievement
Upgraded Remote Learning
Limited Time Discount
Claim Your
55% Discount Now!
Step into the school year with confidence.
Discount Lasts Between
August 29 - September 7, 2023.
How to Convert PDFs on Windows
Want to convert PDF for your Windows version of PDF Reader Pro? We've got the perfect guide for you! 


Navigate, edit, and
convert PDFs like a Pro
with PDF Reader Pro
Easily customize PDFs: Edit text, images,
pages, and annotations with ease.
Advanced PDF conversion: Supports
multi-format document processing with OCR.
Seamless workflow on Mac,
Windows, iOS, and Android.

Just follow these detailed steps to convert one document or complete batch processing:


Step 1: Open the PDF file
Open your PDF file in PDF Reader Pro by clicking Open File. 


Step 2: Click "Converter"
A list of possible file exports will appear in the drop-down menu. 



Image: PDF Reader Pro


Step 3: Click on Your Desired Format 
From the list of conversion types, select Excel, Word, PPT, or Image.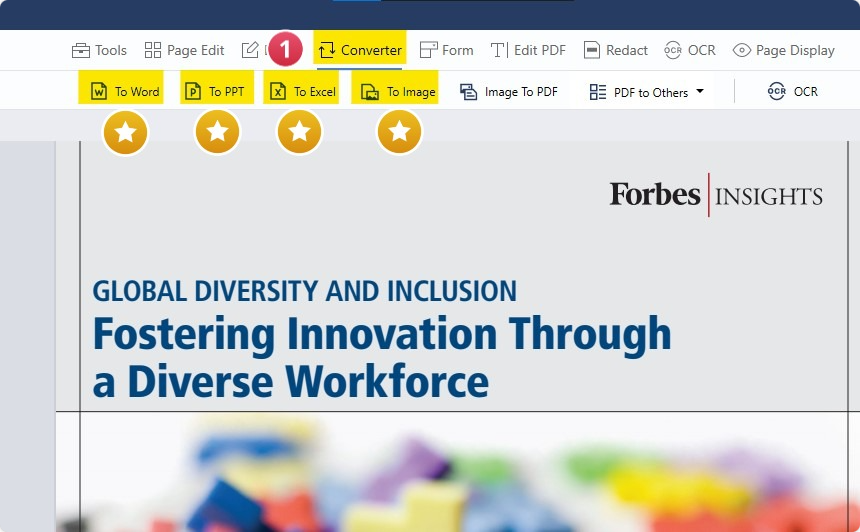 Image: PDF Reader Pro
 
Step 4: Adjust settings
As necessary to export the whole document or selected information. You can also make use of the batch conversion feature here. 



Image: PDF Reader Pro


Step 5: Click Convert
Your newly converted output files will be saved in a folder of your choice. 



Image: PDF Reader Pro 
How to Convert PDFs on Mac
Converting PDFs for Mac is just as easy as the Windows process. Check out our guide below and convert any PDF for your Mac system! 


Navigate, edit, and
convert PDFs like a Pro
with PDF Reader Pro
Easily customize PDFs: Edit text, images,
pages, and annotations with ease.
Advanced PDF conversion: Supports
multi-format document processing with OCR.
Seamless workflow on Mac,
Windows, iOS, and Android.

Follow this simple process to complete your PDF document conversion.


Step 1: Open Your PDF
Open your PDF file in PDF Reader Pro by clicking Open File.


Step 2: Click the File Button
Hover down to Convert, then from the possible output formats select your desired new format from the drop-down menu.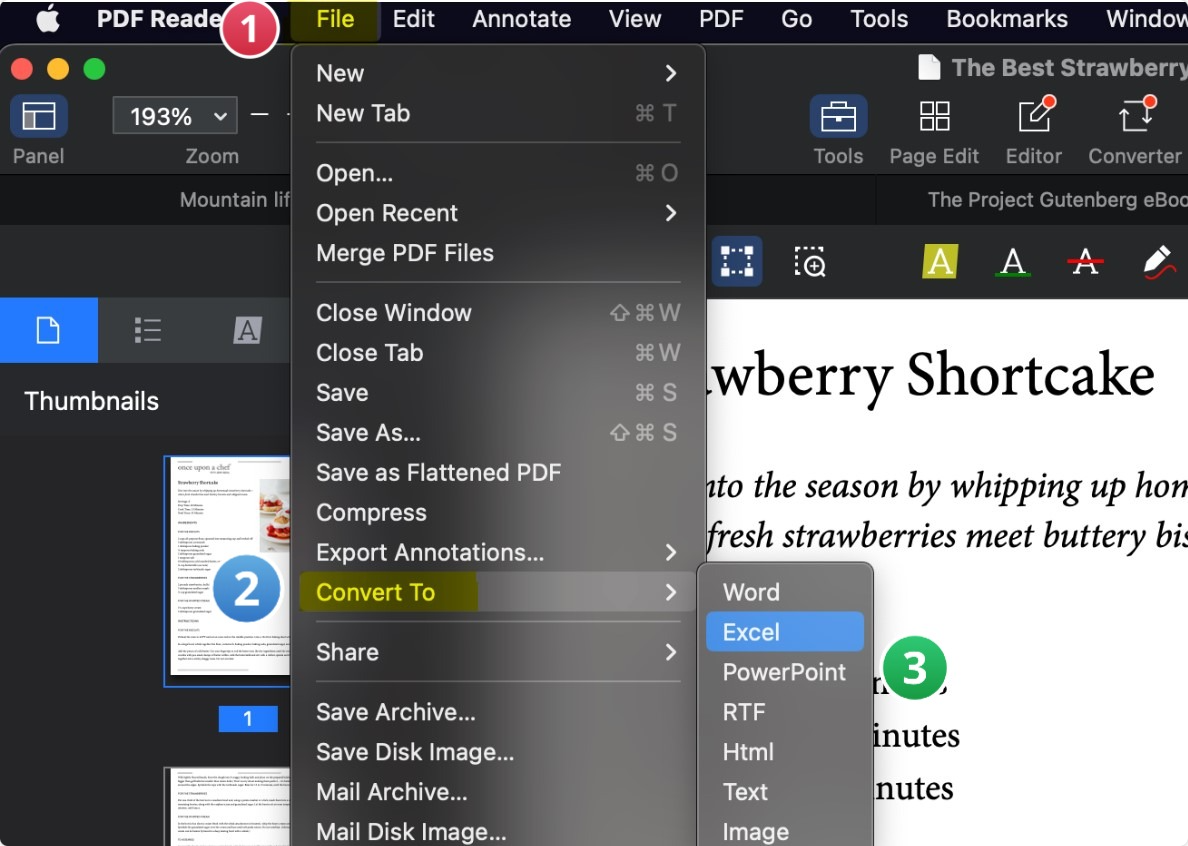 Image: PDF Reader Pro


Step 3: Adjust your settings

Either convert the document as an entire table or opt to select simple tables to convert.



Image: PDF Reader Pro



Step 4: Click Convert
Save your document in your chosen folder.

Quick Comparison Table


| | | | |
| --- | --- | --- | --- |
| PDF Compression Tool | Compression Quality | Overall Rating | Free Version |
| | 5.0 | 5.0 | Yes |
| | 4.9 | 4.9 | Yes |
| | 4.7 | 4.8 | Yes |
| | 4.7 | 4.7 | Yes |
| | 4.6 | 4.6 | Yes |
| | 4.5 | 4.6 | Yes |
| | 4.5 | 4.5 | Yes |



7 Best PDF Converter Tools
What is the best PDF option for compresssing your valuable files? Check out our guide on the best PDF management tools out there. We looked at secure PDF solutions with affordable pricing and the best PDF creation tools. 



Image source: PDF Reader Pro


At the top of our list is PDF Reader Pro, an exceptional PDF conversion tool that operates offline, ensuring utmost File Security. Compatible with multiple Windows versions, this software is a go-to for anyone who requires frequent conversions without worrying about file content leakage.


When it comes to a robust offline PDF converter, PDF Reader Pro for Windows is hard to beat. With high-quality conversion, this software is a comprehensive tool that ensures your file content remains secure. Unlike many online PDF converters, PDF Reader Pro emphasizes file security, allowing you to convert PDF documents into various file formats while keeping the original file's quality.


PDF Converter Features
High-Quality Conversion: Say goodbye to blurred images and distorted text. PDF Reader Pro guarantees conversions without any loss in quality, preserving the Original Format.
Supports Multiple File Types: Whether you're working with Word, Excel, PowerPoint, Text, or various Image Formats, this tool has got you covered.
Batch Processing: PDF Reader Pro supports Batch File Processing, which enhances your work efficiency by converting multiple files at once.


Image source: EaseUS PDF Converter


EaseUS PDF Converter is a trusted name for efficient and versatile PDF File Conversion. It's a particularly good option for those who wish to convert multiple File Formats into PDF and vice versa.


EaseUS PDF Converter is a robust tool known for its quality and efficiency. Unlike the typical online tool, EaseUS specializes in supporting various file formats, including 2/1 image files, thus ensuring the quality and content of your original files are maintained.


PDF Converter Features
Versatile File Conversion: Convert PDF to JPG, PNG, TXT, and many other file formats without the fear of Data Loss.
Batch Conversion: Convert multiple files to or from PDFs at the same time, greatly reducing the File Conversion Speeds.
Intuitive Workflow: It comes with an easy UI, making it a convenient tool even for beginners.


Image source: Adobe Acrobat


Adobe Acrobat is a powerhouse when it comes to handling PDFs. With its sophisticated yet intuitive interface, it's a reliable tool for both professionals and beginners alike.


Adobe Acrobat PDF Converter is a household name in PDF software, with its top-notch capabilities. This conversion tool supports a wide range of PDF documents and various file formats. Although it's not primarily an online converter, Adobe Acrobat's comprehensive features ensure that you get top-quality output files.


PDF Converter Features
Retains Original Formatting: The tool ensures that the Original File formatting stays intact post-conversion.
Wide Range of File Formats Supported: Whether it's converting PDF to JPG or Word to PDF, Adobe Acrobat has you covered.
Affordable: Despite its plethora of features, it remains a budget-friendly option for users.
4. Soda PDF




Image source: Soda PDF


If you're seeking a low-cost yet effective PDF converter tool, Soda PDF is worth checking out. Offering a myriad of features accessible from any device, this tool ensures your files remain secure with 256-bit AES encryption.


Soda PDF is an excellent choice for those looking for a low-cost yet efficient PDF file converter. Noted by 3 different sources, this software offers 128/256-bit file encryption, ensuring your file content is safe. The tool provides unlimited access to various features from any device, making it easier to convert files to PDF.


PDF Converter Features
E-Signatures: It allows users to collect and send legally binding e-signatures.
File Security: Soda PDF offers robust 128/256-Bit File Encryption to protect sensitive information.
Cross-Platform Support: This tool is accessible from various platforms, making it highly convenient for users.


Image source: Foxit PhantomPDF Standard


Compatible with Windows 7 and 10, Foxit PhantomPDF Standard is a well-rounded PDF converter offering a user-friendly interface and high-grade features.


Foxit PhantomPDF Standard is another powerful tool that comes highly recommended. With its ability to handle multiple file sizes and formats, including 2/1 image files, Foxit offers comprehensive solutions beyond a mere PDF file converter. The software is designed for smooth batch processing, converting files in bulk with ease.


PDF Converter Features
Wide Conversion Options: From JPG to PowerPoint and Word, Foxit has a broad scope of File Formats Compatible.
Annotation and Editing: This tool also offers options to annotate, edit, share, and comment on PDF files.
File Merging: An excellent feature that allows users to combine multiple PDFs into one



Image source: Nuance


Nuance PDF Converter is another excellent choice for Mac users, offering both viewing and editing features along with PDF conversion.


Nuance PDF Converter comes highly recommended, with its wide array of features. While it may not offer online converter facilities, this tool is equipped to handle a multitude of file formats and sizes. Its layout settings and optical character recognition make it a standout.


PDF Converter Features
Multiple Conversion Options: From PDF to Word or Excel, the possibilities are endless.
Extensive Editing Features: Highlighting, underlining, and more are easily done here.
Free Trial: A 30-day free trial is available, allowing you to test its features before purchase.


Image source: PDF Converter


A lesser-known gem, PDF Converter is an excellent alternative for those who need a simple and reliable PDF converter.


With its high-quality conversion, PDF Converter is an efficient tool that ensures your original format remains untouched. Unlike typical online converters, this software allows you to securely convert multiple file types, making it a versatile choice.


PDF Converter Features
High-Quality Conversion: Provides lossless conversion, making it one of the best choices for maintaining the quality of your original files.
Simple UI: A straightforward and clutter-free user interface that's intuitive even for beginners.
Wide Format Support: From Word and Excel to PowerPoint and images, this tool offers a wide range of supported formats.


These PDF converter tools offer something for everyone, from the utmost in quality and security to an array of different features and capabilities. Whether you're working on a Windows PC or a Mac, these tools are here to make your PDF conversion tasks easier than ever.


What is PDF Conversion?
PDF Conversion is the process of transforming files from one format to another, with one of the formats typically being PDF (Portable Document Format). It's an essential tool for a range of business operations, especially in business enterprises that deal with a variety of document types.


Types of Tools
There are several ways to perform PDF conversions, and each comes with its own set of advanced features:
PDF Converter Online Tools: These tools operate in your browser software and usually offer a quick and efficient solution for basic conversions. They are often the go-to solution for individuals and small businesses.

Desktop Solution: Downloadable software installed on your computer, these tools often provide a robust set of editing tools and additional features like batch convert PDF features and integrated security features.

Tool Drop Services: Some advanced services allow you to simply drop a file into a designated area, and the tool takes care of the rest.

Amazing Conversion Tool: There are some standout tools in the market offering excellent customer service and advanced features like encryption and compression tools.

Design and Editing Tools: Beyond simple conversion, some PDF tools offer design and editing tools to customize your PDF even further.
Types of Solutions
Online Solution: Most online versions are fast-performing and offer cloud storage service. These are often less expensive but may lack some customization features.

Offline Version: These desktop solutions are more robust and offer a wide range of additional features. While they might be an expensive solution, they are often the best solution provider for business agreements and operations.

Trial Version: Many services offer a limited version of their tools for you to try before you buy. This allows you to test the class services and decide if it's the right tool for your needs.

Acrobat Online Services: This is an ISO-standardized version of PDF tools offering a range of services including conversion, editing, and encryption services.
Whether you're looking for a simple online tool or a more robust desktop version, the key is to find the one that best meets your needs. From editing tools to management tools, from encryption to compression, the market is full of options. Choose wisely, and you can make PDF conversion an effortless part of your business operations.


PDF Conversion Best Practices
PDF conversion can be a straightforward task, but adhering to some best practices can make the process more efficient and secure. In the era where file conversion is a common task, following guidelines can help you get the most out of your PDF Converter tools.


Use a Reputable PDF Creator
Not all PDF creators are built the same. Opt for one that has good reviews and is cited in multiple sources for its reliability and features. Quality PDF creators usually offer 128/256-bit file encryption to keep your documents secure.


Batch File Processing
If you need to convert multiple files, look for a PDF converter that offers batch file processing. This feature can save you time and can help maintain file conversion speeds.


Be Mindful of File Permissions
Before you begin the conversion process, make sure you have the necessary file permissions. Converting a file without proper permissions could result in legal complications.


Choose Compatible File Formats
Check that the PDF conversion tool you are using supports the file formats compatible with your needs. Whether it's an audio file, drawing file, or document file format, compatibility is crucial.


Opt for Offline or Online Version According to Need
Some PDF converters offer both offline and online versions. Offline versions are usually more feature-rich but might be an expensive solution. Online versions are generally more affordable and user-friendly but may have limitations like maximum file size.


PDF Conversion FAQ
What's the difference between an Online Converter Tool and a Desktop Solution?
An online converter tool usually works in your web browser and is often a go-to solution for quick and straightforward tasks. Desktop solutions, however, are software that you download and install on your computer, often providing a more robust set of editing tools.


Is File Size a Concern for PDF Conversion?
Yes, file size can be a concern, especially if you are using an online solution with a file size limitation. For large-sized PDF files or huge files, a desktop solution is generally better equipped to handle the conversion.


Can I Convert Files into PDF Files Through Email?
Some PDF converters offer the option to send the file through email after conversion. However, this feature may not be common in every PDF conversion tool. It's best to check whether your chosen tool offers this functionality.


How Do I Choose the Best PDF Converter - Convert File Tool?
Look for tools that are recommended in multiple sources and offer features like batch file processing, 128/256-bit file encryption, and compatibility with common file formats. The best PDF converter will depend on your specific needs, including whether you're looking for an online or offline version.


What's the importance of File Encryption in PDF Conversion?
File encryption, especially 128/256-bit, ensures that your file content remains secure during and after the conversion process. This is particularly important for sensitive or confidential documents.


By adhering to these best practices and having a clear understanding of FAQs, you can navigate the complexities of PDF conversion with ease. Whether you opt for an online or offline version, choosing the right PDF converter tool can make all the difference in your file management tasks.