With the digital age firmly upon us, many traditionally printed documents are now most commonly found in digital format, particularly PDF files. One common requirement is to white out certain parts of a PDF.

In this guide, we will walk through the process of whitening out a PDF step-by-step using the powerful tools offered by PDF Reader Pro. 
How to White Out a PDF on Windows
Follow these simple steps to discover an excellent method for whiting out PDFs using your Windows operating system. 


Navigate, edit, and
convert PDFs like a Pro
with
PDF Reader Pro
Easily customize PDFs: Edit text, images,
pages, and annotations with ease.
Advanced PDF conversion: Supports
multi-format document processing with OCR.
Seamless workflow on Mac,
Windows, iOS, and Android.
Step 1: Open Your Document
Open the editable version of your PDF in our handy PDF editor. 




Image Source: PDF Reader Pro


Step 2: Click on "Tools"
Select the rectangle icon and drag it until it's covering the text you want to white out. 


Image Source: PDF Reader Pro



Step 3: Change the Colours to White
Select white as the fill and outline colors using the "Properties" panel on the top right-hand corner.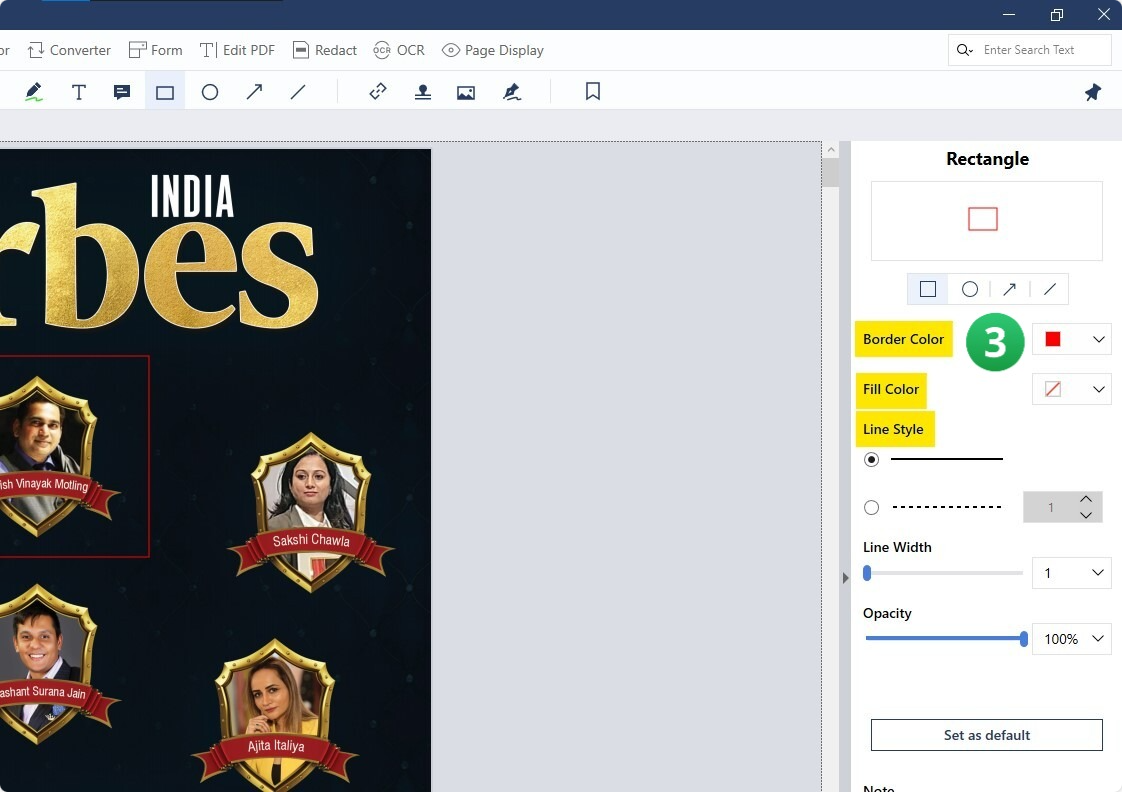 Image Source: PDF Reader Pro


How to White Out a PDF on Mac
Use our step-by-step guide for the ideal method of whiting out PDFs on your Mac operating system.


Navigate, edit, and
convert PDFs like a Pro
with
PDF Reader Pro
Easily customize PDFs: Edit text, images,
pages, and annotations with ease.
Advanced PDF conversion: Supports
multi-format document processing with OCR.
Seamless workflow on Mac,
Windows, iOS, and Android.

Step 1: Open Your PDF File
Open the document in question by clicking "Open File" or dragging it into the drop zone. 


Step 2: Select "Tools" from the Menu
Using the edit tool in PDF Reader Pro, select the rectangle icon from the menu bar under "Tools".  Click and drag the box over the text you want to white out.


Video Source: PDF Reader Pro

Step 3: Change the Colors

Change the fill and line colors to white using the "Properties" panel on the top right corner. 




Image Source: PDF Reader Pro
Best Practices for Whiting Out a PDF
Whiting out content in a PDF file is often done for corrections, privacy, or visual presentation. However, simply putting a white overlay on the content doesn't necessarily remove it from the file. With that in mind, here are some best practices when it comes to whiting out content in a PDF:
Always Backup: Before making any changes to your PDF, make sure to create a backup copy. This way, if something goes wrong or if you need the original content, you have a copy to refer back to.

Use Redaction Tools: Some PDF editing software provides redaction tools that permanently remove content from a PDF. It's safer and more secure than merely overlaying a white rectangle. For sensitive content, always use editing tools like redaction instead of the traditional whiteout method.

Ensure Content is Completely Covered: If you're using the whiteout method, ensure that the content you wish to hide is entirely covered. Sometimes, zooming in will reveal hidden content at a more zoomed-out level.

Check the Layers: Some PDFs might have layers. Ensure that the content you've whited out isn't visible on any other layers or in any other viewing modes.

Test Print the PDF: Sometimes, what appears hidden on the screen might appear in print. Before sharing or distributing your edited PDF, print out a copy to verify the content is appropriately whited out.

Remember Metadata and Comments: Whiting out content in the main body of the PDF doesn't remove associated metadata or comments. Double-check these areas, especially if you're sharing the file externally.

Password Protect the Edited PDF: If you're whiting out sensitive content, consider adding password protection to the edited PDF. This adds another layer of security, ensuring only authorized individuals can view or edit the file.

Avoid Using Basic Tools for Sensitive Data: Tools like Microsoft Paint or basic PDF viewers might allow you to overlay white shapes on a PDF. However, these methods are usually not secure. Dedicated PDF editors are recommended for more secure editing.

Confirm with a Second Set of Eyes: Sometimes, you might miss a spot or not cover content adequately. If the document is important, have someone else review your edits as a quality check.

Be Cautious with Optical Character Recognition (OCR): If your PDF software has OCR enabled, it might still recognize and read the text you've tried to white out. Check this by attempting to highlight or search for the whited-out text.

Keep File Size in Mind: Adding multiple whiteout patches or using certain tools might increase the file size. Always check the final file size, especially if you need to share the PDF via email or platforms with size restrictions.
Whiting out content in a PDF requires more than just covering up the unwanted parts. By following these best practices, you can ensure your content remains private, secure, and professionally presented using our PDF tool.
The Shortcomings of Whiting Out for Security
The whiteout feature of PDF Reader Pro is a handy editing tool that is great for keeping your document intact but is not the go-to method for keeping your documents secure. 
Underlying Data Remains: Whiting out data in a PDF merely covers the visual aspect of the content. The underlying data is often still present in the file, which means tech-savvy individuals can retrieve the covered data using certain tools or methods.

Searchability: Even if content is whited out, it may still be searchable within the PDF, especially if the PDF contains selectable text.
Best Practices for Securely Removing Content
In the case of confidential content, there are several precautions you can take to securely remove content from PDFs using our straightforward interface. 
Use Redaction Tools: Many professional PDF editing software like Adobe Acrobat Pro DC and PDF Reader Pro offer redaction tools. These tools don't just visually hide data but permanently remove it from the PDF document in minutes. The section is blacked out (or whited out) and the underlying data is deleted.

Flatten the PDF File: Flattening merges the annotations and layers into the base layer of the document, preventing further edits to files. This means that the whiteout or redacted sections cannot be individually selected or removed after you export documents.

Convert to Image: One way to ensure that text isn't selectable or recoverable after content removal is to convert the PDF pages into images. However, this also means that none of the text will be selectable and the file size might increase.

Password Protection: After making your edits, encrypt the PDF with a strong password. This prevents unauthorized access and ensures there are no unwanted edits to the content on the PDFs you secure. 

Metadata Cleanup: PDFs often contain metadata like author names, edit histories, and comments. Ensure you remove or clean this metadata as it might have sensitive information.

Regularly Update PDF Software: Ensure you're using the latest version of your PDF editing software. Developers frequently patch security vulnerabilities, so updating ensures you're protected against known exploits.

Test Before Sharing: Before sharing the edited PDF, try opening it with different software to ensure that the redactions or whiteouts appear as they should. It's also wise to check if the hidden content is searchable when others access document content.
FAQs About Whiting Out a PDF
Here are some common questions you may have about whiting out a PDF document:


Why would I need to white out content in a PDF document?
Common reasons include correcting mistakes, removing personal or sensitive information before sharing, or simplifying a document for presentation purposes.


Can I delete text instead of whiting it out?

Some advanced PDF editing tools allow you to delete text. However, this might leave a noticeable gap or disrupt the document's formatting. Whiting out provides a uniform appearance.


Is whiting out the same as redacting?
No. Whiting out visually hides content with a white overlay, while redaction permanently removes the content from the original PDF document, making it unrecoverable.


Can the content I've whited out be retrieved or seen by others?
If you only use a white overlay, technically savvy users might be able to recover the unwanted content. Use proper redaction tools or encrypt the PDF if the information is sensitive.


If I white out content and then save the PDF, is the original content lost forever?
If you've saved the changes over the original file, then yes, unless you made a backup. Some PDF editors offer "Save As" options to create a new version while retaining the original.


Can I white out content on a scanned PDF?
Yes, you can. The process is the same as whiting out on a digital PDF. However, for scanned documents, the quality and clarity might vary, and you should double-check to ensure all unwanted content is adequately hidden for secure document sharing. 


Will the white out show if I print the PDF content?
After you have followed the simple steps above, the whited-out sections will appear as blank white spaces on the printed document.


Does the whiteout tool reduce the PDF's file size?
Not significantly. While you're covering content in the original document with a white overlay, the original data is still present in the file, making minimal impact on the size.


I whited out content, but it's still searchable in the PDF. Why?
Even if visually hidden, the PDF's Optical Character Recognition (OCR) system can still recognize the underlying content. To prevent this, use a redaction tool or re-save the document as an image-based PDF file format.


Can I undo the whiteout PDF file edits if I change my mind later?
With our powerful PDF editor, you can undo your actions as long as you haven't saved and closed the document. Once saved and closed, the changes are permanent unless you use the backup.

Whiting out content in a PDF can be straightforward, but understanding its nuances is essential, especially when handling sensitive or crucial documents. Always choose the best method according to the purpose and sensitivity of the content being modified when it comes to editable documents.