The job market is evolving, and with it, the tools job seekers use to stand out. A well-crafted resume not only showcases your qualifications but also tells a story about who you are. 


PDF Reader Pro recognizes the importance of a top-tier resume, and in this article, we've curated a list of the best free resume templates for this year. 


Quick Reference Table
We appreciate that you have many jobs to apply for and little time to spare. Check out our quick reference table to find your free template resource quickly!


| | | |
| --- | --- | --- |
| Free Resume Tool | Resume Templates Rating | Overall Rating |
| | 5.0 | 5.0 |
| | 4.9 | 4.9 |
| | 4.8 | 4.8 |
| | 4.7 | 4.6 |
| | 4.7 | 4.5 |
| | 4.6 | 4.4 |
| | 4.6 | 4.5 |
| | 4.5 | 4.5 |
| | 4.3 | 4.2 |
| | 4.2 | 4.1 |
10 Best Free Resume (PDF or Word) Sources in 2023
Let's dive into our 10 top picks for your next free resume and find the ideal format for your next winning application.

Image source: PDF Reader Pro


PDF Reader Pro is a robust and versatile application that extends beyond just reading PDFs. Recognized for its comprehensive suite of PDF editing tools, it also provides users with a collection of free, high-quality resume templates tailored to various professional needs.


Free Templates Features
Diverse range of templates to cater to different industries and preferences.

Easy integration with the app's editing tools, allowing for seamless customizations.

High-resolution output ensuring your resume always looks sharp and professional.


How PDF Reader Pro's Templates Fared When Tested
Upon testing, PDF Reader Pro's resume templates received high marks for their sleek design and ease of use. The templates meshed seamlessly with the application's editing functionalities, making it simple for users to adapt them to their needs. The end result was a polished, professional-looking resume ready to make an impression on potential employers.

Image source: Canva


Canva is renowned for its user-friendly interface and vast library of designs, catering to both beginners and seasoned designers alike. Its ability to craft professional-grade materials extends beyond social media posts and presentations; Canva's resume templates are a testament to this versatility.


Free Templates Features
A wide variety of layouts catering to different industries and job positions.

Easily customizable: change colors, fonts, and design elements with a simple drag and drop functionality.

Interactive features available, allowing users to add clickable links or embedded videos to their resumes.


How Canva's Templates Fared When Tested 
In our tests, Canva's resume templates stood out for their professional appearance and adaptability. The platform offers a balanced mix of traditional and modern designs, ensuring there's a suitable template for virtually any role. The interactive features also add a unique touch, especially for roles in digital fields or creative industries.

Image source: Adobe Express


Adobe, a pioneer in the creative software industry, brings its design expertise to the realm of resume templates with Adobe Express. Known for its powerful graphic design and editing tools, Adobe Express offers a streamlined platform that even novices can navigate with ease, ensuring that every resume shines with professionalism.


Free Templates Features
A selection of templates designed with modern aesthetics, suitable for a range of professions.

Integration with Adobe's suite of tools for enhanced customization and design flexibility.

Mobile-responsive designs, ensuring resumes look impeccable across devices.


How Adobe Express's Templates Fared When Tested
In our evaluation, Adobe Express's resume templates impressed with their sophisticated design and attention to detail. The ability to integrate with other Adobe tools added layers of customization, providing users with a distinct edge.

The finished products were consistently of a high standard, with designs that stood out without overshadowing the content, making them a top choice for those aiming to leave a memorable impression.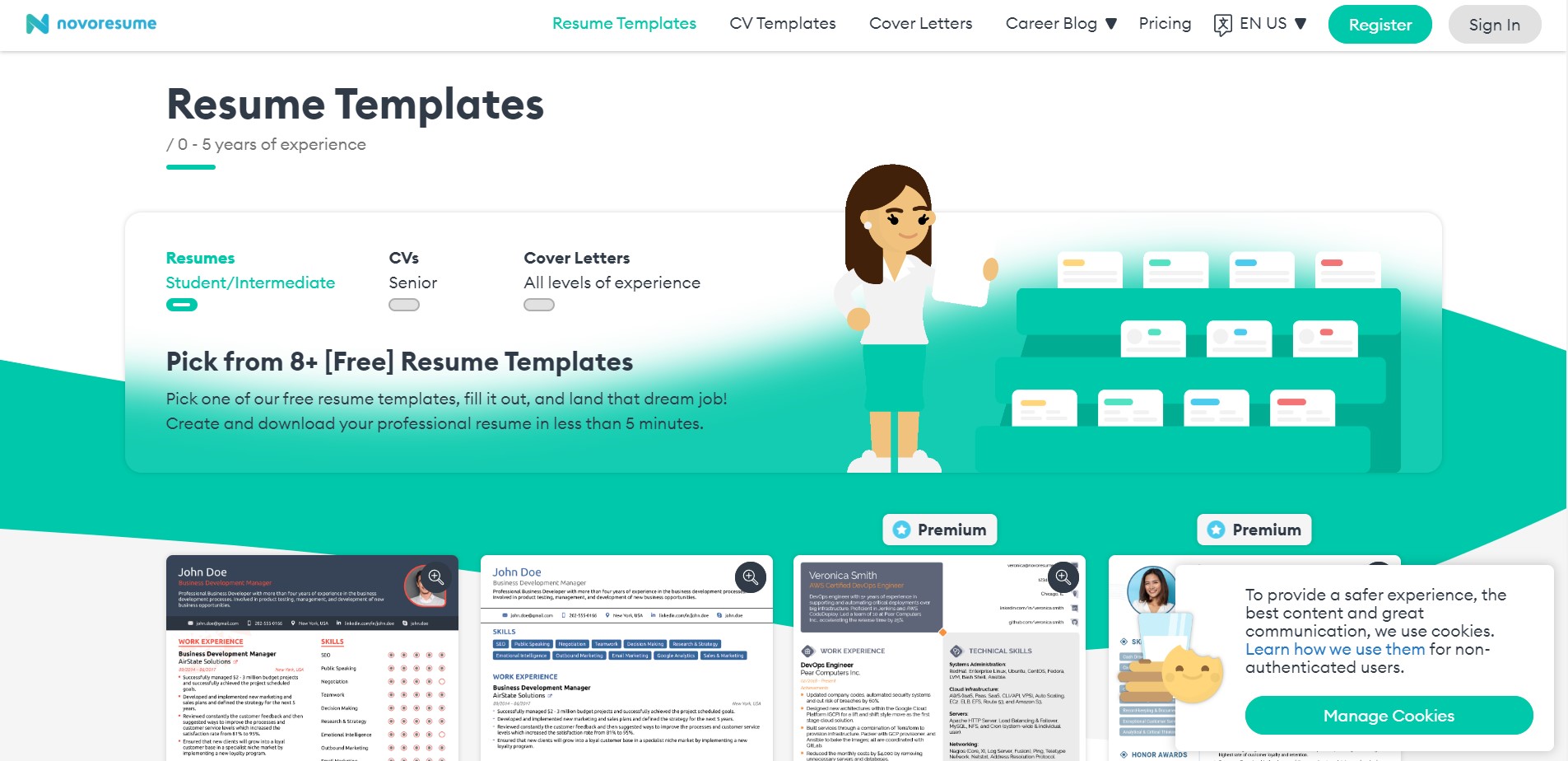 Image source: Novoresume
Emerging as a dedicated platform for resume creation, Novoresume has quickly gained popularity among job seekers. With its focus on crafting effective and visually appealing resumes and CVs, the platform combines functionality with design, ensuring that users present themselves in the best light possible.


Free Templates Features
User-friendly interface with guided tips to craft impactful resumes.

A blend of traditional and contemporary designs suitable for various industries.

Built-in content suggestions tailored to different job roles and sectors.


How Novoresume's Templates Fared When Tested
During our assessment, Novoresume's templates excelled in terms of design coherence and user experience. The guided approach helped in crafting content that was both relevant and impactful. The design options struck a balance between creativity and professionalism, ensuring the content remained the star.

Overall, the platform proved itself as a valuable tool for anyone looking to elevate their job application materials.



Image source: Resume.io
As a platform dedicated solely to resume building, Resume.io has carved out a niche for itself among professionals and fresh graduates alike. With its intuitive interface and a focus on creating resumes that stand out, Resume.io ensures that users craft documents tailored to catch a recruiter's eye.


Free Templates Features
A vast collection of designs ranging from minimalistic to more elaborate layouts.

Real-time content advice and optimization tips based on industry standards.

Compatibility across devices, ensuring a consistent look and feel.


How Resume.io's Templates Fared When Tested
In our exploration, Resume.io showcased its strength through its diverse design options and user-centric guidance. The real-time content suggestions were particularly notable, helping to refine and polish the resume's content.

Each template was designed with a clear understanding of modern recruitment trends, resulting in resumes that were not only visually appealing but also optimized for success in the competitive job market.

Image source: Zety
With a reputation for simplifying the resume creation process, Zety offers a unique blend of design and expertise to help users make a lasting impression. Its platform is intuitively structured, making it a breeze for users to craft resumes that mirror both their professionalism and personality.


Free Templates Features
Diverse design palette catering to both conservative and creative sectors.

Actionable feedback and suggestions based on current industry benchmarks.

Interactive preview option, allowing users to see changes in real-time.


How Zety's Templates Fared When Tested
On testing, Zety's templates consistently showcased their prowess through their adaptability and modern designs. The actionable feedback provided clear and beneficial adjustments, ensuring each resume was aligned with industry expectations. The interactive preview was especially commendable, offering a dynamic user experience.

The resulting resumes felt personalized and were well-suited to cater to a range of job roles and industries.

Image source: Enhancv
Delving deep into the world of professional branding, Enhancv offers more than just resume templates – it's a platform that champions individuality and personal storytelling. With a modern approach to design and content, Enhancv assists users in creating resumes that genuinely resonate with employers, highlighting strengths and achievements in a unique light.


Free Templates Features
Modern, clean designs with emphasis on visual storytelling.

Customizable color schemes and modular layouts for a tailored approach.

Unique sections like "My Time" and "Strengths" that offer deeper personal insights.


How Enhancv's Templates Fared When Tested
Upon review, Enhancv's templates emerged as innovative frontrunners. The blend of traditional resume elements with contemporary, personalized sections allowed for an engaging narrative.

Users found it easy to highlight not just their professional milestones, but also their personal growth and aspirations. The end products were visually striking, with a fresh approach that is bound to differentiate candidates in a crowded job market.

Image source: Indeed
Indeed, widely recognized as one of the world's top job search platforms, goes beyond merely connecting employers with potential employees. The platform also offers tools to facilitate job seekers in their quest, one of which includes a resume builder equipped with contemporary templates that align with current job market trends.


Free Templates Features
Templates optimized for applicant tracking systems, enhancing the chances of being shortlisted.

Seamless integration with the Indeed platform, allowing for easy application to jobs.

Clean, professional designs catering to a vast spectrum of roles and industries.


How Indeed's Templates Fared When Tested
When put to the test, Indeed's resume templates highlighted their main strength: optimization for the recruitment process. The designs, while straightforward, were tailored to maximize clarity and readability, essential for passing through automated resume screenings. Users also appreciated the platform's direct integration, streamlining the process from resume creation to job application.

The resulting resumes felt efficient, functional, and poised to meet the demands of modern recruitment.
Positioned as a comprehensive resume-building solution, My Perfect Resume is dedicated to assisting job seekers in curating optimal resumes that reflect their best attributes. With an emphasis on effectiveness and simplicity, this platform combines intuitive tools with professional insights to ensure users achieve perfection in every detail of their resume.


Free Templates Features
User-friendly builder with step-by-step guidance to simplify the creation process.

Templates designed to match industry-specific requirements and preferences.

A mix of traditional and modern designs, adaptable to different career levels and job roles.


How My Perfect Resume's Templates Fared When Tested
Upon evaluation, My Perfect Resume's offerings clearly demonstrated their dedication to user-centric design and functionality. The step-by-step guidance was particularly beneficial for those new to the job market or those looking for a structured approach to resume crafting. Templates catered well to various sectors, offering a blend of aesthetics and professionalism.

Users frequently noted the ease with which they could craft compelling narratives, resulting in resumes that effectively encapsulated their professional journeys.

Image source: ResumeGenius
Rooted in the philosophy that resume creation should be both intuitive and intelligent, ResumeGenius offers a platform that amalgamates design finesse with expert-backed content suggestions. Catering to a wide demographic of job seekers, this tool endeavors to simplify the often-daunting task of resume crafting, ensuring every user feels like a resume genius.


Free Templates Features
An array of designs spanning various industries and personal branding styles.

Autofill features, pulling from extensive job description databases to help craft impactful bullet points.

Built-in professional tips and advice to guide users in highlighting their best attributes.


How ResumeGenius's Templates Fared When Tested
In our deep dive into ResumeGenius, the platform's intelligence-driven features particularly stood out. The autofill function was a game-changer, helping users swiftly populate their resumes with relevant and impactful content. Coupled with expert advice peppered throughout the creation process, users felt well-guided and confident in their resume's content and design.

The final products consistently resonated with a blend of personal authenticity and professional polish, setting them up for success in the job-hunting arena.


Best Free Resume: Best Practices
Navigating the modern job market requires more than just a list of qualifications; it demands a resume that stands out, both in design and adaptability. One major decision every job seeker faces is the dilemma of resume format.

With multiple sources suggesting various best practices, here's a curated guide to ensuring your resume aligns with the expectations of both human recruiters and automated systems.
Prioritize the Job Posting: Tailoring your resume for specific job postings can drastically increase your chances of landing an interview. Scrutinize job descriptions, aligning your resume for keywords and ensuring you mirror the most pertinent qualifications.

PDF Resumes Are King: Sources overwhelmingly favor the PDF format for online applications. PDF resumes maintain their structure regardless of the device or software, ensuring hiring managers view them as intended. When in doubt, a PDF resume template is a safe bet.

Consider Applicant Tracking Systems (ATS): Many companies use ATS to scan resumes for relevant keywords before they ever reach a human recruiter. Ensuring an ATS-compliant resume means avoiding headers/footers and using standard section titles.

Mind the File Type: While PDF resumes are generally preferred, always heed specific guidelines in the job application. Some employers may specify a different resume file format. This is where online resume builders can be a lifeline, allowing edits to resumes and converting them into the correct format without starting your resume from scratch.

Less Is More: Avoid the pitfall of a messy resume. Whichever resume formats you lean towards, clarity and conciseness will always win the day. Remember, hiring managers often sift through countless applications, so saving their valuable time with a direct and well-formatted resume can set you apart.

Utilize Online Tools: With sources suggesting various resume builder platforms, an online resume builder can streamline the process, providing resume examples and ensuring the final output, whether resume PDFs or other types, is polished and professional.
In the ever-competitive job hunt, every detail counts. Crafting the perfect resume, be it in PDF format or other specified file types, can make a significant difference. By staying informed and utilizing the right resources, job seekers are better positioned to make a lasting impression and secure their desired role.
Best Free Resume: FAQ


Are simple resumes more effective for potential employers?
Yes, simple resumes often resonate better with a host of employers. The emphasis on content and qualifications, devoid of distractions, ensures that your potential manager grasps your credentials quickly. Moreover, Applicant Tracking Systems (ATS) often prefer resumes without special formatting, so a simple design can be a huge advantage.


Should I consider a one or two-page resume?
While one-page resumes are standard for fresh graduates or those with a few years of experience, a two-page resume is acceptable for professionals with extensive experience. Just ensure there's no unnecessary white space and every detail included adds value.


Do third-party recruiters have any specific requirements for resumes?
A third-party recruiter or recruitment company might have its preferences. Often, they might use digital applicant profiles or specific databases. It's always a good practice to check their guidelines before submitting.


I've used lots of graphic design in my resume. Is that an issue?
While graphic design can make your resume visually appealing, it can pose problems with Applicant Tracking Systems. Lots of company websites and systems might not interpret special formatting or images correctly, making simple resumes without excessive design elements preferable.


What are common errors I should avoid in my resume?
Spelling errors are a significant red flag, highlighting a lack of attention to details. Also, sending a resume that's not compatible across various operating systems or devices can be a potential job-hunting dilemma. Always proofread and test your document across devices.


How can I convert my resume to a universally accepted format?
PDF Reader Pro, Google Docs, Adobe Acrobat, and other tools allow for conversion to a one-size-fits-all file format, typically PDF. By following some simple steps, you can ensure your resume retains its formatting and remains accessible regardless of storage space or software.


Is being interview-ready standard essential for my resume?
Absolutely. Your resume should always be at an interview-ready standard. It represents you before potential employers, and having it polished and up-to-date means you're always ready for any opportunity that might come your way.