In the digital age, PDFs have become an essential format for document sharing and storage. However, sometimes, it's necessary to flatten a PDF, which means merging all of its layers into a single layer.
File flattening can be crucial for preserving your content exactly as you intended. Flattening is especially useful when dealing with forms, annotations, and visual elements like layered graphics. However, the main concern for many users is the potential loss of quality during the process. With an Adobe alternative like PDF Reader Pro you can easily flatten a PDF document in minutes while maintaining the original structure and document size using efficient tools.



Easily Flatten Any PDF with PDF Reader Pro
When choosing a document suitable for flattening, ensure it is large enough to not lose noticeable quality as the document processes. Thanks to PDF Reader Pro's comprehensive features, you can keep your original document as a separate file while creating an additional flattened file that retains its quality using our PDF Flatten Tool.
Below are the steps you'll need to follow to get a flattened PDF file without losing its quality on Windows and Mac operating systems using our dedicated PDF tool.

How to Flatten a PDF Without Losing Quality on Windows
PDF Reader Pro has a range of features that allow you to edit your PDF document quickly and easily. Follow our simple three-step process to use them to flatten your PDFs on Windows:


Navigate, edit, and
convert PDFs like a Pro
with
PDF Reader Pro
Easily customize PDFs: Edit text, images,
pages, and annotations with ease.
Advanced PDF conversion: Supports
multi-format document processing with OCR.
Seamless workflow on Mac,
Windows, iOS, and Android.
Step 1: Open your PDF files in PDF Reader Pro
Click File and open it from your file manager or using the drop zone, then wait until it is visible on the screen.



Image Source: PDF Reader Pro



Step 2: Select our flattening feature, labeled "Save as Flattened PDF"





Image Source: PDF Reader Pro


Step 3: Save your PDF files with your chosen file name.
This will export documents to a folder of your choice on your device, rendering the document uneditable and secure. After you've clicked Save, remember to do a last document review.



Image Source: PDF Reader Pro


How to Flatten a PDF Without Losing Quality on Mac
Follow a similar step-by-step as you would on Windows to flatten PDF documents with ease on your Mac.


Navigate, edit, and
convert PDFs like a Pro
with
PDF Reader Pro
Easily customize PDFs: Edit text, images,
pages, and annotations with ease.
Advanced PDF conversion: Supports
multi-format document processing with OCR.
Seamless workflow on Mac,
Windows, iOS, and Android.
Step 1: Select the digital documents you want to flatten and open them in PDF Reader Pro.
Upload them by clicking Open File and selecting your files from your device or by dragging them into the drop zone.




Image Source: PDF Reader Pro


Step 2: Select our flattening feature from the drop-down menu to start the converting process.
This will start a saving process and show a pop-up requesting a filename and save location.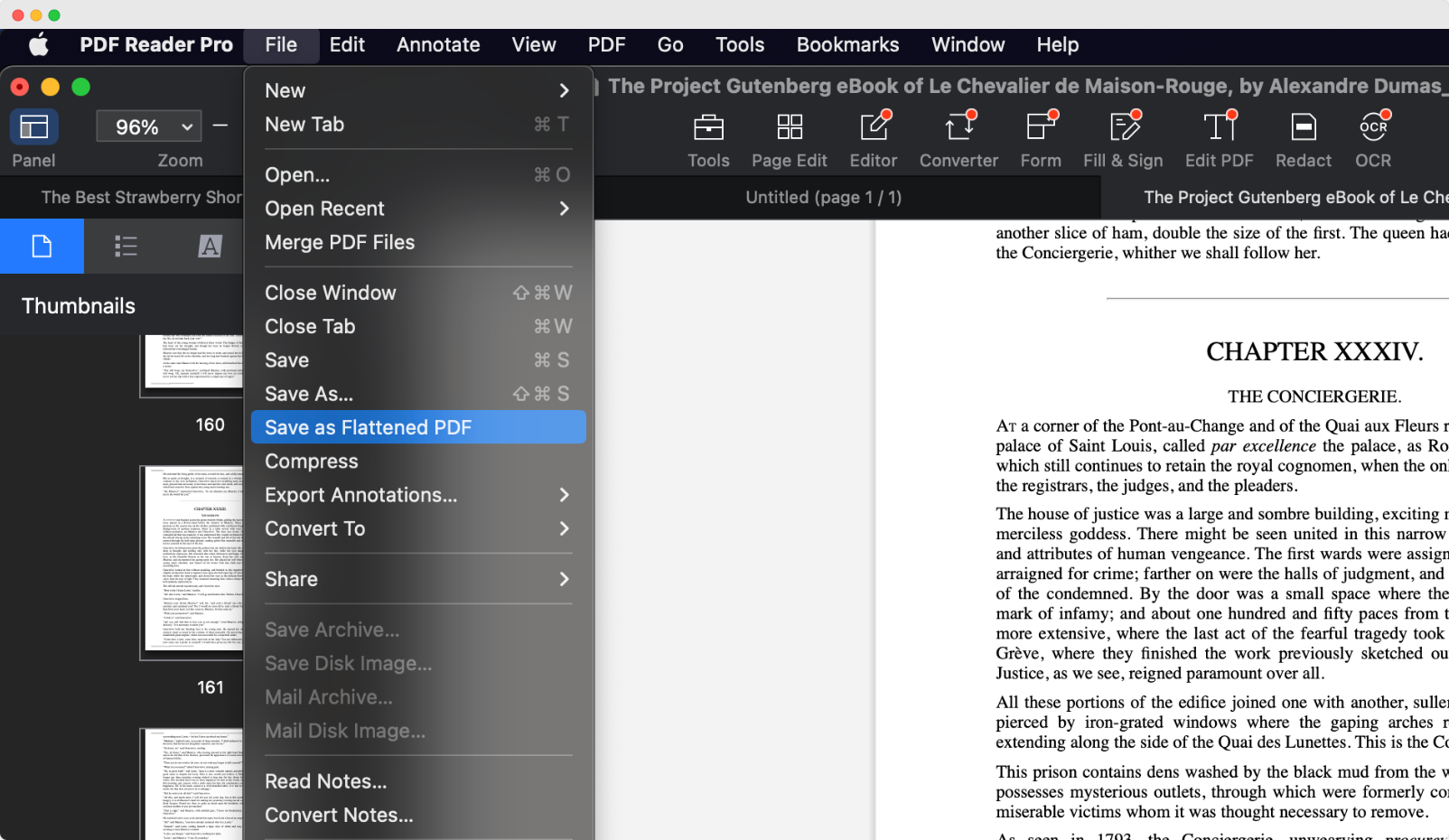 Image Source: PDF Reader Pro


Step 3: Before clicking Save you can adjust the file names on any documents you flatten.
After the document creation, open a preview to maintain document integrity after flattening. Thanks to PDF Reader Pro's capabilities for PDF documents you now have a file for print or secure sharing saved to your device. 



Image Source: PDF Reader Pro


Best Practice
When flattening a PDF with a flatten feature on PDF Reader Pro or Adobe Acrobat, there are certain steps that are considered best practice. It's always a good idea to take into account the following checklist when flattening your PDF:
Backup Your Original: Always keep an unflattened copy of your PDF. It provides flexibility in case you need to make changes later. The PDF flattening process prohibits further editing of your newly saved PDF documents.
Check the Flattened Version: After using the Flatten PDF feature, always open the new version to ensure everything appears element rich and as expected on your PDF forms.
Avoid Multiple Flattening: Every time you flatten a PDF, you risk compromising its quality slightly. Minimize the number of times you perform the process to maintain a good file size.

Reasons to Flatten a PDF
While there are myriad reasons you may need to flatten a PDF, there are some key aspects to keep in mind. These can also provide solutions to certain problems you might encounter when sharing, editing, or saving PDF documents. Scenarios you may encounter include:

Consistency: Flattening ensures your document looks the same across all devices and platforms, preserving fonts, colors, and layouts.
File Security: Flattening can prevent others from making unauthorized changes or annotations. Taking extra file privacy measures is always a good idea, especially to control how and when others can access fillable PDF files like business documents.
Reduced File Size: Flattening often reduces the overall size of the PDF, making it easier to share or store. This can be helpful in the case of sharing information via mobile device or when larger storage applications like Google Drive are not applicable.
Printing Process: Some printers or printing services may require flattened PDFs to ensure the document prints correctly. Flattening the PDF can help the two devices communicate.
Fillable PDF Forms: In the case of fillable forms where others need to input their information such as their digital signature, you'll want the document creators to feel safe in the knowledge that their information isn't being copied. Flattening a PDF prevents third-party users from using editing tools to change the fillable fields.


The Importance of File Security When Flattening a PDF
PDF files have become the universal standard for document sharing and archiving due to allowing complex documents to maintain a consistent appearance across platforms and reduce a document's size while still providing a high-resolution file.
Many PDF files carry sensitive information, whether it's a business contract, a design mockup, or personal data. Hence, as PDFs undergo modifications, such as flattening, it is imperative to ensure file security (and, importantly, file quality) remains uncompromised. Some crucial reasons to think about file security when flattening a PDF include:
Consistency Across Platforms: One of the main reasons to flatten a PDF is to ensure consistency. Flattening helps to maintain the visual and informational consistency of the document by merging layers, comments, and annotations into a single layer. However, if security isn't maintained during this process, there's a risk that these elements might be altered, deleted, or incorrectly merged.
Prevention of Unauthorized Edits: Flattened PDFs are harder to manipulate since annotations and form fields become a part of the document's content, rather than overlay elements. When you secure the flattened PDF properly, it further ensures that no unauthorized alterations can occur post-flattening.
Preventing Data Breaches: Flattening processes, if not handled securely, could lead to temporary files or backups being created without the user's knowledge. These files might be accessible to third parties, leading to potential data breaches of the editable fields.
Unintended Metadata Exposure: Often, users overlook the metadata embedded within a PDF, which can contain sensitive details, such as the author's name, document change history, or even location data. Ensuring file security means being mindful of this metadata and managing it appropriately during the flattening process.
Ensuring Compliance and Legal Standards:

Many industries, especially finance, health, and legal sectors, have stringent regulations around document security. Ensuring file security during any document modification process, including flattening of the entire PDF file, is necessary to remain compliant with industry or legal standards.

Professionalism in Document Presentation: A secure flattening process ensures that the document's appearance remains consistent and of high quality, presenting a professional image to clients, colleagues, or any other stakeholders.
Best Practices for File Security During Flattening
If your main reason for flattening your PDF documents is file security, there are a few main factors to consider to optimize the safety of your information. These include the following safeguarding measures: 
Use Reliable Software: Always use reputable PDF software, whether it's for editing, flattening, or securing the file. Free or unfamiliar software might not provide the level of security required.
Encrypt Your PDF: If the PDF contains sensitive data, consider encrypting it with a strong password. This adds an extra layer of protection against unauthorized access.
Regularly Update Software: Cyber threats evolve, and software developers regularly patch vulnerabilities. Ensure your PDF software is always updated to the latest version to benefit from these security enhancements.
Backup Original Files: Always keep an original, unflattened version stored securely. This ensures you have access to the initial document should any security issues arise post-flattening.


While flattening a PDF is essential for various practical reasons, it should never come at the cost of compromising file security. By understanding the importance and implementing secure practices, you can maintain the integrity and confidentiality of your PDFs during the flattening process.

The PDF flattening process can be an essential step in your document preparation. Following the above steps and maintaining a keen awareness of quality is crucial. Our guide is designed to help you flatten an entire document confidently while using the excellent tools provided by PDF Reader Pro.


FAQs
Q: What does it mean to "flatten" a PDF?
A: Flattening a PDF means consolidating all layers, annotations, comments, and interactive elements into a single, non-interactive layer. This ensures that the document appears the same across all devices and platforms.


Q: Why should I use PDF Reader Pro to flatten my PDFs?
A: PDF Reader Pro is a powerful tool that offers a user-friendly interface and high-quality results. It retains the visual integrity of your PDF while merging all interactive elements seamlessly, ensuring no loss in quality.

Q: Will the quality of my images be affected during flattening?
A: No, PDF Reader Pro is designed to retain the quality of all elements in the document, including images, during the flattening process.

Q: Can I undo the flattening if I'm not satisfied with the result?
A: Flattening is a permanent action. However, it's recommended to save the flattened document as a new file, preserving the original, unflattened version. This way, you can always revert to the original if needed.


Q: Are interactive elements like links and forms retained after flattening?
A: The visual representation of these elements will remain, but their interactive functionality will be removed. For instance, a form field will appear as it did, but users won't be able to fill it in the flattened version.


Q: I have confidential information in my PDF. Is it safe to flatten?
A: Yes, flattening in itself doesn't compromise the content. However, always ensure you're using a genuine version of PDF Reader Pro and have a secure backup of sensitive documents.


Q: Does flattening reduce the file size?
A: Flattening often reduces the overall file size because it merges various elements and removes interactive functionalities. The exact reduction in size may vary depending on the content of the PDF.


Q: Are annotations and comments visible after flattening?
A: Yes, once flattened, annotations and comments become a permanent part of the PDF and will be visible just like the rest of the content.


By familiarizing yourself with these FAQs, you'll be better prepared to utilize PDF Reader Pro effectively for your PDF flattening needs. Always ensure you're using the latest version of the software for optimal results.