Merging PDF files into one document can be essential, especially for professionals who frequently handle multiple file types. PDF Reader Pro's user-friendly interface can quickly turn individual PDF files into one complete document on your desktop or mobile device.

Whether combining research notes, merging contracts, or just trying to stay organized, a single PDF can often be more manageable and concise than multiple individual files. Several methods are available to merge PDF files while maintaining file quality easily. This blog will explore different ways to combine multiple PDFs into one.


How to Merge PDF Files with Windows
You can quickly and easily merge PDF documents using your Windows operating system. Follow our step-by-step guide to export a cohesive file. 


Navigate, edit, and
convert PDFs like a Pro
with
PDF Reader Pro
Easily customize PDFs: Edit text, images,
pages, and annotations with ease.
Advanced PDF conversion: Supports
multi-format document processing with OCR.
Seamless workflow on Mac,
Windows, iOS, and Android.
Step 1: Open Your PDF Files
Using a reliable PDF Merger like PDF Reader Pro, click "Merge" on the Home interface to open the first of the documents you would like to merge.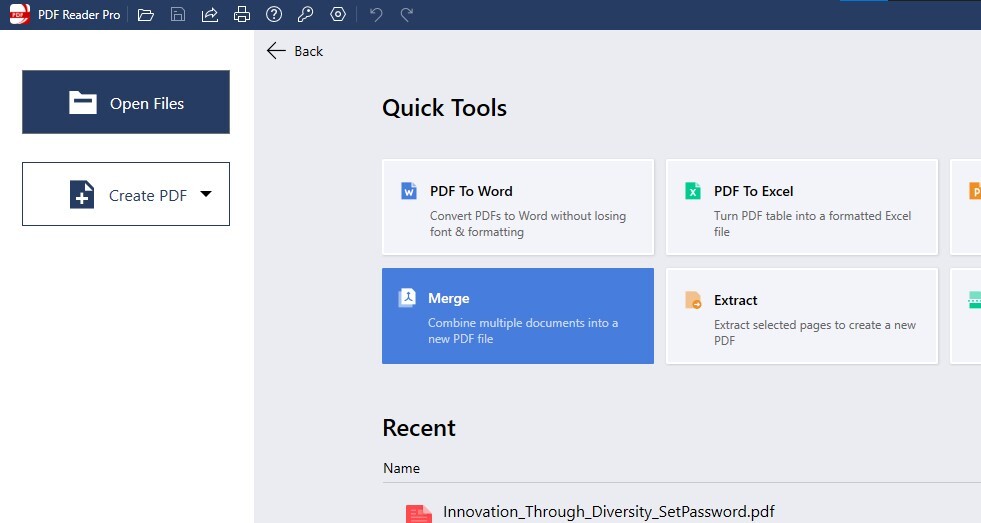 Image Source: PDF Reader Pro


Step 2: Use the PDF File Merger
A pop-up window will open. The helpful features here allow you to select relevant files to merge with the first one you opened. Click "Add File" to use the PDF merger software. 




Image Source: PDF Reader Pro


Step 3: Finalize the Merge
Select the preferred size of the output file from the menu and click "Merge" to save a single PDF document.




Image Source: PDF Reader Pro

How to Merge PDF Files with Mac
Easily create a single PDF file using the merge process built into PDF Reader Pro's intuitive interface. Our quick guide will meet all your basic PDF merging needs. 


Navigate, edit, and
convert PDFs like a Pro
with
PDF Reader Pro
Easily customize PDFs: Edit text, images,
pages, and annotations with ease.
Advanced PDF conversion: Supports
multi-format document processing with OCR.
Seamless workflow on Mac,
Windows, iOS, and Android.
Step 1: Open Your Individual Documents
On the Home page of PDF Reader Pro's, you will see a range of advanced tools. Click "Merge" to open a simple interface to combine files.



Image Source: PDF Reader Pro


Step 2: Add Additional Documents 
Click "Add Files" to open a bunch of PDF files in the viewer. 



Image Source: PDF Reader Pro



Step 3: Click on the PDF File Merger Button
Click "Merge" to export the final document as one single file in a folder of your choice.




Image Source: PDF Reader Pro


Method 2:
Step 1: Open a PDF File to Edit
Click "Editor" and select "Merge" to open the file merging window.





Image Source:

PDF Reader Pro

Step 2: Select Files to Merge
Drag and drop the documents you want to merge into the window or click "Add Files" to select the PDFs you want to handle.




Image Source: PDF Reader Pro

Step 3: Click "Merge"
Once you have all the files you want to combine and have selected your file output, click "Merge".


Why Merge PDFs?



There are plenty of reasons why you might need to merge PDFs. Merging can be a helpful operation when you want to combine multiple PDF documents into a single file. Here are some of the most common use cases for merging PDF files:
Consolidation:

You can deal with one merged PDF instead of handling multiple files.

Organization:

Arrange content in a particular sequence.

Ease of Sharing:

Send one file instead of several when sharing with others.

Printing:

Print one document instead of many.


How to Merge PDF Files: Best Practices
Merging PDF documents is common in business, academic, and personal realms. Ensuring a smooth process and preserving the integrity and quality of the information is vital. Here are the best practices to consider when merging separate files:
1. Backup Original Files
Before any manipulation or merging, always create a backup of your original PDF files. This way, you'll still have access to your original documents if something goes wrong during the process.
2. Ensure File Compatibility
Check that all the PDF files you're merging into a single document were created with a similar or compatible software version. Older versions of certain documents might have compatibility issues with newer ones.
3. Maintain a Logical Sequence
Order matters! Always check the sequence of files or pages before finalizing the merge to a single file to ensure logical continuity.
4. Check for File Size Limitations
If you're using online merging tools or specific software, there might be a maximum limit to the file size or number of files you can merge into a single document simultaneously. Always ensure your files fit within the permitted limits.
5. Review Document Properties
Ensure consistent metadata, such as author, title, and keywords. This is particularly crucial if the merged document will be distributed or shared widely.
6. Maintain Quality and Resolution
When merging, ensure that there's no unintended loss of quality, especially if the PDFs contain high-resolution images or detailed charts.
7. Ensure Consistent Page Orientation
For a more professional look and easier reading, ensure that all documents have consistent page orientations (e.g., all portrait or all landscape).
8. Prioritize Security
Use Secure Platforms

: Ensure the platform is safe and trusted when using online tools. Look for platforms that guarantee file deletions after processing.




Consider Encryption

: Encrypt the final merged document if the content is sensitive. This adds an extra layer of security.



9. Accessibility and Compliance
If your audience includes individuals with disabilities, ensure your PDFs are accessible. Features such as tagged PDFs, alt text for images, and readable fonts can make your merged document more accessible.
10. Optimize the Final Document
For efficient sharing and faster loading times, you might want to compress or optimize the merged PDF file without compromising on quality.
11. Document Review
After merging, thoroughly review the combined document to ensure all pages are in order, no content has been inadvertently cropped or shifted, and that bookmarks or links (if any) function correctly.
12. Choose the Right Software or Tool
Whether you're using a premium software like Adobe Acrobat DC, third-party applications, or free online tools, always choose a trusted solution. Research and read reviews to ensure the tool's credibility and reliability.
 
How to Merge PDF Files FAQs
Is it safe to merge PDFs online?
Many online PDF tools prioritize user security and delete uploaded files after a certain period. Nevertheless, it's best to use trusted software installed on your computer if you're dealing with sensitive or confidential information. It's best to seriously consider specialized software like PDF Reader Pro that stores your documents securely. 
Will merging PDFs reduce the quality of my documents?
Typically, merging PDFs should keep the quality of your documents the same. However, some online tools might compress files during the process. If maintaining quality is essential, use premium software or tools that specify no quality loss.
Can I arrange the sequence of files while merging?
Yes, most PDF merging tools, whether online platforms or software applications, allow you to adjust the sequence of files or individual pages before finalizing the merge.
Can I merge PDF files on a Mac?
Yes, macOS users can utilize the Preview application to merge PDF files without needing any third-party software.
Does merging PDF files increase the overall file size?
Merging PDF files will combine the sizes of the individual files. However, due to optimization or added metadata, the total size might be slightly less or more than the sum of the individual files.
Can I merge PDF files on my mobile device?
Yes, mobile apps are available for Android and iOS platforms that allow you to merge PDF files on the go.
Are there any limitations to the number of files I can merge?
Using PDF Reader Pro's excellent premium tools, you can merge several files using batch processing functionality.
Can I merge a PDF file with other documents, like Word or Excel?
Some advanced PDF tools allow you to merge different types of documents into a single PDF. This typically involves converting the other document types (e.g., Word, Excel) into PDF format first, then merging them.

Merging PDFs can significantly aid in document management and organization. Whether you choose dedicated software, an online platform, or a built-in OS solution, merging PDFs is straightforward. Always ensure the security of your documents, especially when handling sensitive information. Happy merging!