Navigating a lengthy PDF without an outline is like wandering in a new city without a map: you can easily lose your way. Fortunately, with tools like PDF Reader Pro, adding structured outlines to your PDFs is simpler than ever.

Whether you're compiling a report, organizing a research paper, or distributing a guide, outlines can enhance the accessibility and professionalism of your documents. 


How to Create Outlines in PDF for Windows 
We've got a quick and comprehensive guide for you to create precise outlines for your PDFs. Check out our Windows guide below!


Step 1: Click the Outline icon on the left-hand side of your screen.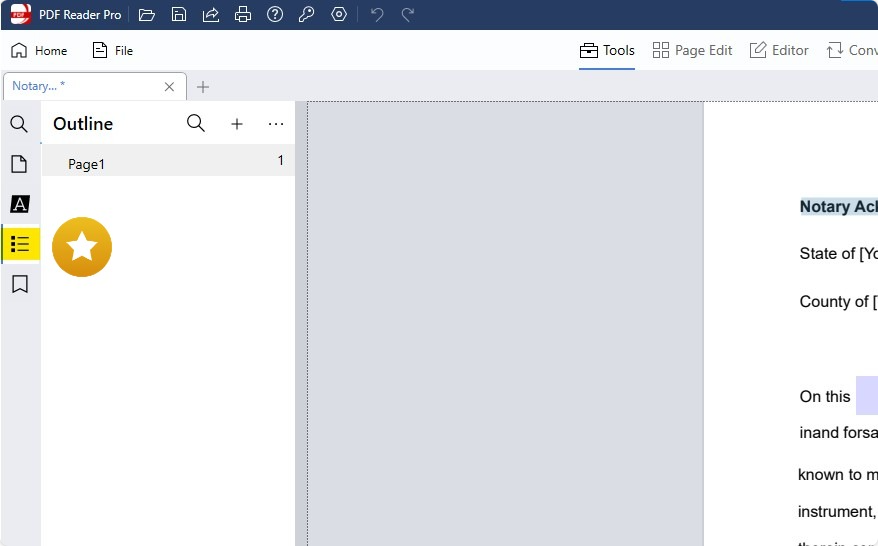 Step 2: Highlight the text you would like to turn into an outline.
Right-click the highlighted text and click "Add Outline Item"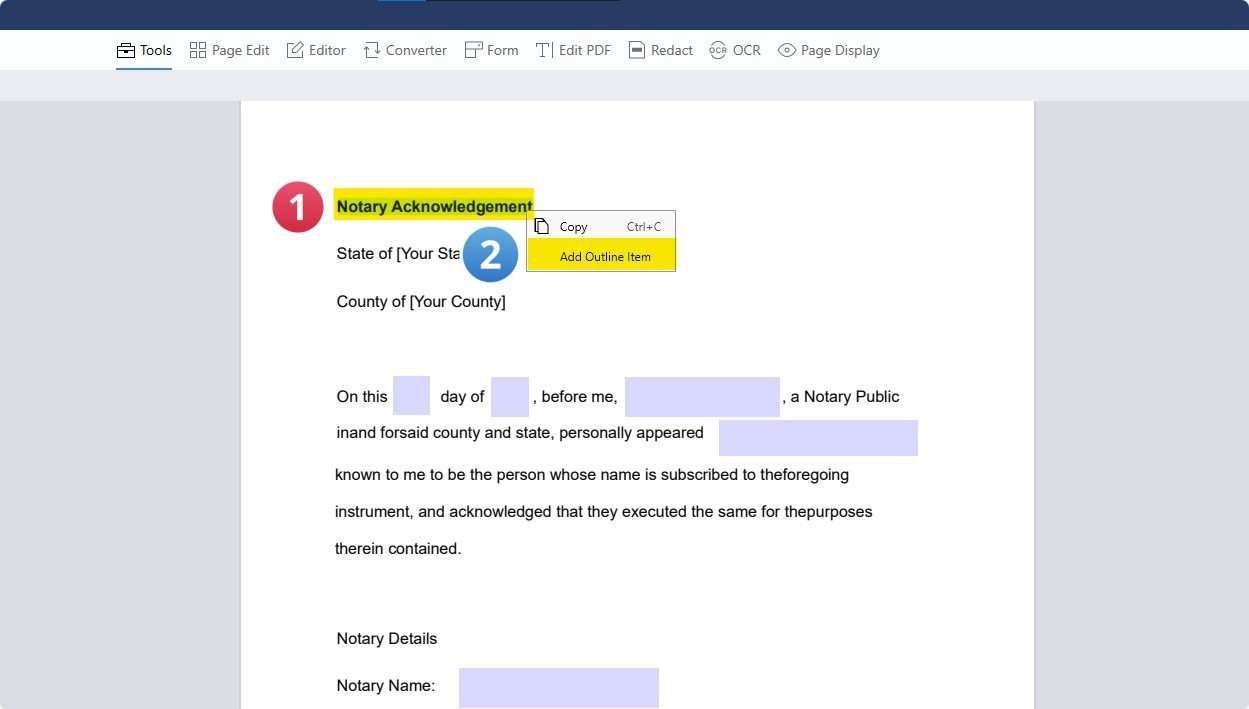 Step 3: Edit your Outline
Add emails or URLs to your outline. Finish by clicking "OK"



How to Create Outlines in PDF for Mac
We've crafted a swift and comprehensive guide for you to create accurate outlines for your PDFs on your Mac. Check out the guide below!
Step 1: Click the Outline icon on the left-hand side of your screen.
Step 2: Highlight the text you would like to turn into an outline.
Control-click (or right-click) the highlighted text and select "Add Outline Item."
Step 3: Edit your Outline
Add emails or URLs to your outline if needed. Conclude by clicking "OK."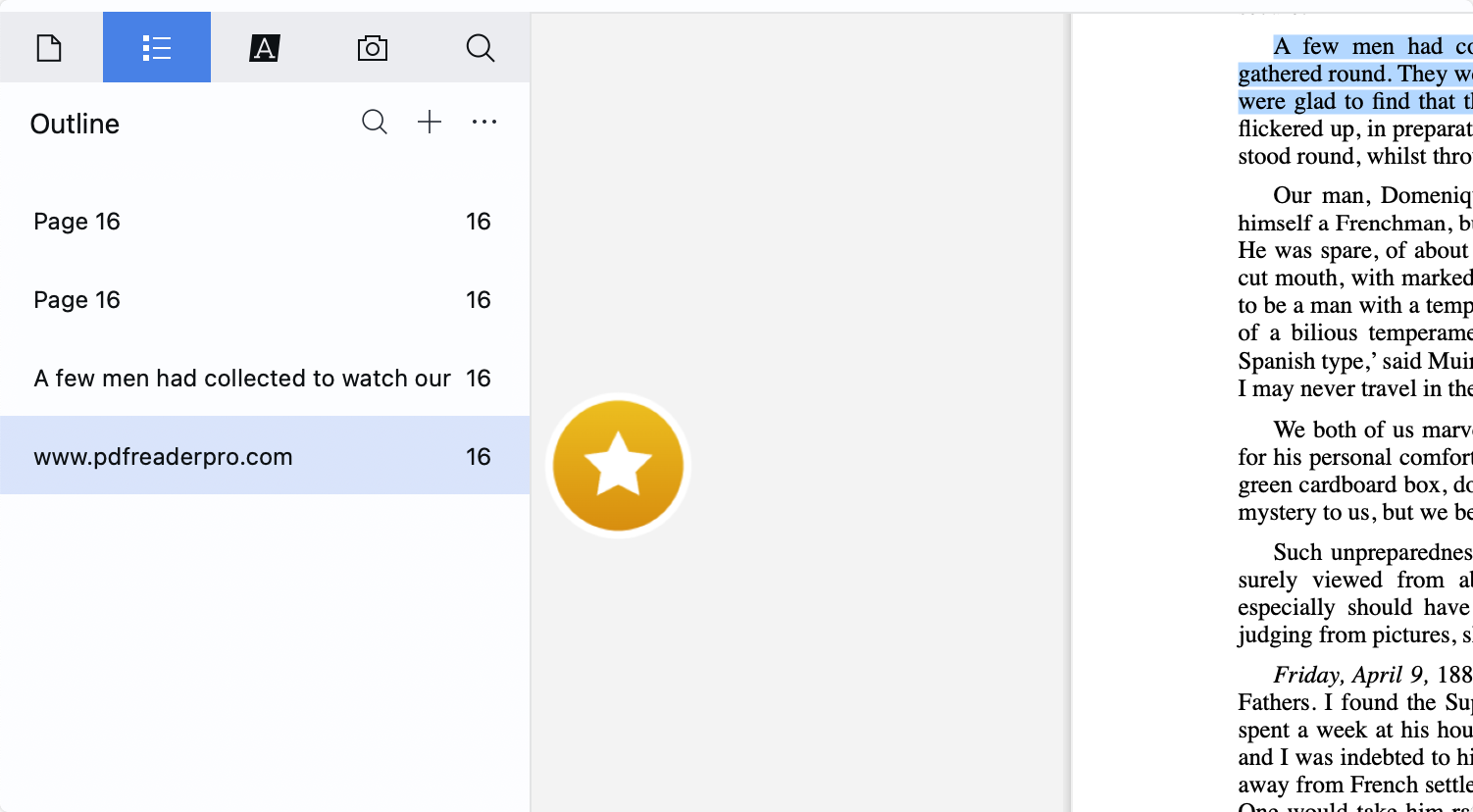 How to Create Outlines in PDF: Best Practices
Creating structured outlines in your PDFs ensures easy navigation and a better user experience, especially when distributing online documents.


Start With Your Source Document
Prior to converting your document to a PDF, it's beneficial to set up your outline structure in the original document. For instance, using Microsoft Word to create headings and subheadings can easily translate to PDF bookmarks or outline entries upon conversion.


The Power of the Dialog Box
The Dialog Box in applications like Adobe is essential for setting up PDF outlines. Through this tool, users can define the table of contents, manage document content properties, or even outline the document structure.


Document Properties & Specifications
Being familiar with the PDF specification is pivotal when creating outlines. Grasping concepts like the document preamble, document creator, and accessible properties can ensure your PDF is optimized for all users.


Online Documents & Accessibility
Making sure that your outlines make your document navigable and accessible is vital. For the average user, a well-crafted PDF outline should mimic the ease of navigating a table of contents in a physical book.


Safety First
Before implementing any permanent changes, such as converting fonts to outlines for a commercial printer, always keep a backup. This precaution ensures a safety net to revert any unintended changes.


Physical vs. Digital
While physical bookmarks are tangible markers in books, PDF bookmarks offer a digital equivalent in online documents. Both guide readers to specific sections, enhancing the reading experience.


In conclusion, by adhering to these best practices, your PDFs will not only be organized but will also offer a smoother reading journey for your audience.


How to Create Outlines in PDF: FAQ
Creating outlines in PDFs can be a complex process for many users, especially when there are so many tools and options available. Below are some frequently asked questions about crafting outlines in PDFs, aimed at guiding both ordinary and tech users.




IRS Form W-2: Navigating Employee Tax Reporting
A detailed overview of the essential elements for accurate income reporting.


Can I create an outline in a PDF using an Illustrator document?
Yes, an Illustrator document can be used to craft outlines. However, ensure you save it as a standard file type compatible with PDFs.


What's the difference between converting fonts to outlines and fonts outlines?
Converting fonts to outlines means changing text into vector shapes, ensuring its display remains consistent across devices. "Fonts outlines" refers to the vectorized version of the text.


If I make changes, should I always keep a separate document?
Absolutely! Retaining a separate document ensures that you have a backup, especially when making irreversible changes, such as converting fonts to outlines.


How do I access the outline function in desktop software?
In professional software like PDF Reader Pro or Adobe Acrobat Pro DC, you can typically find the "Outline" function in the 'PDF Export Menu'. Check for options in the pop-up menu, often labeled 'Outline PDF' or similar.


Are there online tools for creating outlines in PDFs?
Yes, there are online tools available for ordinary users, tech users, and even online tools users. While desktop software might offer more features, online tools can be more accessible and user-friendly.


How do I add an outline item or outline label in my PDF?
In most PDF software, after highlighting text, right-click to see a list of options. Choose 'Outline Item' or 'Add Outline Label' from the pop-up menu.


I've heard of the 'Choose File' option in the file transfer process. What is it?
'Choose File' is a standard option in most desktop software and online platforms allowing users to select the specific file they wish to upload or process. It's essential, for instance, when transferring a print shop PDF file or RAW camera files.


Are there any excellent software recommendations for creating outlines?
PDF Reader Pro is highly recommended for this task, though there are other professional software choices as well. It's essential to choose based on your type of usage – be it for professional use, as an online user, or for personal projects.


I've forgotten my PDF password. How do I regain access?
PDF Reader Pro has a feature to remove encryption using the correct password. However, if you've forgotten it, you can try online PDF password remover tools. Some PDFs use 256-AES password encryption, meaning you'll need the owner password to decrypt.


How do I add a bookmark to a PDF?
In most PDF software, you can easily add bookmarks. Look for 'Bookmark Properties' or 'Add Bookmark to PDF' in the list of options.


This FAQ hopes to provide clarity for users at various tech levels. However, always consult the specific software's guide or manual for detailed instructions.