The push towards a paperless world isn't just an environmental imperative—it's a paradigm shift in efficiency and accessibility. 
As we move from cluttered desks filled with towering stacks of paper to a streamlined digital workspace, it's essential to have the right tools at our fingertips. 
To help, here are 12 top office apps that simplify the transition to a paperless environment.
A Quick Comparison Table 
12 Best Apps To Go Paperless
Whether you're a student, professional, or anyone in between, these tools are sure to help you go paperless. 
Image Source: PDF Reader Pro

PDF Reader Pro has emerged as a prime tool for individuals and businesses transitioning to a paperless approach. It's not just about reading PDFs; our software offers tools for editing, converting, and merging documents, playing a pivotal role in diminishing the dependency on physical paper.
Features
Annotate and Mark:

Suitable for a range of tasks, users can effortlessly highlight, underline, and comment on PDF texts, fostering a dynamic reading interaction.

Form Filling:

Our PDF Reader Pro makes filling and signing PDF forms straightforward, catering to both professional operations and everyday activities.

Book Mode:

Delve into PDFs in a unique way, flipping through them as you would with a tangible book, enriching the overall reading journey.


How PDF Reader Pro Fared When Tested
Our tests showed that PDF Reader Pro is efficient and reliable. Annotations are smooth, conversions maintain their format, and its user-friendly design makes tasks simple. It's not just an app; it's an essential upgrade for anyone handling documents.


Experience the difference with PDF Reader Pro. Available for free on both mobile and desktop platforms.  


Image Source: Google Drive

Google Drive is not just a cloud storage solution; it's a hub of productivity tools aimed at fostering collaboration. From documents to spreadsheets, its capabilities stretch far and wide, making paperless operations a breeze.


Features
Real-time Collaboration:

Allows multiple users to collaborate on a document at once, ensuring shared projects or notes are always current.

Integration with Google Workspace:

Seamlessly connect with tools like Google Docs, Sheets, and Slides to cover all your document needs, from reports to presentations.

Powerful Search:

Effortlessly locate documents using the advanced search feature, which can even detect text within

scanned items

or images.


How Google Drive Fared When Tested
Google Drive exhibited its reliable and fast syncing capabilities across devices. The real-time collaboration was faultless, and the in-built office tools efficiently handled diverse formats and heavy editing.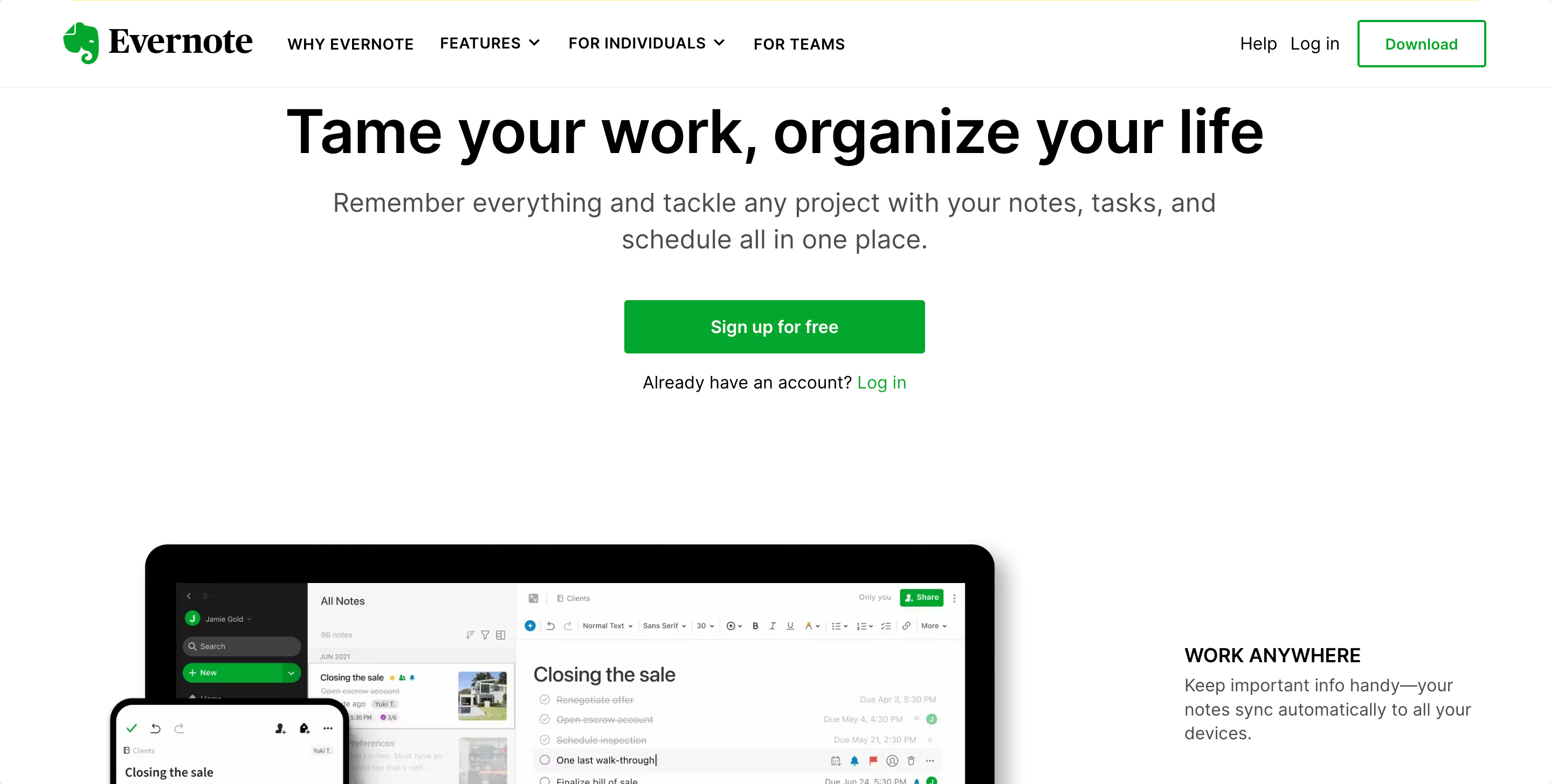 Image Source: Evernote
A favorite amongst note-takers, Evernote bridges the gap between random jottings and organized thoughts. Its digital note-taking abilities transcend mere text, including images, web pages, and voice memos.


Features
Template Use:

Comes equipped with a variety of templates for notes, agendas, and other essential documents.

Web Clipper:

Easily capture and save useful web articles or research pages directly, without the need to exit your browser.

Handwriting Recognition:

Convert your handwritten notes into searchable digital text, ensuring every detail is captured and accessible.


How Evernote Fared When Tested
Evernote showcased its prowess in note organization. Its syncing was fast and efficient across devices, and the handwriting recognition feature was surprisingly accurate. The Web Clipper tool stood out for its practicality in research.


Image Source: Dropbox


Dropbox began as a simple file-sharing tool but has grown into a comprehensive cloud storage solution. It integrates effortlessly with numerous apps and ensures that your files are accessible wherever you are.


Features
Easy Sharing:

Streamline the process of sharing lecture notes, assignments, or projects with colleagues.

Document Scanner:

Transform physical documents into pristine PDFs that can be effortlessly stored and distributed.

Offline Access:

Mark your crucial documents for offline viewing, guaranteeing accessibility even in the absence of an internet connection.


How Dropbox Fared When Tested
Our experience with Dropbox showcased its capability in quick file syncing and sharing. While the Document Scanner worked flawlessly, producing legible PDFs, and offline access came in handy during internet disruptions, PDF Reader Pro takes it a step further. 


With its intuitive interface and advanced features, it stands out as a more comprehensive and user-friendly solution for all document needs, setting a new benchmark in the realm of PDF tools.


Image Source: Microsoft OneDrive

Microsoft's cloud storage solution, OneDrive, integrates seamlessly with the Office suite of applications. Offering more than just storage, it's a collaborative tool designed for both individual and professional use.
Features
Direct Office Integration:

Work on Word, Excel, and PowerPoint documents directly from the cloud without downloading them.

Personal Vault:

A secure area within OneDrive to store sensitive information or documents.

Files On-Demand:

Access files without taking up space on your device, ensuring you have everything you need without storage constraints.


How Microsoft OneDrive Fared When Tested
OneDrive's integration with the Office suite was flawless, enabling smooth transitions between online and offline work. The Personal Vault provided an extra layer of security, and Files On-Demand was a game-changer for devices with limited storage.


Image Source: Notion


Notion combines note-taking, task management, and workflow establishment into a singular, unified platform. With its modular approach to content, it offers unprecedented customization for academic and personal use.


Features
Integrated Workspace:

Combines notes, tasks, databases, and more into one interface.

Customizable Templates:

Tailor your workspace for study plans, project management, or notes.

Collaborative Features:

Share pages or entire workspaces with teams for group projects or studies.


How Notion Fared When Tested
Notion emerged as the Swiss Army knife of productivity tools. The sheer flexibility in crafting workspaces was outstanding, and the collaborative features made team-based tasks straightforward and organized.


Image Source: Trello


Trello employs a card-based system, making project management and organization intuitive and visual. With its boards, lists, and cards, it's perfect for visualizing tasks or team projects.


Features
Visual Organization:

Boards, lists, and cards provide a bird's-eye view of tasks and progress.

Integration with Other Tools:

Easily integrates with tools like Google Drive, Dropbox, and Slack.

Customizable Workflow:

Tailor Trello's boards for schedules, assignment tracking, or group projects.


How Trello Fared When Tested
Trello's visual approach made task tracking and management a breeze. Its third-party integrations ensured all resources were at our fingertips. Customization features allowed us to optimize workflows efficiently.



Image Source: Slack


Beyond a messaging platform, Slack is a hub for team collaboration. It centralizes communication, making group projects or class discussions efficient and organized.


Features
Channels:

Organize discussions based on subjects, projects, or team members.

File Sharing and Integration:

Easily share documents from Google Drive, Dropbox, and other platforms.

Searchable History:

Find previous discussions or shared resources with ease.


How Slack Fared When Tested
Slack streamlined group communications effectively, reducing email clutter. The integrative capabilities were on point, and the searchable history ensured we never lost track of valuable discussions or resources.



Image Source: Scanner Pro


Scanner Pro transforms your device into a portable scanner. With its ability to produce high-quality scans, going paperless becomes straightforward and convenient.


Features
OCR (Optical Character Recognition)

:

Converts scanned text into editable and searchable formats.

Auto-Crop and Scan:

Detects document edges for perfect scans without manual adjustments.

Cloud Integration:

Sync scans directly to cloud storage solutions.


How Scanner Pro Fared When Tested
The quality of scans was top-notch, rivaling traditional scanning devices. OCR was impressively accurate, and the auto-crop feature ensured each scan was precise. Integration with cloud storage added to its convenience.



Image Source: Adobe Scan


Adobe Scan, powered by Adobe's imaging technology, effortlessly converts anything into digital formats – from documents to business cards.


Features
Advanced Imaging:

Ensures clear, sharp, and bright digital copies.

Integrated with Adobe Cloud:

Allows for easy storage and access across devices.

Automatic Text Recognition:

Converts printed text into digital, editable formats.


How Adobe Scan Fared When Tested
Adobe Scan provided pristine quality images, thanks to its advanced imaging. The cloud integration was seamless, and text recognition made document editing easy and efficient.



Image Source: DocuSign


DocuSign revolutionizes the way we handle signatures. By allowing electronic signatures on documents, it eradicates the need for printing and manual signing.


Features
E-signature Integration:

Accepts signatures on any device, anywhere.

Secure and Compliant:

Uses advanced encryption for document security.

Audit Trails:

Provides a record of signature processes for verification.


How DocuSign Fared When Tested
The process of obtaining electronic signatures was remarkably smooth. The security safeguards implemented gave us confidence in its trustworthiness, and the addition of audit trails offered further validation. 


However, with tools like PDF Reader Pro, you get all this and more—its enhanced features and intuitive interface make it the better choice for all your document and signature needs.


Image Source: CamScanner


CamScanner offers mobile scanning solutions, turning your phone into a powerful scanner for various document types.


Features
Smart Cropping and Auto Enhancing:

Guarantees clear and readable scans.

OCR Technology:

Extracts text from images for editing or sharing.

Cloud Sync:

Ensures all scans are backed up and accessible across devices.


How CamScanner Fared When Tested
CamScanner was impressively adept at producing clear scans on the go. Smart cropping eliminated the need for manual adjustments, and OCR was efficient in text extraction. Cloud sync capabilities ensured we never lost a document.


Going Paperless: Best Practices 
The transition to a paperless office is more than a trend—it's a sustainable business model that's rapidly reshaping modern business processes.




Financial Harmony: Monthly Bookkeeping Record
Keeping your fiscal matters in order month by month.


By cutting down on piles of paper, physical paper use, and paper waste, companies not only reduce their environmental impact but also enhance efficiency. Here are some practices to help guide your paperless journey:
Adopt Digital Platforms and Tools:

Begin by familiarizing yourself with digital solutions like PDF Reader Pro or Google Drive. It serves as an excellent platform for storing digital documents in real-time, ensuring collaborative efforts remain uninterrupted.

Reassess Paper Forms:

Analyze if paper forms, paper bills, and paper statements can be transformed into online forms or digital documents. Often, there's an electronic or fillable form counterpart for most paper forms.

Manage Incoming Papers:

Instead of letting physical documents pile up, scan them using a mobile phone scanning app or a dedicated scanning app. Store these scans as PDF files or in digital filing systems, reducing the need for file cabinets.

Email Over Physical Mail:

Instead of sending paper documents, use your email address. Encourage colleagues and clients to send digital copies instead of paper copies. Opt for email notifications over paper statements from banks, credit cards, and other eligible accounts.

Digital Signature and E-Signature Tools:

Avoid the hassle of printing, signing, and scanning. Use e-signature software like E-Signature Tools or other electronic signature software for legal documents, tax filings, and more.

Backup and Cloud Services:

Secure your digital records by backing them up. Platforms like Google Drive offer cloud-based applications that not only store but also allow you to access your files from any device.

Reduce Paper Billing:

Transition to paperless billing options. From paperless water billing to electronic bills for various services, explore all paperless options available to you.

Educate and Train:

As with any change, there's resistance. Training sessions on paperless

document management

, the advantages of a paperless office, and demonstrating the positive impact on carbon footprints can be beneficial.
PDF Reader Pro offers a free download for users wanting to get started on their paperless journey.  


Going Paperless: FAQs 
What are the main advantages of a paperless office?


Apart from the evident reduction in paper consumption and environmental impact, it also streamlines business workflows, facilitates easier access to documents, and ensures better security with digital records. 

How can I ensure my digital documents are safe and secure?


Role-based access ensures that only authorized personnel have access to essential documents. Additionally, always use secure passwords and consider encryption for particularly sensitive information.

How do I transition from paper files to digital file systems?


Start by scanning all your physical documents using a mobile phone scanning app or a dedicated scanning tool. Organize them in digital folders, preferably on cloud-based applications, which also serve as a backup. Over time, make it a habit to scan incoming papers immediately.

Can e-signature tools replace the need for physical signatures on all documents?


E-signature tools and electronic signature software have gained legal acceptance in many jurisdictions for a wide range of documents. 

Will going paperless work for larger companies with complex business processes?
Certainly. Larger companies often benefit the most from adopting a paperless policy due to the sheer volume of paper they handle. Cloud services, digital document management software solutions, and e-signature services can be scaled up to suit the entire company's needs.


Final Thoughts 
The digital revolution has ushered in a new era where going paperless is no longer a luxury but a necessity for modern businesses. 
PDF Reader Pro has emerged as a trusted ally in this initiative. It's more than just a PDF viewer; its capabilities stretch from effortless document editing to securing e-signatures, making the transition from physical to digital a breeze. 
As we continue to move forward, making informed choices and integrating effective digital solutions will be the key to a streamlined and eco-friendly future.