Losing a Word document is a situation most of us dread. It could happen due to accidental deletion, unsaved changes, or a system crash.

Regardless, Microsoft Word incorporates several recovery strategies, and this comprehensive guide will introduce these methods for retrieving your unsaved or lost Word documents.


Exploring AutoRecover Files
AutoRecover is a Word feature designed to protect your work by automatically saving your document at regular intervals. If your system crashes or your document closes unexpectedly, AutoRecover may have saved a version.


Step 1: Navigate to the specific file paths where Word usually saves AutoRecover files
C:\Users\AppData\Roaming\Microsoft\Word

C:\Users\AppData\Local\Microsoft\Office\UnsavedFiles (Note: Replace with your actual username.)


Step 2: Can't locate your document? Open Word, and proceed with File > Info > Manage Document > Recover Unsaved Documents.



Step 3: If the document is still elusive, initiate a manual search by selecting Start, inputting ".asd" in the search box, and pressing Enter.
If the search populates files with an .asd extension, these could be your missing documents.




Step 4: To open an .asd file, launch Word, and head to File > Open > Browse.
In the file type dropdown next to the File name box, select "All Files". Then, right-click on the desired backup file, and choose Open.


Utilizing Word's Search Feature
Occasionally, the document may not be lost but saved in an unknown folder.


Step 1: Click Start, input the document name in the search box, and press Enter.
If the search brings it up, double-click to open it in Word.


Hunting Down Backup Files
If enabled, Word creates backup files of all your work.


Step 1: To verify if this feature is active, go to File > Options > Advanced, find the Save section, and check if "Always create backup copy" is selected.



Step 2: Initiate a search for any .wbk files by typing ".wbk" in the Start search box and pressing Enter.
Files preceded by "Backup of" plus your document's name can be your savior here. Double-click to open them.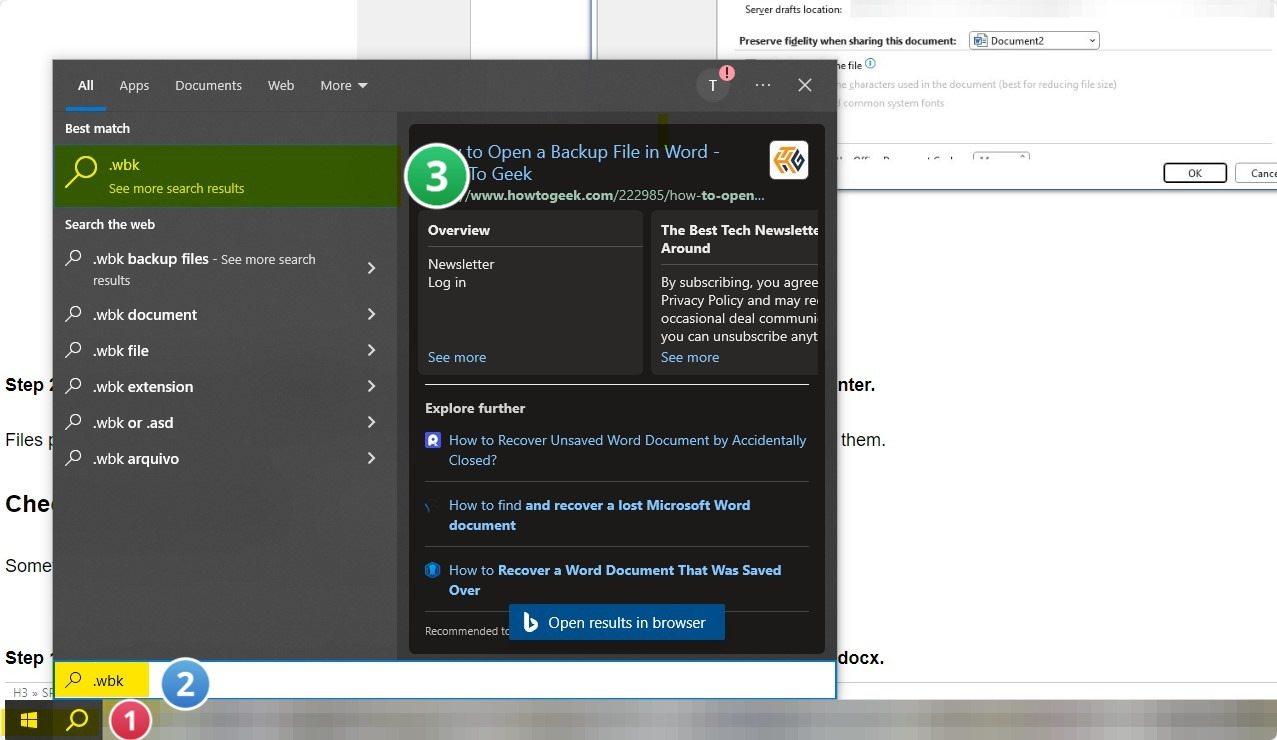 Checking the Recycle Bin
Sometimes, a simple check can solve big problems.


Step 1: Open the Recycle Bin and manually search for your document by extensions like .doc or .docx.


Step 2: Found it? Right-click on the document and select Restore.


Windows File Recovery Tool
For users operating on Windows 10 version 2004 or later, you have a handy option.


Step 1: Download the Windows File Recovery tool from the Microsoft Store and use it to retrieve files that you've permanently deleted.



Image source: Microsoft Store


Solutions for SharePoint and OneDrive Files
Cloud-saved documents have a different recovery process.


Step 1: If your document was synced or saved to SharePoint or OneDrive, refer to the dedicated recovery procedures for these platforms.


Restarting Word for AutoRecovered Files
Word attempts to rescue your work with AutoRecover files when it restarts.


Step 1: Close and reopen Word. If there are AutoRecover files, they'll appear in the Document Recovery pane. 
Double-click to open, go to File > Save As, and secure your document.


Scouring Temporary Files
Last resort? Check the temporary files.


Step 1: Start the search by selecting Start, typing ".tmp" (or ".asd" for Windows 8.1 users), and pressing Enter.


Step 2: In Word, proceed with File > Open, then follow the directory to where the .tmp files are situated.



Step 3: Switch to File Explorer, change the file type to "All files," and you can then open any .tmp files directly in Word.



Prevention is better than the cure – frequently saving your work, utilizing AutoSave, and creating backup copies are practices that prevent future document losses. However, should you find yourself in a tight spot, these recovery methods are designed to mitigate the loss of your valuable work.


How To Recover Unsaved Word Document: Best Practices
Experiencing unexpected crashes, power failure, or virus infections can lead to the loss of an unsaved Word document, creating a moment of panic. However, several recovery methods, corroborated by numerous sources, provide a safety net for such scenarios.

This section outlines best practices to recover your document efficiently, minimizing the loss of your work.


We recommend you check out our "How to Insert PDF Into Word" tutorial for proper Word mastery! 


Navigate, edit, and
convert PDFs like a Pro
with
PDF Reader Pro
Easily customize PDFs: Edit text, images,
pages, and annotations with ease.
Advanced PDF conversion: Supports
multi-format document processing with OCR.
Seamless workflow on Mac,
Windows, iOS, and Android.

Utilizing Word's AutoRecover Function:
File Menu Accessibility:

Immediately after experiencing a loss, open Word again. Go to the "File Tab" mentioned by nine sources, then select "Open" and "Recent Documents." Scroll to the end of your recent documents, and there's a chance you'll find a version of your unsaved file.



Understanding AutoRecover:

Fifteen sources emphasize the importance of the "Save AutoRecover" information every few minutes. This automatic save doesn't replace the need to manually save your document; rather, it protects against unforeseen issues like power outages.



Adjusting the Time Interval:

To make these features more effective, adjust the AutoRecover time interval. The shorter the interval, the more versions you'll have, ensuring minimal data loss during unexpected crashes.


Delving into Backup Files:
Easy Access to Backup Files:

With insights from eight sources, navigate through the "File Menu" or "Menu Bar" in Word, and access "Options." In the "Save" category, ensure the "Keep the last autosaved version if I close without saving" box is checked.



Original Location and File Types:

Your document might still be in its original location. Ten sources suggest checking the folder where you last saved the document. Look for ".wbk" file extensions, as these are backup files Word automatically generates.


Harnessing Temporary Files:
Temporary Folder Scouring:

According to five sources, Word saves temporary files as you work. These are not straightforward to retrieve but can be a lifesaver. Use the "Search Bar" to locate the temporary folder on your system, and set the "File Type" to "All Files" in the dialog box to view every item.



File Explorer Usage:

In the "File Explorer," endorsed by three sources, adjust the view settings to show hidden files and folders. You might find your unsaved Word document in the temporary files section.


Relying on Previous Versions and Version History:
Previous Version Retrieval:

Seven sources advocate using the "Previous Version" feature available in Windows. Right-click on the file location, select "Restore previous versions," and choose an appropriate earlier version.



Version History Review:

For those using OneDrive or SharePoint, five sources recommend the "Version History" feature. Right-click on the document within your file list, and select "Version History" from the context menu to access previous versions.


Advanced Recovery Options:
Time Machine on Mac:

For Mac users, fourteen sources mention the "Time Machine" feature, which automatically saves copies of your files, allowing you to revisit a specific day and time to recover lost files.



Using Document Recovery Tools:

Three sources mention dedicated document recovery tools, beneficial in cases of lost files. These tools scan storage devices for remnants of deleted files, piecing them back together.



Professional Recovery Services:

When local recovery options fail, professional data recovery services are available. These are especially useful for corrupted storage devices or complex data loss scenarios.


Preemptive Measures:
Frequent Manual Saving:

Cultivate the habit of pressing 'Ctrl+S' frequently. In the event of a sudden power failure or crash, your latest content is likely to be in the most recent automatic save.



Investing in Uninterruptible Power Supplies (UPS):

Four sources highlight power failure as a common cause of data loss. Investing in an uninterruptible power supply for your workstation can provide precious additional minutes to save your work during power outages.


By understanding and implementing these best practices, you can mitigate the loss of unsaved documents and safeguard your data against most eventualities. Remember, consistency in following these practices is your best defense against losing significant work.


How To Recover Unsaved Word Document: FAQ
This FAQ section addresses common queries about recovering unsaved Word documents. Whether due to unexpected system crashes, power outage, or other unplanned disruptions, these insights will guide you through the recovery process.




Confirming Employment Details: Employment Verification Letter
A comprehensive guide to drafting and requesting employment verification letters.


How do I locate AutoRecover files in Word?
After an unexpected shutdown, Word might not automatically present recovered documents. To find AutoRecover files, open Word and use the "Search Box" in the "Upper Left" corner. Type "AutoRecover files," and the app should direct you to a list of autosaved files. Double-click on any file to open and review its entire content, confirming if it's the lost work.


Can I retrieve a document not saved due to a power outage?
Yes, it's possible if the AutoRecover function was enabled before the power outage. If you experience power spikes or disruptions, relaunch Word, and the Document Recovery task pane should appear in the left panel, displaying autosaved files. Double-click to open any of these files. If the pane doesn't show, search for ".asd" files in the "File List" or use recovery software like Acronis Cyber Protect Home Office.


How do I use the backup feature in Word to prevent data loss?
Ensure the "Backup Copy" option is enabled in Word. This feature automatically saves backup copies of your documents. To access these, go to "File," then "Options," and "Advanced." Check the box for "Always create a backup copy" within the "Save" settings. Additionally, consider using a third-party backup solution or dedicated cloud backup service for extra safety.


Where does Word save temporary files?
Word saves temporary files, often used in recovery, in a hidden folder within the AppData folder. Navigate to this by opening the "Run" dialog, typing "%appdata%," and then searching for the "Microsoft" followed by the "Word" folder. You may need to adjust folder options to view hidden items. Remember, temporary files might not have descriptive file names and could require opening multiple files to find your document.


What steps should I take if my document is overwritten?
If you've saved over a document, the previous methods might not suffice. Instead, right-click the file in your file explorer, select "Properties," then choose the "Previous Versions" tab. This tab will list versions of the file stored in File History or as part of a backup. Select the version you want and click "Restore" to overwrite the current version with the backup version you've chosen.


How do I convert AutoRecovered files into a readable format?
If you locate an AutoRecovered file but cannot open it, you might need a file format conversion. Open Word, and in the "File" tab, choose "Open." Then, in the "Open" dialog, change the file type to "All Files" from the dropdown menu, select the AutoRecovered file, and click "Open." Word attempts to recover and convert the file into a readable format.


Are mobile devices capable of recovering unsaved Word documents?
Recovery on mobile devices can be tricky due to different storage locations and less robust autosave features. For Office 365 users, the app saves documents to OneDrive by default, providing a buffer against data loss. Check your app's save settings and OneDrive to locate lost files. If using a different app, check its default save location or cloud service.


How can I prevent document loss in Word?
Preventive measures are the best defense against data loss. Regularly save your work and leverage Word's AutoRecover feature by adjusting the save interval to every few minutes. Use reliable power sources to avoid loss from power outages, and consider investing in antivirus tools to prevent file corruption. Additionally, utilize services like Acronis Cyber Protect Home Office or another backup service for real-time file backup and encryption.


This compilation of FAQs addresses the primary concerns and recommended actions for recovering unsaved Word documents. By following these guidelines and preventative strategies, you can minimize the risk and impact of losing crucial document files.