With the popularity of paperless offices, more and more enterprises are turning to electronic signatures to confirm and protect PDF documents. In the past, it's pretty time-consuming to sign an online document, people had to print it, sign it and scan it back into the computer, however, things seem to change with the use of electronic signature apps, which allow you to process your PDFs e-signatures within seconds. Consider these top offerings to find the one that best fits your company's needs.


PDF Reader Pro

Kdan PDF Reader

Adobe Acrobat


Image source: PDF Reader Pro
Delving into the realm of digital documentation, PDF Reader Pro stands out not just as a robust PDF tool, but also as a reliable e-signature solution. Designed for a wide range of users – from individuals to small businesses – it seamlessly blends utility with an accessible user experience. Its commitment to simplifying the e-signing process has made it a noteworthy contender in this space.
E-signing Features
Versatile Signature Options: Allows users to create handwritten signatures, use saved digital signatures, or type their signature with customizable fonts.
Document Annotations: Beyond just signing, users can highlight, underline, or add notes to the document, ensuring clear communication.
Secure Document Management: Offers password protection, encryption, and secure cloud storage options to ensure that signed documents are kept confidential.


How PDF Reader Pro Fared When I Tested It
Using PDF Reader Pro was both intuitive and efficient. The e-signing process was straightforward, with the added benefit of comprehensive annotation tools. Security features added an extra layer of confidence when handling sensitive documents.

However, while it offers an array of functionalities, those new to e-signature tools might need a brief orientation. Overall, it presents a well-rounded e-signature experience with the bonus of its PDF management capabilities.




Image source: Kdan PDF Reader


 Kdan PDF Reader has made significant waves in the digital document community, renowned not just for its proficient PDF capabilities but also for its adept e-signing solutions. Aimed to cater to a diverse audience, from individuals to growing businesses, it prioritizes both functionality and ease of use. As a multifunctional platform, Kdan PDF Reader distinguishes itself with a suite of tools designed to optimize the document handling process.


E-signing Features
Simplified E-sign Workflow: A straightforward process to sign or invite others to sign, ensuring documents get the signatures they need without complications.
Cloud Integration: Offers seamless cloud syncing, allowing users to access and sign their documents from any device, anytime.
Document Security: Employs advanced encryption techniques, combined with password protections, to ensure the utmost confidentiality for every document.


How Kdan PDF Reader Fared When I Tested It
Engaging with Kdan PDF Reader was a delight. The e-signature process was not only smooth but also flexible, accommodating different user needs. The cloud integration was particularly impressive, enabling me to switch devices without missing a beat.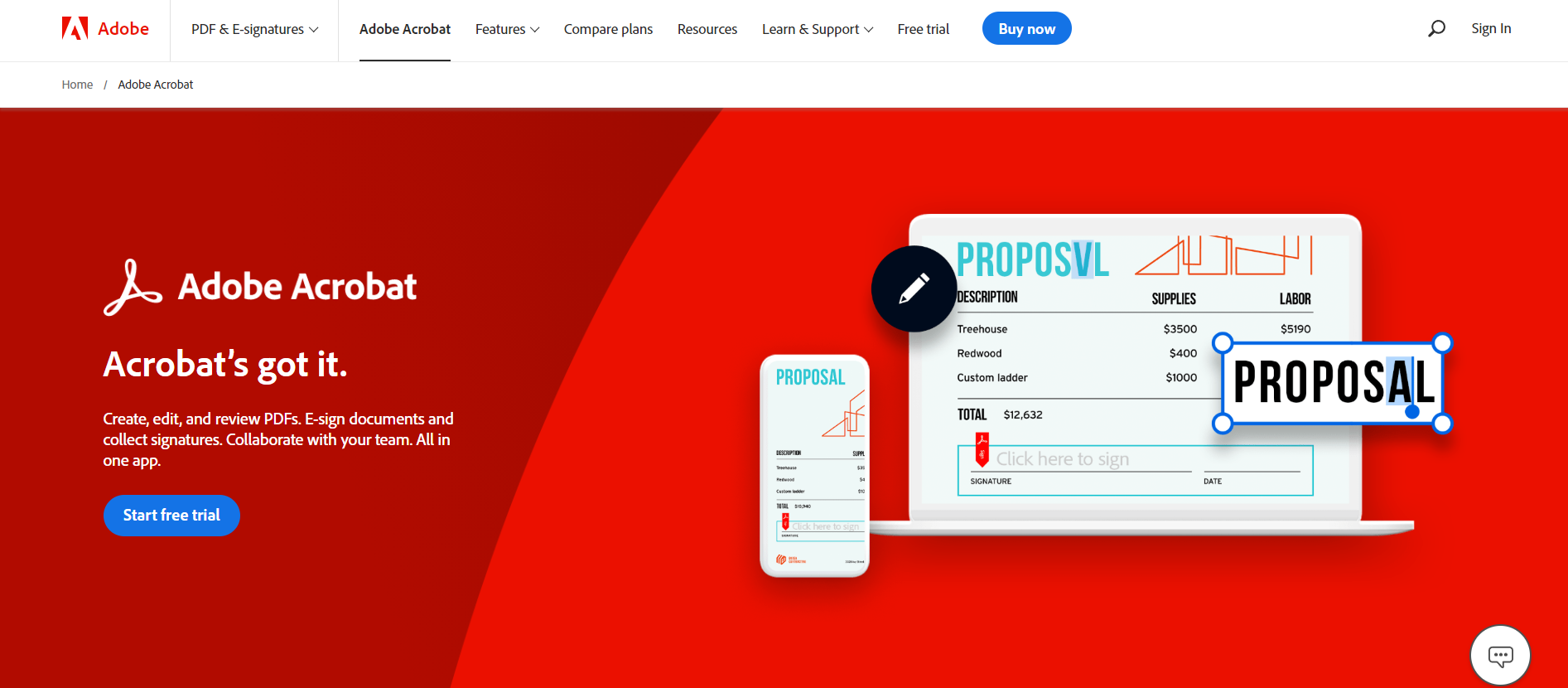 Image source: Adobe Acrobat


A stalwart in the world of PDF management, Adobe Acrobat Reader is more than just a basic PDF viewer. It's an institution in the digital document space, and its e-signing capabilities further underscore its dedication to versatility and comprehensive solutions. Catering to a broad spectrum of users, from casual readers to professional businesses, Adobe Acrobat Reader provides an e-signing experience that's backed by decades of software expertise.


E-signing Features
Seamless Integration: Being a part of the Adobe family, it allows easy integration with other Adobe products, enhancing workflow efficiency.
Multi-Platform Accessibility: Whether on desktop, mobile, or web, users can access, sign, and share documents with ease.
Document Authentication: Features robust certificate-based signatures, ensuring the authenticity and integrity of signed documents.


How Adobe Acrobat Reader Fared When I Tested It
Engaging with Adobe Acrobat Reader reaffirmed its reputation. The e-signing process was fluid, and the added layer of certificate-based authentication provided peace of mind. Its integration with other Adobe tools was seamless, facilitating a cohesive workflow. One point of contention was its slightly steeper learning curve for users unfamiliar with Adobe's ecosystem. Nevertheless, its robust features and reliability make it a top contender in the e-signature domain.

Image source: DocuSign


When it comes to pioneers in the e-signature space, DocuSign is a name that often resonates with distinction. A dedicated platform built to revolutionize the way businesses handle electronic agreements, DocuSign has carved a niche for itself with its singular focus on providing a seamless signing experience. Trusted by millions across the globe, from individual freelancers to multinational corporations, DocuSign remains a force to be reckoned with in the e-signing domain.


E-signing Features
Universal Compatibility: Designed to work flawlessly on almost any device, ensuring users can sign or send documents for signing from anywhere.
Audit Trails: Every signed document comes with a detailed audit trail, capturing the signing history and maintaining transparency.
Advanced Customization: Offers customizable templates and workflows, allowing businesses to tailor the e-signing process to their unique needs.


How DocuSign Fared When I Tested It
Using DocuSign was an experience in efficiency. The platform's user-friendly interface ensured that even first-timers could navigate the signing process with ease. The audit trail feature was particularly insightful, lending credibility and transparency to each transaction. A minor drawback was the premium pricing for advanced features, but considering the robustness and reliability of the platform, it seems a justified investment for businesses serious about their e-signing processes.

Image source: DottedSign
Emerging in the competitive e-signature landscape, DottedSign promises a streamlined, efficient, and user-friendly approach to electronic document signing. Positioned as a solution for businesses and individuals alike, this platform combines simplicity with a set of powerful tools, ensuring that users can easily navigate the digital signature process without compromising on features.


E-signing Features
Task Progress Tracking: Monitor the status of your sent documents, keeping tabs on who has or hasn't signed.
Mobile Optimization: A robust mobile app ensures that e-signing is a breeze, even on the go, with touch and face ID integration for added security.
Team Collaboration: Facilitates team workflow with shared templates and collective signing tasks, streamlining the process for multiple signatories.


How DottedSign Fared When I Tested It
My encounter with DottedSign was mostly positive. The platform is designed with user experience in mind, making the signing process quick and uncomplicated. The mobile app was a standout, making e-signing tasks manageable even while away from the desktop.

While it holds its own in the e-signature space, I did notice that some advanced customization options present in larger competitors were missing. Nonetheless, for straightforward e-signing needs, DottedSign offers a solid, user-centric platform.



Image source: Xodo Sign


In the midst of many e-signature platforms, Xodo Sign carves its identity as a balance of simplicity and capability. Recognized for its intuitive design and robust toolset, Xodo Sign aims to redefine the way users perceive the electronic signing process. Catering to both businesses and individual users, this platform merges practicality with an easy-to-grasp interface, making e-signing accessible to everyone.


E-signing Features
Real-time Collaboration: Allows multiple users to annotate and sign a document simultaneously, fostering efficient teamwork.
Cloud Connectivity: Seamless integration with popular cloud services ensures documents can be accessed, edited, and signed from anywhere.
Document Encryption: Prioritizes security with high-grade encryption techniques, ensuring every signed document is shielded from unauthorized access.


How Xodo Sign Fared When I Tested It
Engaging with Xodo Sign was a refreshing experience. The platform's focus on real-time collaboration stood out, eliminating back-and-forth communications and speeding up the signing process. The integration with cloud services was seamless, making document accessibility hassle-free.

One area where there might be room for improvement is the depth of customization available for workflows. However, for users seeking an efficient and straightforward e-signing solution, Xodo Sign proves to be a commendable choice.
Image source: SigniFlow


Among the sea of e-signature platforms, SignFlow emerges with a blend of innovation and user-centric design. Touted for its agile approach to digital signing, it endeavors to simplify processes without compromising on advanced functionalities. Whether it's a startup seeking efficient workflows or an individual aiming for swift document finalizations, SignFlow accommodates with its versatile suite.


E-signing Features
Batch Signing: Accelerate processes by signing multiple documents in a single go, ideal for bulk contract renewals or approvals.
Dynamic Workflows: Tailor the signing order, assign roles, and set conditional routes, allowing for adaptable and intricate signing processes.
Audit and Compliance: Every signature is accompanied by a comprehensive log, ensuring transparency and adherence to regulatory requirements.


How SignFlow Fared When I Tested It
Diving into SignFlow, I was immediately impressed by its intuitive interface. The batch signing feature was particularly advantageous for handling multiple documents simultaneously, saving considerable time. The dynamic workflows were a game-changer, allowing for intricate yet clear signing processes.

While the platform shone in many areas, newcomers might need a brief orientation to fully utilize its breadth of features. That said, for those who prioritize flexibility in their e-signature solutions, SignFlow is a strong contender.
For many small businesses, electronic signature software has revolutionized the daily process. If you're reading this article, you may be on the way to electronically sign PDF documents that have been sent to you or send PDFs out to be digitally signed by contractors and other business partners. We've outlined the five best e-signature solutions here for your choice. Go and choose the one that suits you most to flow your signatures and works now!