Do you need to remove passwords from your PDF? Then PDF Reader Pro is your best solution. It is a powerful PDF password remover tool which makes the process of removing password from PDF just a piece of cake. PDF Reader Pro has advanced features to provide security for your document and if you want to remove it, you can do it easily. PDF Reader Pro is compatible with various devices including mobile phones such as Android and iOS.
Removing a password from a PDF can be necessary if you don't want to go through the hassle of entering the password every time you access the document. Removing security from a PDF can also give you full-control over your PDF and make it easier to edit, print, or share the PDF with others. And doing it from a mobile phone would make it way more effective and less time consuming. So before we dive in, make sure you have downloaded PDF Reader Pro. It is available in the Play Store and App Store for free.
Remove Passwords from PDF in Android Mobile Phone
Are you an Android user? Removing passwords from Android mobile phone or tablet, you can do it easily with PDF Reader Pro. Before that, make sure to download PDF Reader Pro for free in the Play Store. Follow the instructions below to remove security from your PDF.
Open PDF in your phone with PDF Reader Pro -> Enter password;
Tap menu in the top right corner ->

Change Password

;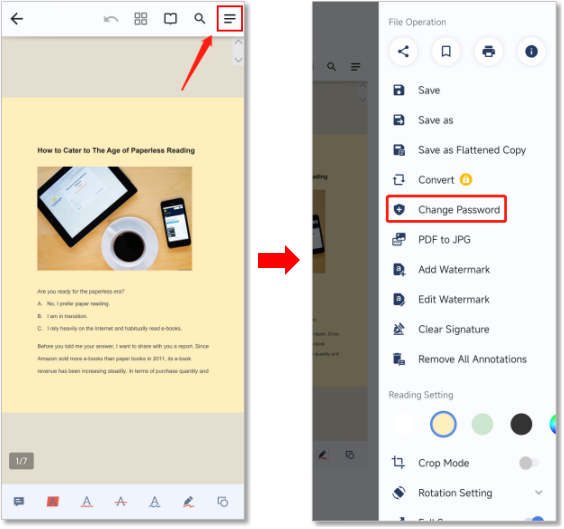 If you are not permitted to edit the PDF file -> Select

Save As

-> Re-enter password;

Turn off the

Password Mode

.
Remove Passwords from iOS 
Besides Android, PDF Reader Pro can also help you remove passwords from PDF on iOS. It can help you unlock password-protected PDF files effortlessly, allowing you to access and share important information without any hassles. PDF Reader Pro has got you covered, offering a reliable and easy-to-use solution for your PDF password removal needs. Here is how to do it.
Launch PDF Reader Pro for iOS -> Select PDF document you need;

Enter the correct password for the PDF file;
Click

Menu

in the top right corner ->

Remove Security

;
Select

Continue

in the confirmation pop up, it will notify you that

Restrictions 

Removed Successfully

. The new copy of the PDF without the password will be saved automatically in the Documents.
Conclusion
In conclusion, removing password from PDF file can often become time-consuming, but PDF Reader Pro simplifies the process and makes it effortless. Whether you use Android or iOS, this tool offers a reliable, intuitive, and easy-to-use solution that can help you unlock your PDF files and access all the relevant information with ease. In short, if you're tired of struggling with password-protected PDFs, PDF Reader Pro is the perfect software for you. Download PDF Reader Pro now and contact us at [email protected] if you have any questions.